The Ponds, sent back in time by the Weeping Angels, will never see the Doctor again. Upset with losing another group of companions, the depressed Doctor has decided to hang out with the TARDIS parked in the clouds in Victorian London. He's also re-aligned the 'theme' of the TARDIS console room, to something resembling that used with earlier incarnations, with a more hexagonal console and "roundels" on the wall. His wardrobe is also altered, adopting a more Victorian look.
Meanwhile, his contemporary friends Vastra, Strax, and Jenny try to coax him out of his funk, to no avail, and sort of function as a way to keep him out of trouble. But trouble of course, is always finding the Doctor instead.
Strange, living snowmen monsters have started to prowl the streets, and Clara-a bartender who also moonlights as a babysitter (or governess)-has noticed, especially since one of her wards has had nightmares about a former babysitter/Governess returning. Clara also has an incredible resemblance to Oswin from the Dalek asylum.
Things lead back to Dr. Simeon, leader of the Great Intelligence institute, which has giant snowglobe of sentient, psychic snow. Temporarily breaking out of his depression, the Doctor agrees to investigate the mystery, first as "Sherlock Holmes".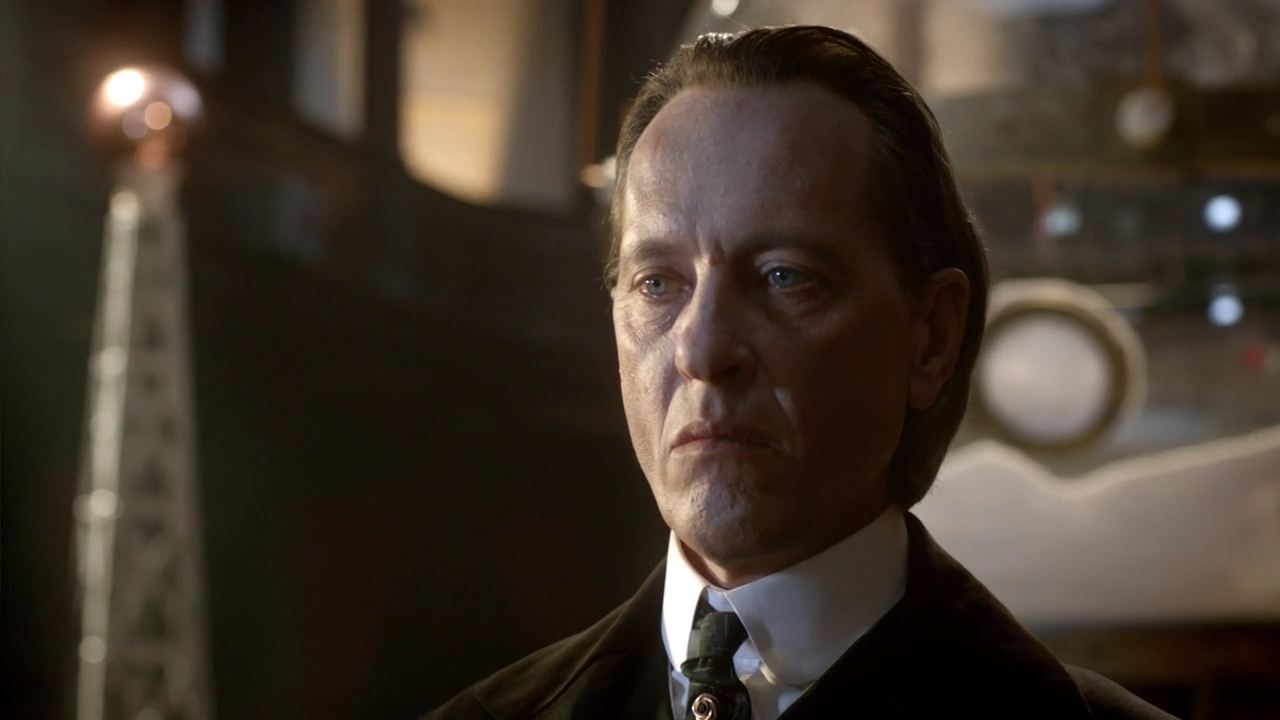 Simeon is played by Richard E. Grant, a noted British actor who played an alternate version of the Ninth Doctor in "Scream of the Shalka" as well as the skit "Curse of Fatal Death". The Snowglobe/Great Intelligence is voiced by Ian Mckellan, famous for the X-men and Lord of the Rings films among others.
Turns out he's using the frozen body of the former governess to help control the snowmen. Pursued by the creatures-the snowmen and the governess-the Doctor manages to escape to the TARDIS, and impressed by Clara's knowledge, offers her companionship. Unfortunately, the governness mortally wounds Clara by pulling her off the cloud.
The Doctor attempts to take on the Simeon and the Snowglobe by erasing Simeon's memories and thus breaking the psychic connection. Although this proves unsuccessful, the grief felt by Clara's loss manages to override it and destroy the snow creatures. The snowglobe's intelligence seems to be defeated, but in fact it will pester the Doctor in his earlier, second life-and later in this one-as the "Great Intelligence", controller of the robot yeti and Whispermen.
At Clara's funeral, the Doctor puts the pieces together and suddenly realizes that Clara-who is now dead-was identical to Oswin-despite being in the future, dead, and a Dalek-and in the present, a third Clara exists. Intriqued by this new mystery, he has a new purpose and reason to travel. He's going to find her.