tchOriginally, "For Your Eyes Only" was going to be the Bond film that would follow "The Spy Who Loved Me"-something made clear by the end credits of that movie. However, the success of "Star Wars" prompted them to (extremely loosely) adapt "Moonraker" instead. After that film was released, FYEO was back on the table. However, perhaps due to negative critical reaction to Moonraker (although it was a box office success), the producers decided to bring Bond back to earth-literally-with a more traditional story, and one heavily based on Fleming material, specifically, Fleming's short stories For Your Eyes Only and Risico, as well as a sequence from Live and Let Die (I won't go into details, since I already have in another article).
The film begins with Bond, visiting his wife's grave, before being called back to MI6 but then his helicopter is commandeered via remote control by a bald guy with a cat-obviously meant to be Blofeld,  but due to rights issues he's never named (Blofeld's basic look and white cat however were never in the original books and are pretty much fair game, although I'm a bit unclear how that worked in reverse with "Never Say Never Again"), but with both Tracey's grave, and Blofeld sporting injuries very similar to the end of On Her Majesty's Secret Service, the callback is very clear.
The scene is merely played for camp, with Blofeld sporting a cartoony accent that sounds like an attempt to mix his original "From Russia With Love" voice with Donald Pleasence, but not quite making it. He's also got some strange lines, most notably the infamous: "We can do a deal! I'll buy you a delicatessen…in stainless steel!"
However, the opening is one of the few sequences in the film that's comparable in tone to the campy nature of pretty much every other Roger Moore Bond film. We then come to one of the more unique Bond openings, as singer Sheena Easton actually physically appears and sings the song among the usual footage of Bond, guns and girls.
It's a pretty decent song, sort of following the lead of Spy Who Loved Me and Moonraker as having a love song as the main title, which would continue with "Octopussy"'s "All Time High" before Bond returned to rock/pop with View To A Kill and Living Daylights.
The movie's main plot begins with sort of a Bond trope of a British ship being compromised (although this time by accident, more or less). This kind of plot point is used in Thunderball, You Only Live Twice, Spy Who Loved Me, and Moonraker, and although taking a break for a bit, it returns with a vengeance in "Tomorrow Never Dies". In this case, it's the St. Georges, which contains the ATAC Automatic Targeting Attack Communicator, used to coordinate submarines….and this sets in motion the plot, as Bond-teaming up with this film's "Bond girl" Melina Havelock (The daughter of an archaeologist killed in the search for the ship) and Greek smuggler Columbo (Topol)-races across the Mediterannan to uncover the wreck of the Georges and recover the ATAC before it falls into the hands of the KGB, who are being aided by the film's villain, Kristatos (Julian Glover). It's definitely a bit different from the plots of both "Spy" and "Moonraker", where the villains hoped to create Armageddon so people could live in the sea, or repopulate Earth with "perfect" people.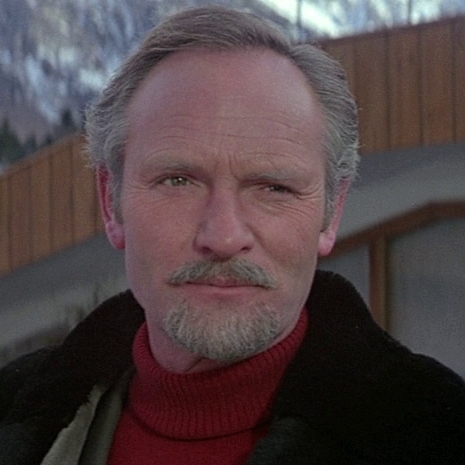 Glover is an actor well-known for villanous roles in media-having played the AT-AT Commander General Veers in The Empire Strikes Back, the multiple incarnations of the masked alien Scaroth in the Doctor Who serial "City of Death" and also the main villain Donovan in Indiana Jones And The Last Crusade. Initially, we're led to believe he's actually a good guy, helping to sponsor a talented young skying girl in  the Winter Olympics and appearing to aid Bond in his search for the ATAC and the murderers of the Havelocks. However, he's mainly trying to frame fellow smuggler Columbo, and his true, more sadistic side is unveiled in the film's half-way point. Glover plays both sides of the character well.
Equally and entirely sadistic is Locque, his main henchman. Like a great deal of Bond henchmen, he's rather quiet (although not mute). Although not quite a strongman like Jaws or Oddjob, he's still an intimidating presence with his cold stares, only really smiling when he runs over Columbo's mistress Lisl (played by the late Cassandra Harris).
He's also the subject of one of the film's best moments-and one of the coldest kills by Roger Moore's Bond in any of his films-as Moore kicks his car off a cliff. 
However, we do have a somewhat more 'strongman' henchman in Eric Kreigler, a KGB agent assigned as the go-between the KGB and Kristatos. Bond's main confrontation with him is a thrilling winter sports ski chase.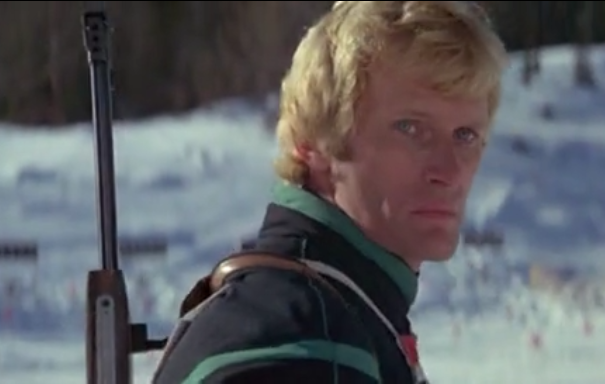 Future "Game of Thrones" star Charles Dance also has a small role as a minor henchman, Claus.
Girl-wise, we've got Carole Bouquet as the Bond girl. Her character is given better motivation-and acting I think as well-than Anya and Holly before her, and Carole Bouquet plays her as both really sympathetic but also a bit badass as well. She also doesn't really fall for Bond until the end of the film either, which is a bit of a departure.
Speaking of falling for Bond, Kristatos's ward Bibi-a kind of more bubbly, dumb Bond girl certainly does. Bond pretty much rebuffs her advances (and with good reason too-she's in her late teens or early twenties and Roger Moore is in his mid 50s at this point, so that would just be weird). She's kind of one of the goofier aspects of the film, but Moore's reactions to her relentless flirting are some of the film's best laughs, and she's not quite annoying as Mary Goodnight a few films ago.
Finally Bond-girl wise we have Cassandra Harris in a small role as Countess Lisl, Columbo's mistress and collaborator,  who has a brief fling with Bond before she's murdered by Locque. Harris plays it pretty well, although we don't see too much of her and it's not quite clear why Lisl is faking an accent. Fun fact about Harris-before her death, she was married to future Bond Pierce Brosnan, and it was she who introduced him to the producers. This led to Brosnan eventually almost replacing Moore in 1986, however due to TV contract things Brosnan couldn't play it at the time. He eventually of course got his chance in 1995.
Gadget-wise, the film is a bit light, especially compared to the previous two films. In fact, Bond's original Lotus is taken out of action early on when the bad guys attempt to break in, triggering it's self-destruct!
Apart from that, the ATAC itself and a radio watch which really isn't used that much except for the film's comic relief ending, we really just get the Identigraph which Bond uses to identify Locque. It's used entirely in Q's lab, which, like in many of the other films, shows off a large group of gadgets being developed, but not used by Bond in the field at all.
Speaking of that watch, it's used in a pretty hilarious scene that closes the film, in which Margeret Thatcher-England's PM at the time (played by a look-alike actress in this of course) congratulates Bond on the sucess of his mission, but ends up speaking with Melina's parrot instead while she and Bond have a "moonlight swim." It's kind of interesting that the most serious of the Moore films is pretty much book-ended by goofy scenes-The Blofeld stuff at the beginning and then this.
Music-wise, like "Live and Let Die" and the "Spy Who Loved Me" For Your Eyes Only doesn't have John Barry as composer, instead using the talents of "Rocky" and "Karate Kid" composer Bill Conti. Although a bit different than Barry's talents, Conti's music really kind of fits the "Winter sports" feel of the middle of the movie.
Overall, FYEO was a pretty good return to form for the series to it's espionage roots and more serious tone, with Moore being able to adapt to it pretty well. Although by this point he's aging and starting to lose some of his credibility as a convincing Bond, he still gives it his best in my opinion, proving that he's got some dramatic teeth beyond the One liners. Next "Octopussy" would attempt to put a bit more comedy back into the series, while still having a semi-serious tone….