Here we are again, with the very first Bond film (although one based on one of the middle novels). Dr.No. "No" although the first film, isn't exactly a trend-setter for the series as much as it's sequels-the film is largely limited to one location (Jamacia, although there's a short bit in London), there's really no gadgets unless you count a gun and a geiger counter, no song with the movie's title in it….but there's still plenty set here: The classic catchphrase, "Bond, James Bond" (and the vodka martini line is in here, sort of), Bond's quips and women, the interesting villain with a secret lair, and of course, the gunbarrel and theme song.
There's a few differences though. Contrary to popular belief, the man here is not Sean Connery but stuntman Bob Simmons-Connery wouldn't record his own gunbarrel until Thunderball. There's also no Bond theme leading up to the shot, just a sort of radio-like and then telescoping sound effect, but when the shot hits, the classic theme starts.
So technically Simmons is the first on-screen film James Bond (Barry Nelson played the role in a TV adaptation of Casino Royale in the 50's).
Instead of going to a pre-title sequence like the others, this goes straight to the opening sequence and theme. The gunbarrel becomes several circles that kind of dance around the screen, then becoming a group of various dancers set to a sort of Caribbean-style music.
Finally, we have in silhouette, the "Three Blind mice"-pretty much the first Bond henchmen, hitmen who work for Dr.No who pose as blind panhandlers to throw people off.
Their target is Strangways, an MI6 agent in Kingston, Jamacia, and the reason for the mission. He's set to contact London after playing bridge at a country club, but is shot by the men.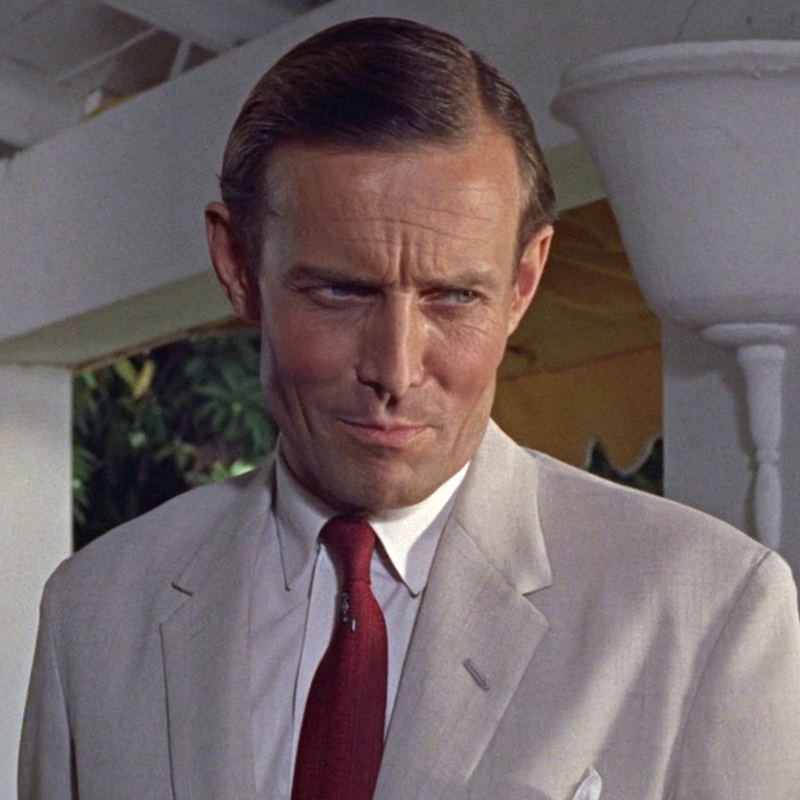 When Strangeway leaves, the facial expression of Professor Dent as he watches Strangways leave makes it quite clear who is behind the hit.
They also kill his secretary (Played by the woman who owned actually owned the house her scene takes place in, Dolores Keator) and remove all files on the mysterious Dr.No
Back in London they figure out something's wrong, and soon we're introduced to James Bond. But first, we see the woman he's playing against: Sylvia Trench. A game she's losing. Apart from Moneypenny, Vesper Lynd (sort of) and Judi Dench's M, Trench is one of the few female characters to appear in more than one film, although there were plans to include Michelle Yeoh (Tomorrow Never Dies) and Halle Berry (Die Another Day) in other films that didn't pan out. Trench makes a short appearance in the next film, From Russia With Love. There's almost a missed opportunity with Tommorow Never Dies here; perhaps they could've had Hatcher's character-an ex of Bond's-to be Sylvia Trench instead of a new character? One wonders how Bond breaks it off with some of the girls, especially ones he seemed to be fairly close to (Although some of course, like Tracy and Vesper, are killed off) instead of just casually. Makes me wonder what's going to happen to SPECTRE's Madeline Swann in the next film, too….
Anyway, Bond asks her name, and we get this classic exchange:
Bond: I admire your courage, miss?
Sylvia: Trench. Sylvia Trench….I admire your luck, Mr…?
Bond: Bond. James Bond.
Right there, he's pretty much got it right away. Even though the book Bond is a bit different (Far less humorous, for one), he definitely has got the cool, somewhat detached look down here. Although Casino Royale of course wasn't the first film, it does seem right to introduce Bond in a Casino as a sort of compensation for that (This scene btw wasn't in the book-The Jamaica assignment was intended for an 'easy' mission for Bond-M figures Strangeways just ran away from his secretary-recovering from injuries in "From Russia With Love", and not really up to smoking and gambling just yet)
Bond gets a summons, and after flirting a bit more with Sylvia and giving her his number, we're introduced to Moneypenny-not a major character in the books, but she becomes a major part of the film universe….and of course, their constant playful flirtation is brought up right away. Connery and Maxwell have excellent chemistry here.
M then briefs Bond on Strangway's disappearance, in that Strangways was investigating missiles and rockets that have been directed off-course by powerful radio waves near Jamacia (presumably at Cape Canavral). We see some of his sternness with Bond here, as he tells Bond that he needs a new gun instead of his old beretta, which jammed on him on his last mission and as a result he was injured and sent to a hospital for months-which, in the novels, was in "From Russia With Love" where Bond's gun jammed and therefore he wasn't successful in fighting off Rosa Klebb's deadly poison shoes. However, since FRWL is the sequel to this, taking place after (That's made quite clear, as the events of this film are referenced many times) that mission continuity wise is something else entirely.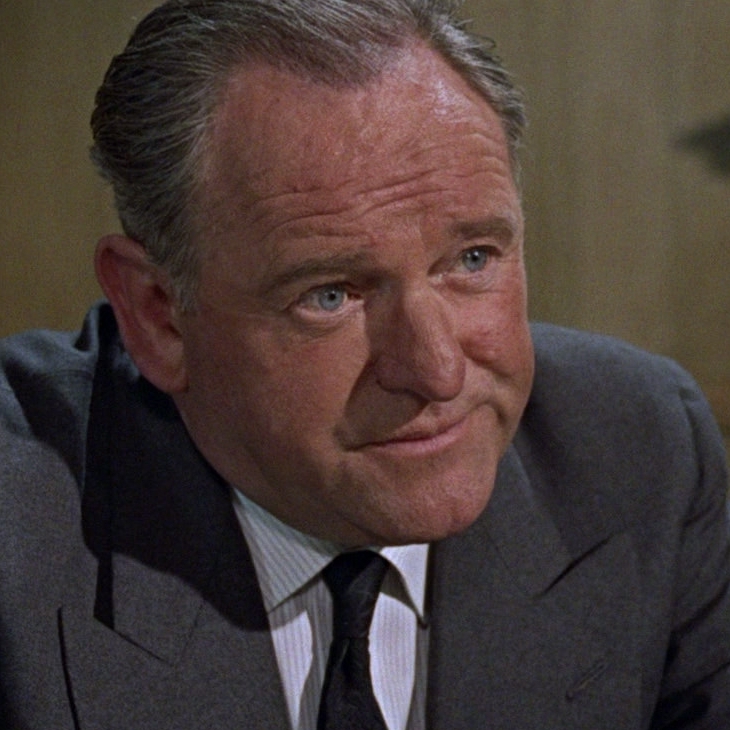 As he's given his new Walther PPK-his trademark gun-we're also introduced (sort of) to Q. Except he's not the one we're familiar (Desmond Llewlynn) with, but is the same character, Major Boothryd. (This is made clear in "The Spy Who Loved Me" when Anya addresses Q by his real name and rank.). The actor-Peter Burton-is more stern than Desmond by a bit, but not nearly as fun and likable as the later actor.
He leaves the Beretta-somewhat sadly-with Moneypenny, and then heads to his flat, one of the few instances in the series where we actually see Bond's home (although it looks somewhat different in Live and Let Die). Turns out Sylvia decided to show up after all, although Bond nearly shoots her as he's doing a bit of golf. in his living room (her favorite sport, something also mentioned earlier on in the Casino scene, and also in From Russia With Love).
The two share a quick fling, making her officially Bond's first on-screen "conquest".
Next: We're introduced to Quarrel and Felix Leiter, who at first appear to be enemies, but become important allies, and Bond's investigation into Strangway's appearance begins. However, there's a few people out there that want to see him vanish as well.