We next go see Tracy attend her father's birthday, to the tune of "We have all the time in the world" but a bit lighter. Of course, Bond is there, and Tracy is immediately wise to her father being up to something.
She puts an ultimatum to father: Give him the information about Blofeld, or never see her again-Draco reveals that Blofeld might have a lawyer in Sweden, but Tracy is still upset that she was used as a pawn. Bond apologizes, and the two seem to reconcile and we get a nice montage set to the lyrical version of Louis Armstrong's "We have all the time in the world", with the two horse-riding, walking through a fancy garden, running on the beach etc. It's a little sappy but pretty effective at the same time. It ends with them looking at each other happily in the car with Draco in-between, who seems a bit uncomfortable, and even a bit worried the two are in love. Hey, it was your idea!
We next get a nice, tense scene where Bond breaks into the lawyer's office to crack his safe and copy some documents about the Blofeld connection (He also enjoys some nice newspapers and magazines while doing so). We're shown scenes of the lawyer nearly returning to amp up the tension a bit.
The safe cracker is one of the few gadgets in the film, along with the reprises ones in the opening (and I suppose Q's lint) and Bond's office, as well as Blofeld's later deadly makeup kit. Bond then chucks the gadget into a barrel operated by crane from Draco's construction crew, where Campbell-played by British actor Bernard Horsfall, known for many guest roles in Doctor Who-among others-collects it nearby.
It's not quite made clear if Campbell is one of  Draco's men or a fellow secret service guy, although it's made clear in the novel that he's the latter (Although Bond is "on leave"). Then again, sometimes MI6 would go over M's head to help James if he's in a pickle (As we see in License to Kill and Spectre).
We see Bond visit M at his mansion, something we haven't seen at the film yet, looking over his butterfly collection (M butterfly? Sorry, bad pun) with Bond showing off that he knows a bit about the study of butterflys as well, in addition to alcohol, weapons and women (Although he doesn't know much about diamonds as we learn in the next film).
He manages to convince M to let him back on Operation Bedlam, and we learns that Blofeld-using the alias de Bleucham (Which is french for Blofeld)-wants to become a count and has asked the college of arms to look into it. Bond takes the opportunity to learn about his own past as well, including his family crest.
Orbis non suffict-AKA The World Is Not Enough….hey, that sounds like a good title….
Bond meets with-and intends to impersonate-Sir Hilary Bray, played by George Baker here (Baker would return to Bond to play a different character in "The Spy Who Loved Me", but is otherwise perhaps best known as the troubled Emperor Tiberius in the I, Claidius series. )  so that he can get close to Blofeld, find out what he's up to, and finally capture him (He's given a hint by Bond that "Bleauchamp" has no earlobes). Funny thing is, Bond's impersonation includes his *voice* as well, which means for pretty much the next 45 minutes, Bond sounds exactly like him with a few exceptions. In a sense, George Baker "plays" James Bond!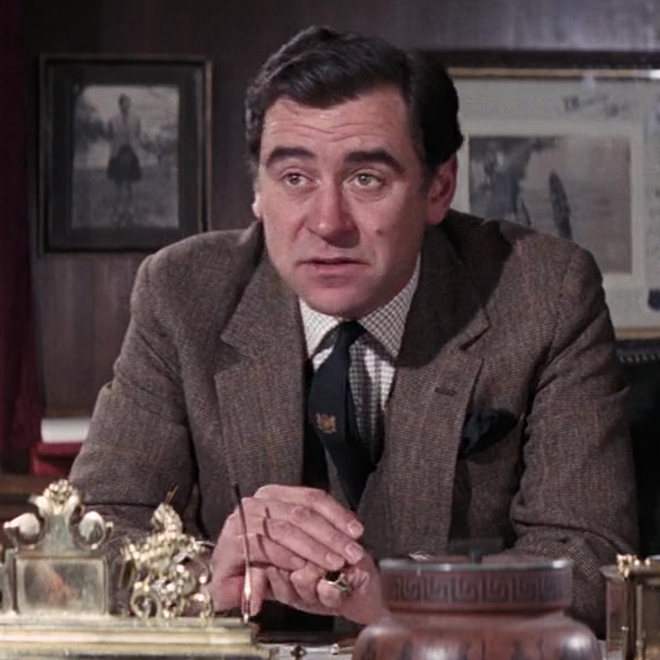 And so the deception begins, with Bond wearing a hat, glasses and trenchcoat. Not exactly the most convincing disguise (The hat's somewhat similar to the one's he worn before, even)….and Bond set off to Switzerland.