(Thought I'd skip ahead a bit in the comics history thing, as Quinlan Vos alone is enough material for a few posts which I'll work on somewhat later).
The Clone Wars is, of course, the three-year war that took place between "Attack of the Clones" and "Revenge of the Sith", laying the seeds for Emperor Palpatine's conversion of the Republic into the Empire and "Order 66" the purge of the Jedi Knights…..also of course, the birth of Darth Vader. It's a topic covered in various Star Wars media, especially the "Clone Wars" animated series that ran from 2008-2013. The comics and novels paint a somewhat different picture of the war and it's timeline, one that struggled to fit in with the continuity of the cartoon series until it was decided the CG series would be the only 'canon' account of the war.
The Clone Wars issues of Star Wars Republic (Which it was renamed as) mainly began with issue #50, with Obi-Wan and Anakin. (#49 is set after AOTC as well but features Quinlan Vos, which I'll deal with in a later article) This issue, which was extra-sized and included three stories (all set during the battle) was also the debut of the elite ARC troopers, including the character "Alpha" who would later become the inspiration for Captain Rex in the CG series.
Alpha would also accompany Obi-Wan and Anakin to the moons of Naboo (Home of "disgruntled spice miners" as Mace Windu put it at the beginning of "Attack of the Clones"), where Anakin and Obi-Wan first meet Durge, who before General Greivous and Cad Bane, was considered the main major Clone Wars villain next to Asajj Ventress….and he's literally next to her on the cover to #52.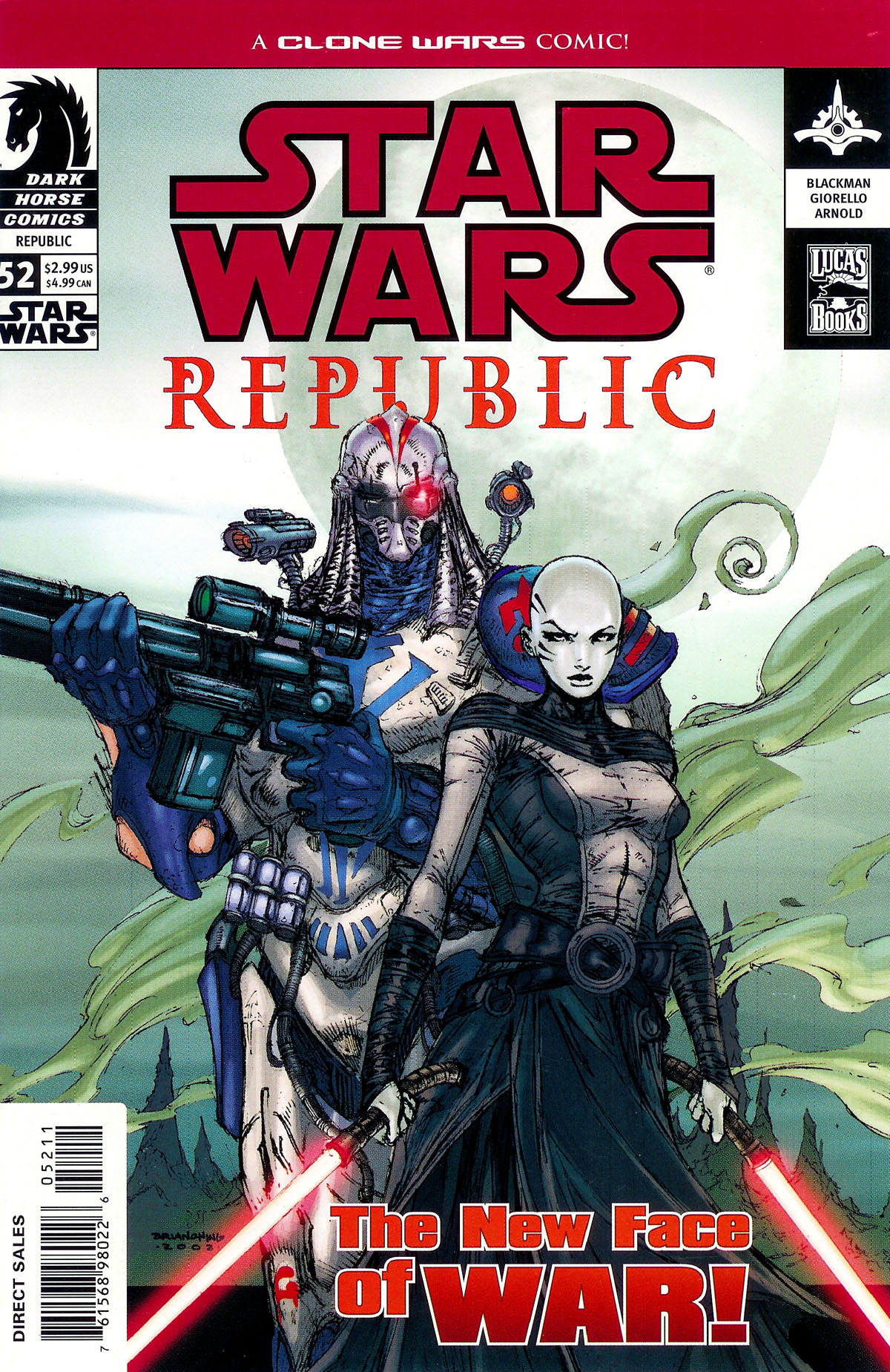 Ventress, long before her cartoon appearences, first appeared in these comics, although technically her design goes back to ideas for an AOTC sith lord….a concept ultiametly realized in her commander, Count Dooku.
This stories's strangest thing? Zombie Gungans (although they're mainly just puppeted by Ventress's force powers). They were wiped out by a deadly virus that the seperatists want to use on Naboo itself, and stopping it is of course a priority for Anakin, for obvious reasons.
The next arc (after a Vos issue and an Obi-Wan solo in which he's the sole survivor of a Jedi mission) takes the two Jedi to Jaabim, where a fierce battle is being fought. The Republic however has a nice new toy:
Obi-Wan however is presumed dead during the battle, and Anakin is put in charge of a group of "orphaned" Padawans.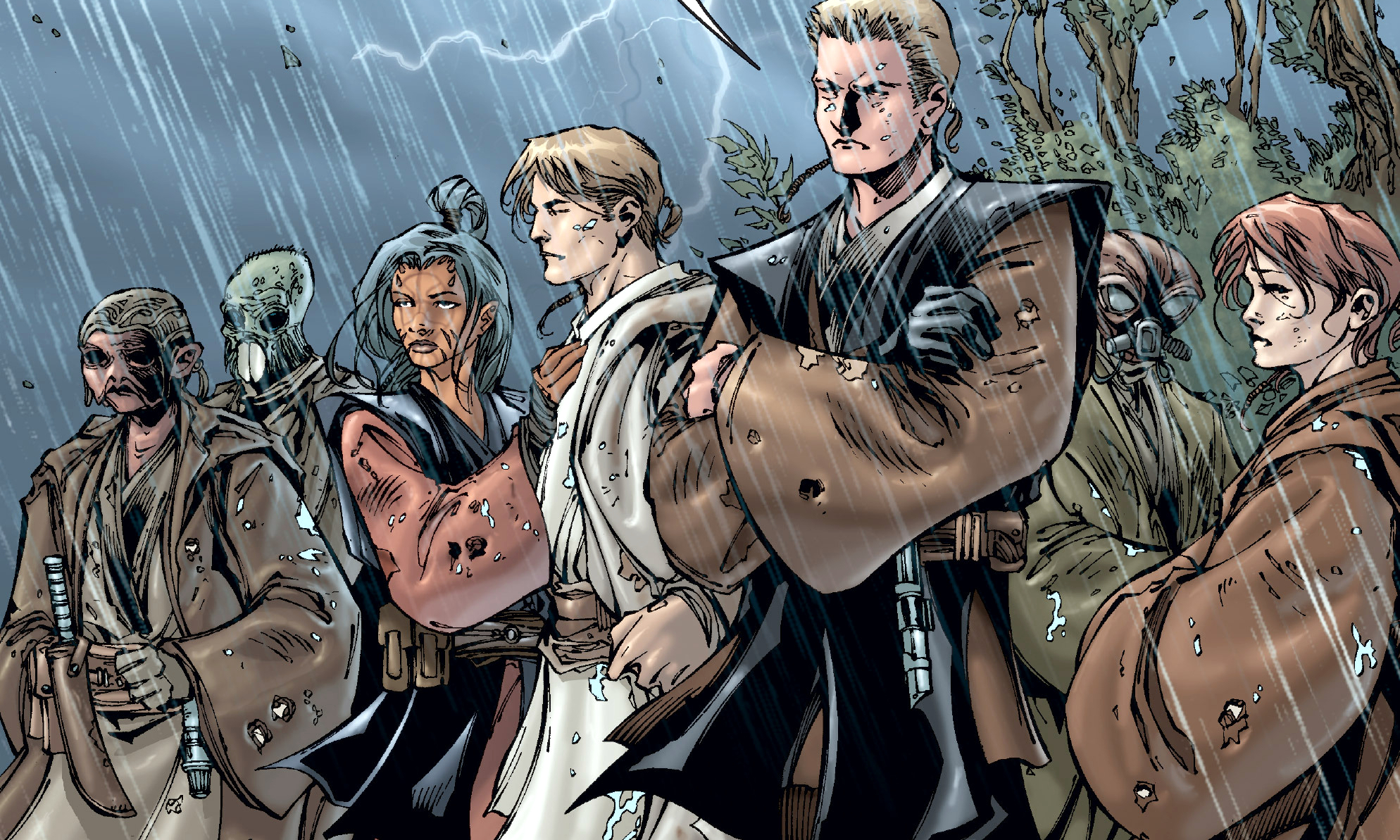 They fight fiercely, but ultimately all end up dying except for Anakin, who orders the Republic retreat in part to of course, save his star future pupil. As Anakin reluctantly leaves, he learns a sort of "handy" skill with the force to keep back an angry Republic partisan; one that would become one of his trademarks.
Anakin's actions here would prove to haunt his son later on, in a sequel story in the "Empire" comics.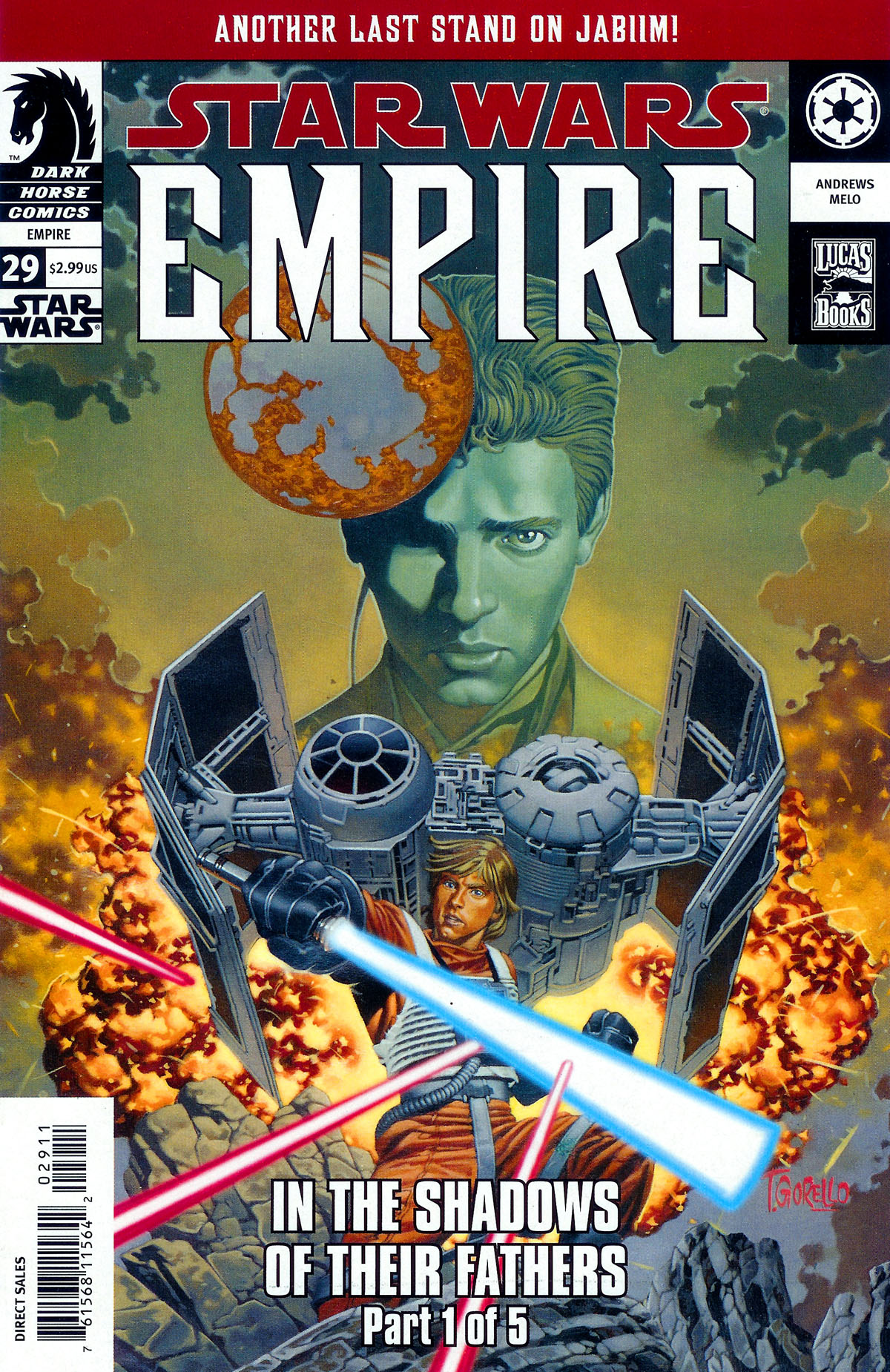 Still presuming Obi-Wan to be dead, Anakin is next teamed up with the one Jedi he'd rather not be: The one raised by the Tuskens.
For obvious reasons, of course.
After a mission, Anakin nearly lashes out at A'shared Hett. Hett calms him a bit by revealing his true face, and Anakin admits to Hett his secret about killing the Tusken village. In a haunting ending, when asked if he'd do it again, Anakin replies plainly: "Yes".
Of course, given what happens to Krayt later on, this is kind of ironic….he pretty much revives the Sith and restores the Empire, undoing a century of peace, in the "Legacy" comic series.
The next arc features Obi-Wan and Alpha-who are actually alive, escaping from Ventress's dungeon (Anakin in the meantime is apprenticed to Ki-Adi-Mundi, who we learn lost his family in the war). This arc also revealed much of Asajj's backstory.
The next arc to feature Anakin and Obi-Wan draws closer to "Revenge of the Sith" with Anakin knighted and with new, longer hair. They team up with Quinlan Vos, (Sort of, as he's sort of a double agent for both sides; it's complicated) He's also sporting the Azure Angel, the custom starfighter patterned in part on his old Pod Racer, and which also featured heavily in the original Clone Wars cartoon.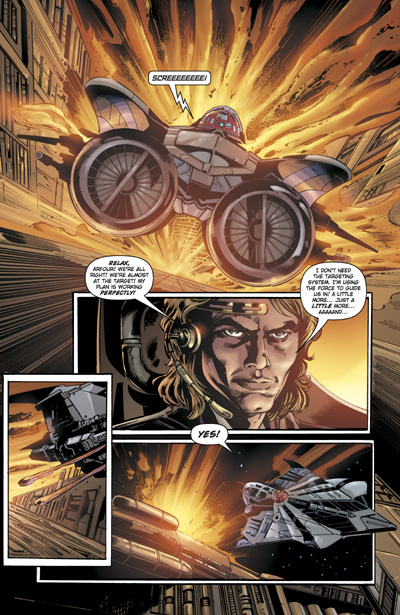 (In "Canon" Anakin would just have a yellow Jedi starfighter, both AOTC and ROTS versions, although a Jedi starfighter with a similar color scheme shows up in ROTS, but not piloted by Anakin, but by Plo Koon)
The arc also features Captain Dodonna, a character who would later give command a very critical operation (although on the opposite side of things):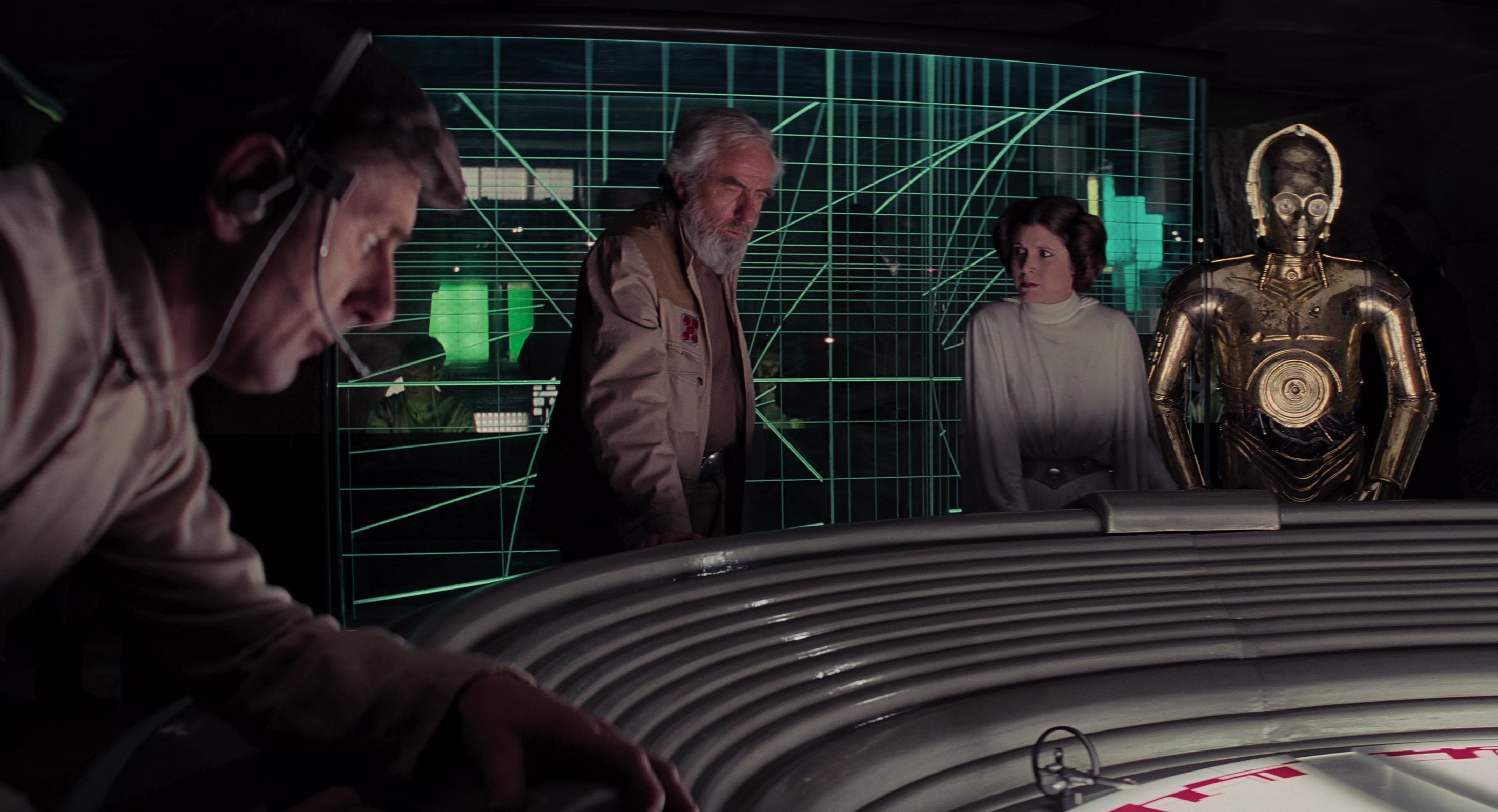 The arc features the Dreadnoughts, powerful ships that play a significant role in the post-ROTJ Thrawn trilogy.
The arc ends with things sort of settled and everybody on Coruscant, with Palpatine gaining a new fleet of warships. However, Ventress shows up, discover's Anakin marriage, and the two duel-with Ventress's blade creating the scar we see him sport in ROTS.
Of course it's the first of many, many more.
Anakin believes he's killed Ventress after their fight, but in fact she's rescued by Dooku.  In the series "Obsession" Obi-Wan becomes obsessed with finding Asajj Ventress. He also pretty much lands on Naboo to find Anakin and Padme, but he just shrugs it off a bit, not bothering to report it to the council (It's sort of implied in both AOTC and ROTS he knows what's really going on, but has enough respect for Anakin to not make a big deal of it). Smooth move Obi-Wan…and they thought Jar-Jar was responsible for the Empire.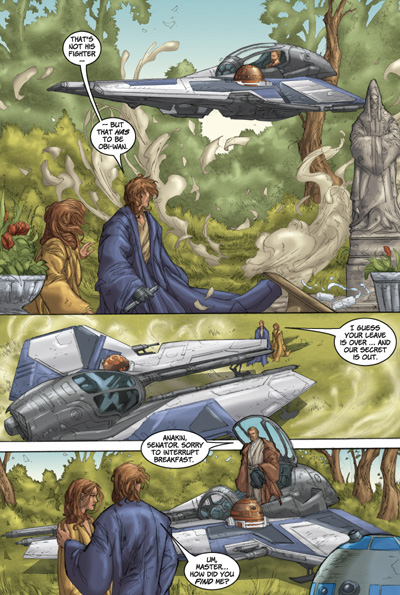 In the comic Anakin also shows some more ruthlessness, by dropping the character Durge into an escape pod and throwing him into a sun, killing the seemingly immortal bounty hunter. So much for "It's not the jedi way".
The comic ends with a showdown on Boz Pity (Thanks to some help from Bail Organa), with General Greivous unleashed, killing Jedi council member (and star of the Jedi starfighter game) Adi Gallia. (In the cartoon, she dies at the hands of the ressurected Darth Maul and Savaj Opress; also, a look-alike character, Stass Allie, is killed during the Order 66 montage. Explanation? They're cousins).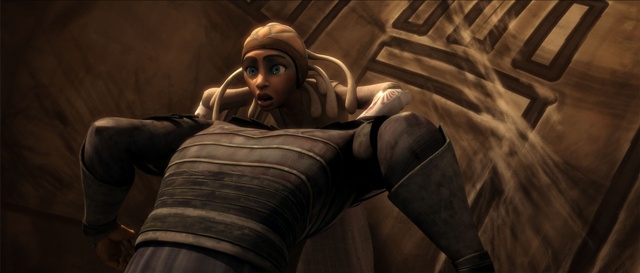 Eventually Ventress has a last-minute change of heart, and apparentally dies going to the light side. Plus she leaves a little hint as to the Sith's next plot.
However, plot twist-she's actually not dead, and commandeers a medical frigate to parts unknown, but just as far from the war as she possibly can.
What happens next in "Legends" continuity is either this:
or this: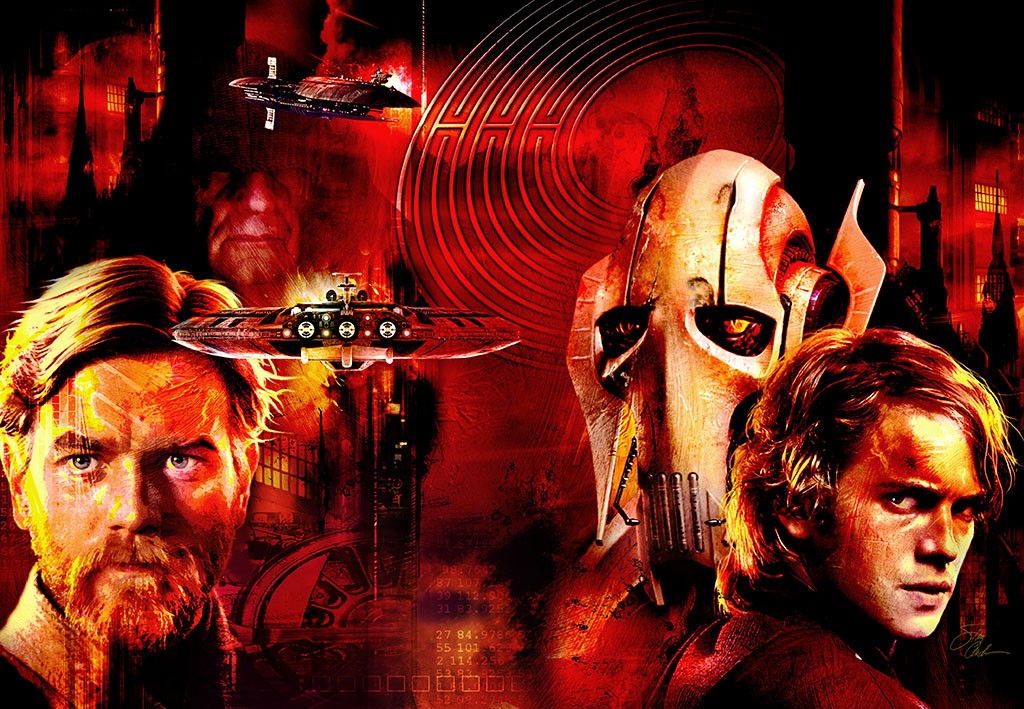 As they both kind of have somewhat contradictory views of the events leading straight to Sith.