Bond, Tiffany, and Frank's corpse board a flight to LA, with Mr Wint and Mr Kidd also following them. We get a few funny qoutes from Bond about "Bond" being his brother. (The joke being of course that Bond has still switched identities with Franks). Bond of course would get a real brother-although a stepbrother-in SPECTRE of course….(Who happens to be also the Craigverse's Blofeld).
….and in the strange universe of james Bond Jr. Bond must have had some form of sibling to have a nephew…
But back to the film. At LA, we're reintroduced to Felix Leiter, who once again looks completely different.
Bond is then picked up by a few gangsters-pretty much the closest we get to the actual villains from the novel, the Spangled Mob.
The lead one possibly plays the same character in "Man with the Golden Gun's" opening.
The other, not too bright one is played by Sid Haig, better known perhaps for an interesting later role….
They take Bond to Morton Slumber, another of the series's more goofy names, although he's not really a henchman or Bond girl, who usually get those kind of names. Slumber's front for the Diamond smuggling is the funeral home Slumber incorporated, where "Bond's" body is cremated with the diamonds extracted.
Of course Wint and Kidd knock Bond out with his one weakness, the back of the head bonk-and they decide to cremate the secret agent. Bond however has an unusual savior-Shady tree, another smuggler-and a comedian at a Vegas hotel. Turns out Bond's switched the Diamonds for fakes at some point (It's not quite clear why he does this, at least not to me). Bond does get a fantastic quip here: "Don't tell me, you're Saint Peter?"
Next we come to the film's primary location for a good chunk of the next hour-the "Whyte House", a hotel that's actually a pretty good special effect-it's the Las Vegas hilton, but with what I presume is a matte painting or some other kind of composite with a second, larger building placed behind it. As Tree is performing here, Bond goes here next for clues.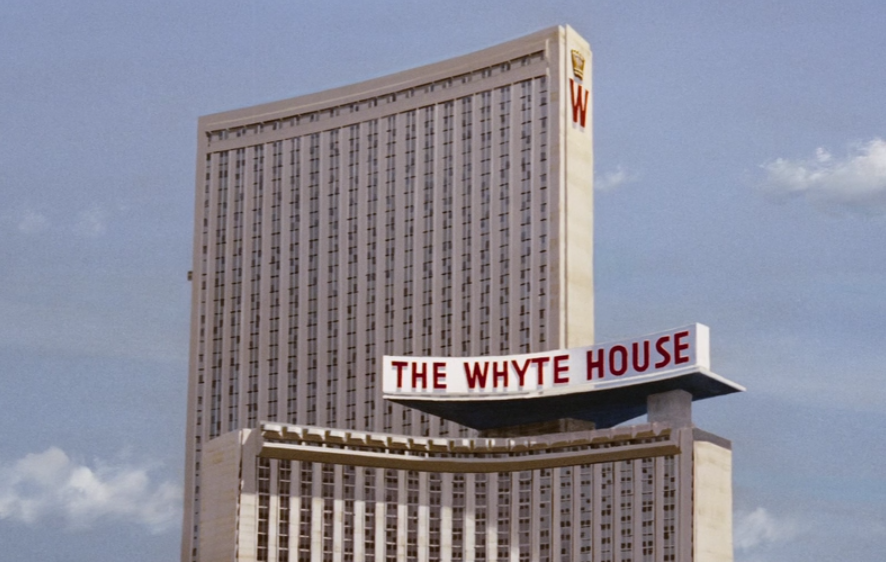 We learn Shady Tree's kind of a Las Vegas performer, which is apt considering he's not only played by real life-comedian Leonard Barr, who is also the uncle of a certain Vegas legend: Dean Martin.
Tree gives a brief act, but one that contains some info on the plot-that Willard Whyte is seldom seen, an allusion to Howard Hughes (Producer Cubby Brocolli stated that he got the idea from a dream he had for this part of the plot).
A side note about his two showgirl companions, his "Acorns".
It's been long noted that this Acorn is Valerine Perrine, an actress and model perhaps best known for the role of Lex Luthor's Moll Mrs. Teschmacher in the Christopher Reeve Superman films.
It's not. It's actually Pat Gill, an actual Vegas showgirl who is seen here with Elvis a few years earlier.
The other Acorn is often said to be Cassandra Peterson…
AKA Elvira….
….but it's actually a woman named Jennifer Castle, who I can't find a lot of info on.
It's certainly possible Perinne and Peterson *are* in the film, but in far less prominent roles.
And now we have our Bond casino scene. However, it's not bacarrat or poker, but craps (I think this is the only time in the series we see Bond play this particular game). We're introduced to two new characters here.
First is Plenty O Toole, a sort of gold-digger lady played by Lana Wood. She's sort of the secondary Bond girl but really is more comic relief and "something for the lads" more than anything, and really is barely in the film at all apart from this scene and her demise later on.
Lana Wood is of course the younger sister of the late Natalie Wood, and played her sister's younger self in the John Wayne classic "The Searchers".
Second we've got Burt Saxby, part of the Mr. Wint and Mr.Kidd faction of the smugglers (AKA the guys who for some reason are killing off those on the pipeline)…and "Mr. Whyte's" Casino manager.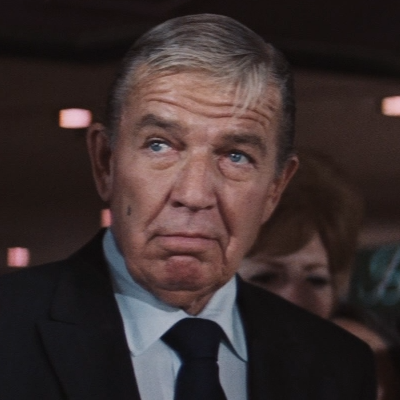 He's played by Bruce Cabot….who you might know from a little 1933 film called "King Kong" as well as various Westerns.
Another notable appearence that was cut-Sammy Davis Jr.
This film really kind of goes all out on the trying to appeal to American audiences and promote Vegas, it seems-and it's not done yet!
While Mr. Wint and Mr. Kidd take care of Shady Tree (unaware that he doesn't have the real diamonds yet, as Saxby tells them)Bond impresses Plenty with his considerable craps skills, and they go up to his hotel room-where the mobsters are there, and throw Plenty out into a pool (although they intended to just off her anyway, the "Rodney" gangster stating he didn't know there was a pool down there).
But the night's not a total waste, as Miss Case is waiting for Bond to discuss Diamonds….among other things.
Next: CIRCUS! CIRCUS! and the film descends even deeper into camp.