Although we didn't get a full trailer yet as of this posting., we did get something almost just as good for the film-a Sizzle Reel. (Previously, The Force Awakens and Rogue One had these as well, and Lucasfilm did release several BTS materials for the prequel trilogy prior to their release) Here's a few observations. Although a lot of this is speculation, some of it is based on rumors circulating around the internet, so there are some potential spoilers.
Early on, we see some red material exploding. I'm guessing this is some of the salt on the planet seen in the trailer or something, and not a person exploding into a bunch of guts. Star Wars is still PG-13 after all!
Plenty of shots of Rey in her new look.
Chewie, but looks like he's in a fighter far too small to be the Falcon.
A character in some sort of gun pod, similar to those seen on The Millenium Falcon and the Republic gunships in the other films. I think this is Veronica Ngo, and the character she's playing is Paige, Rose's sister and fellow resistance member. Rose is pretty much a new main character, introduced in this film perhaps as how Lando became part of the gang in the second.
We also get what looks to be a somewhat similar outfit on a character falling into a group of spheres (Could be Paige as well). Knowing how Star Wars uses spheres so often, these could be anything, really.
Speaking of Rose, it looks like she'll be in the Finn/Poe/BB8/Leia part of the story (Which might meet up with Rey and Luke's at some point). Here they appear to be in a medbay, perhaps where Finn is recovering from his injuries sustained in his fight with Kylo Ren.
It also looks like Finn and her go undercover on some First Order vessel. Dressing up as the bad guys is something that of course goes back to the very first film, and was recently repeated in Rogue One. I guess Finn's defection hasn't reached whatever ship or installation they're infiltrating (There's a rumor that this scene also involves Tom Hardy in a cameo).
Speaking of Finn, looks like he gets a haircut and a flight suit similar to Paige's-and what appears to be a new haircut (possibly trimmed to accommodate First Order officer regulations?)
Given Finn's skills as a gunner in both the TIE fighter and the Falcon, I'm guessing they're building that up as a trait for his character.
After the positive reaction to the "Traitor!" Stormtrooper in TFA, looks like the First Order's got some new melee weapons for the troops. Looks pretty nasty.
Interesting shot of Leia here, possibly on Luke's planet, finally reuniting with her estranged brother?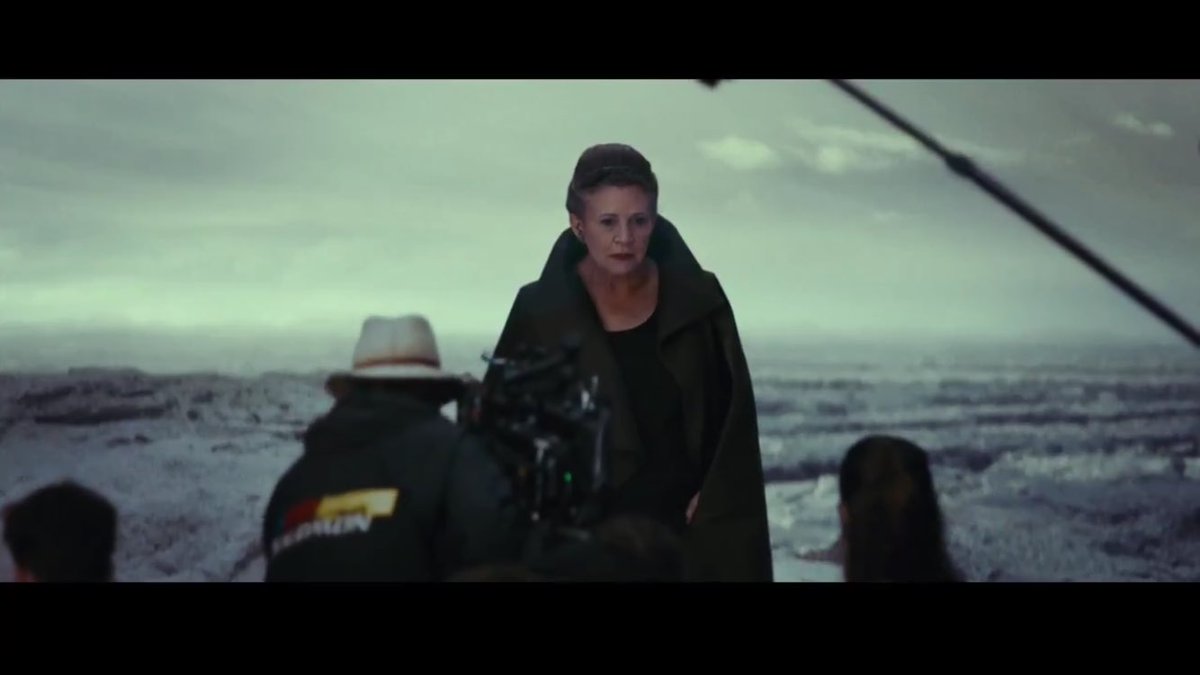 We also get these guys, rumored to be among the local wildlife on Luke's planet.
Also a good view of the "Space horse" Finn's rumored to ride, and one spotted on set.
Looks like Ren's managed to get his mask back back on although if the trailer's any indication he's going to break it at some point.
Here's Laura Dern's admiral apparently meeting with Leia. It's unclear what side Holdo's on. It's possible she's part of the Republic, and she's trying to re-organize the fleet after the destruction of Hosnian prime.
Benicio Del Toro. He's rumored to play "DJ", a character with underworld connections possibly on a rumored "Casino planet" Leia and co. visit (and possibly meet with Holdo).
What looks like a tiny dealer at the Casino planet. Reminds me a bit of Colonel Gason from the "Clone Wars" cartoon, who was also very small, but many of the features seem a bit too different for it to be the same type of species (Maybe a distant relative, perhaps)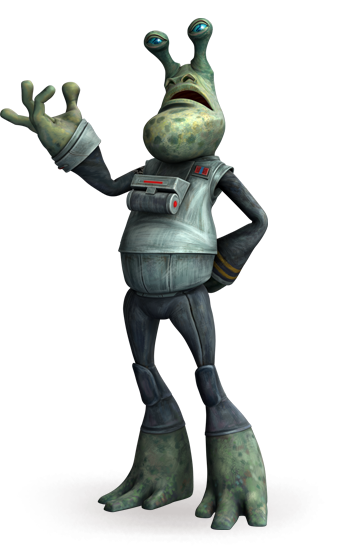 Luke in a new outfit, perhaps preparing to leave his exile is the bag's any indication.
Here we've got Poe in what appears to be an A-wing. In recent comics and novels, it's  revealed that Poe's mother piloted an A-wing at Endor (and nearly shot down Luke's shuttle to boot!) Or it could be the thing Chewie's piloting.
Speaking of A-wings, here's a blue one….
Although of course not exactly the same, the look kind of reminds me of Ralph Mcquarrie's concept art for the A-wing:
A shot of what looks like Hux or another First Order officer in a landspeeder that looks part Batmobile.