The Doctor decides to test Missy's redemption-by having her respond to a distress call, just like he would. The distress call ends up being on a ship trying to break away from a black hole, with a terrified pilot at the helm.  Missy's style is a bit different, to say the least, and does little to calm the situation.
The pilot asks if any of them are human-Missy isn't, of course, and Nardole is sort of a cyborg-but Bill is. In response, he shoots her in the chest, creating a hole.
She's then taken by mysterious, white robed and masked individuals who state they can repair her.
The Doctor, Missy, and Nardole soon figure out that the ship is in a state of time dillation due to the Black hole-while only seconds pass for the Doctor and co. on the bridge, time moves much faster on the ship's lower levels. A repair crew on the ship, sent down not too long ago, became a fully functioning city, although a polluted one, where various citizens are being 'repaired'.
There, Bill befriends Mr. Razor, an employee at the hospital there, and the two observe via TV the Doctor's extremely slow movements (from their POV) over the next decade. Bill also has machinery fixed to her chest to replace her destroyed organs. Eventually, Bill is betrayed by Razor into undergoing the next step of the procedure.
Eventually making their way to the bottom of the ship, The Doctor and Missy investigate the hospital, discovering that, in fact, the ship is from Mondas, the original Cybermen planet, and the patients are undergoing conversion to original Cybermen.
Missy, meanwhile, meets "Mr. Razor", who is in fact, her earlier incarnation, the Master…and is very worried about his future.
The Doctor is then confronted by a Cyberman and both versions of the Master-and the Cybermen reveals that she is, in fact, Bill potts, and that she 'waited' for the Doctor.
The two quickly knock the Doctor out and tie him up, although Missy's blow manages to have the Doctor's hand land on a computer console….
As the two villains dance on the roof, the Doctor figures out what's been going on, connecting the dots from the last time he faced this particular Master incarnation. After being sent back to Gallifrey's "Time lock", The Master's degenerative illness-the one that made his skull translucent and made him shoot lightning bolts, as well as ravenously hungry-was 'fixed', and the Master fled Gallifrey, eventually ending up in the bottom of the ship here, where he turned it into yet another dystopia, but was thwarted by a rebellion, forcing him to take up his "razor" persona. The Master's damage has already been done to this level of the ship, though, and therefore it's citizens are being converted into Cybermen.
During his knock out though, the Doctor was able to reprogram the Cybermen, so that they would target time lord biology as well as human-which means now the Master, Missy, and the Doctor have no choice but to fight the Cybermen (Of course the Doctor would gladly do so anyway). They're rescued by Nardole, and suprisingly, Bill, who hasn't quite succumbed to the Cybermen side of her quite yet.
The group retreats to a higher level, a solar farm that is in better shape, but still being targeted for conversion by the Cybermen. The Doctor, Nardole, and Bill befriend the citizens, although they're a bit off-put by Bill's Cybermen exterior. They also try to work out a way to escape, especially with the time dilation allowing certain Cybermen to evolve into their current "Nightmare in Silver" looks.
The Doctor figures they can take a stand, to evacuate the citizens to a higher level where they will be safe for a time, guarded by Nardole, while the Doctor, Bill, and the Masters delay the Cybermen. However, the Master wants to just escape in his TARDIS, and Missy reluctantly goes along with the plan of her earlier self, despite the Doctor's plea:
No! No! When I say no, you turn back around! Hey! I'm going to be dead in a few hours, so before I go, let's have this out, you and me, once and for all. Winning? Is that what you think it's about? I'm not trying to win. I'm not doing this because I want to beat someone, or because I hate someone, or because, because I want to blame someone. It's not because it's fun and God knows it's not because it's easy. It's not even because it works, because it hardly ever does. I do what I do, because it's right! Because it's decent! And above all, it's kind. It's just that. Just kind. If I run away today, good people will die. If I stand and fight, some of them might live. Maybe not many, maybe not for long. Hey, you know, maybe there's no point in any of this at all, but it's the best I can do, so I'm going to do it. And I will stand here doing it till it kills me. You're going to die too, some day. How will that be? Have you thought about it? What would you die for? Who I am is where I stand. Where I stand, is where I fall. Stand with me. These people are terrified. Maybe we can help, a little. Why not, just at the end, just be kind? 
Missy however, does eventually change her mind, stabbing her former self, and perhaps triggering his regeneration into her.  In turn, the Master blasts her full blast with the laser screwdriver, possibly killing her, but maybe not. The wounded Master then heads toward his TARDIS. Missy…who knows?
The Doctor makes a brave final stand against the Cybermen, fighting them off by using his sonic to ignite several fuel pipes. He's hit several times by the Cybermen, as well as the debris from the pipes. Boasting that he's managed to defeat the Cybermen time and time again, the Doctor manages to draw them back, but he's mortally wounded and in the early stages of regeneration.
Bill manages to recover the Doctor's prone body, which at the moment is unconsciousness, although the process of regeneration has begun.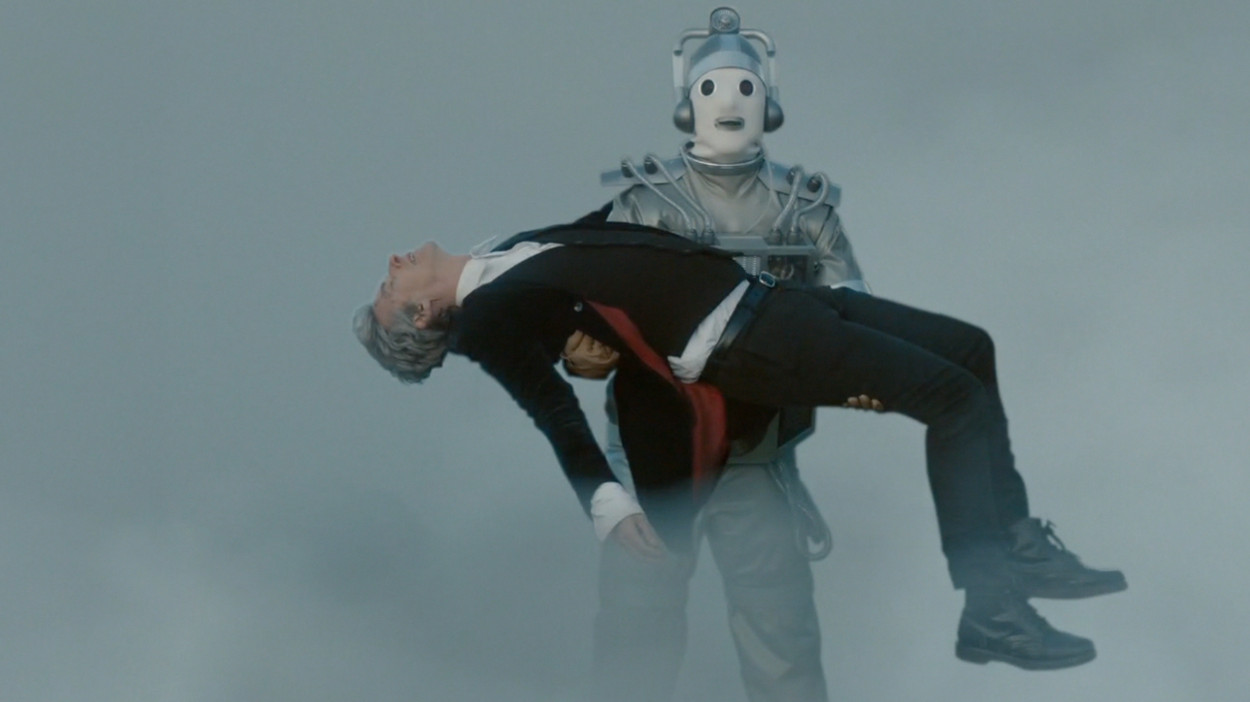 Fortunately, Bill's water creature friend, Heather, from the season finale, manages to emerge from one of Bill's tears, managing to undo her cyber-conversion and make her back into her normal self, but with powers similar to hers. The two place the Doctor's body in the TARDIS, although Bill hopes she'll see him again in some form-and then set off on their own journeys through space and time.
The Doctor manages to regain consciousness, but the regeneration is already proceeding. However, like his tenth self, he'd rather stay the way he is rather than change once again.
Parking the TARDIS in a snowy landscape, and the process still underway, the Doctor continues to fight off the change, but is surprised to see a familiar face approach him-and not just any familiar face, but his first face….and one that is also fighting off a change to come.
But first, he's got one last adventure….
And then, it's time for something completely different….