Zack and Grey manage to get one of the old Jeeps in the Visitor center working (Giving us a look at a part of the center not shown in the '93 film) and head back to the main park. There's a nice nod to night-vision goggles in the first one, as well as the Raptor mural in the Park's cafe/gift shop.
Claire and Owen on the other hand, arrive a few minutes later and hide from the I-rex, in a scene reminiscent to a degree of the Kitchen scene in the original.
Masarani, after hearing Hoskin's plan to use the Raptors to get the I-rex-decides to save the day on his own by taking down the I rex with his copter. However the I-rex quickly compromises a nearby Pteranodon aviary, causing the flying reptiles to panic and make the situation several times worst-with Masarani's helicopter creating an even bigger hole-and killing him.
What follows is perhaps the most crowded humans-in-peril scene in the whole franchise (although the San Diego sequence from TLW comes close) as the Pteranodons overrun the Park's visitor area.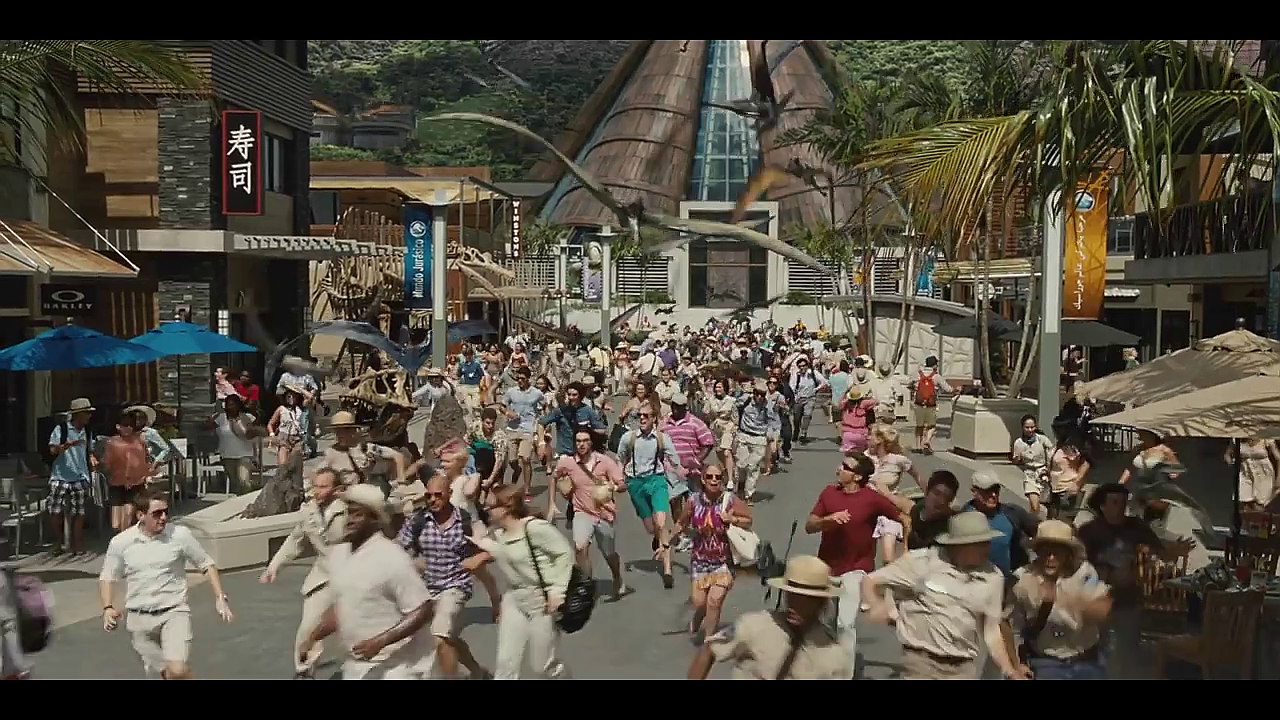 One of the best parts? A cameo by Jimmy Buffet at his own resturant, Margaritaville-with of course, Margaritas in his hand. I'd leave the shaker of salt behind, Jimmy.
What follows is one of the more controversial-and I'm pretty sure the only female-death in the series, as Zara is picked up by a Pteranodon, dropped into the Mosasaur aquarium, is picked at by the Pteranodons and then both Pteranodon and Zara are swallowed by the Mosasaur. Although not particularly gory in any way, it is somewhat chaotic and violent.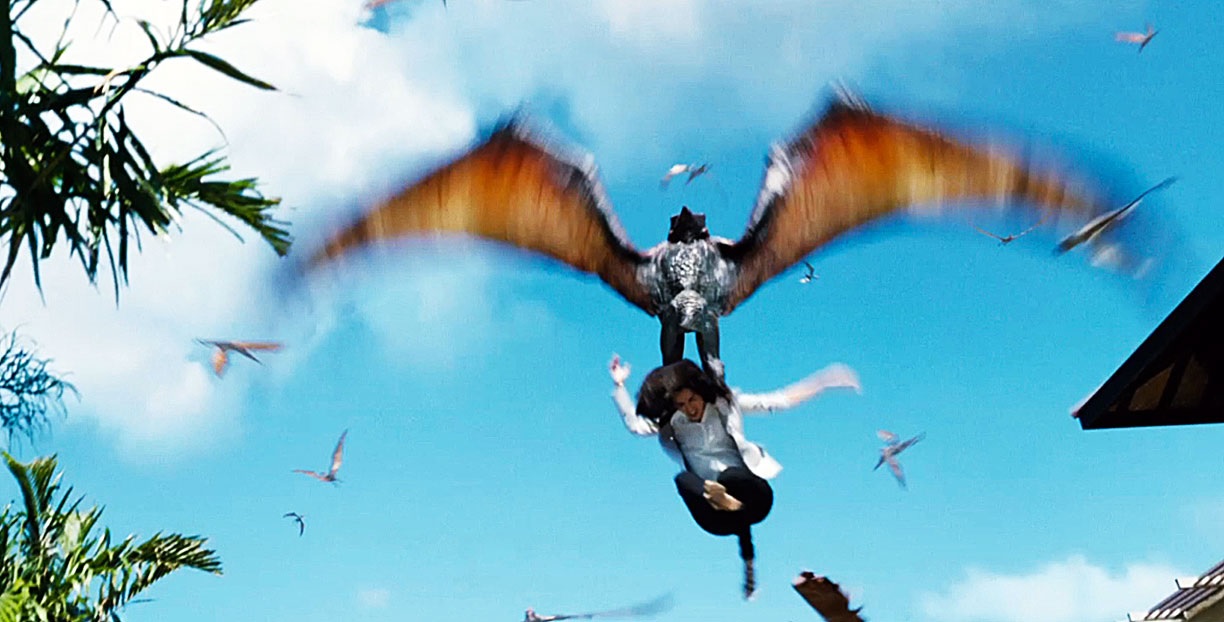 Although everybody else gets reunited rather quickly, Owen gets attacked by a Dimorphodon-pretty much a Pterosaur which is particularly less "beaky" and more "Ferocious carnivore" in it's appearance.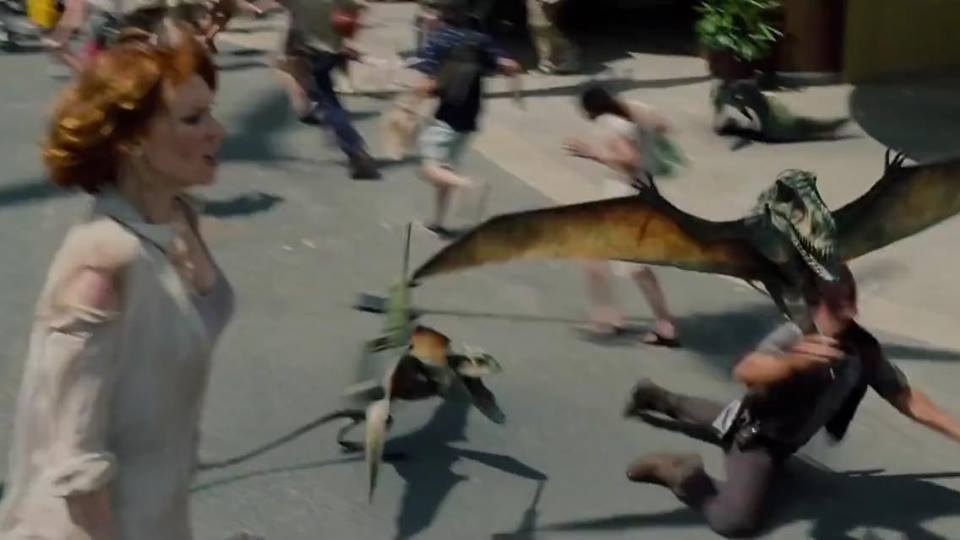 Claire manages to get a pretty badass moment by shooting the beast of Owen, and the two kiss.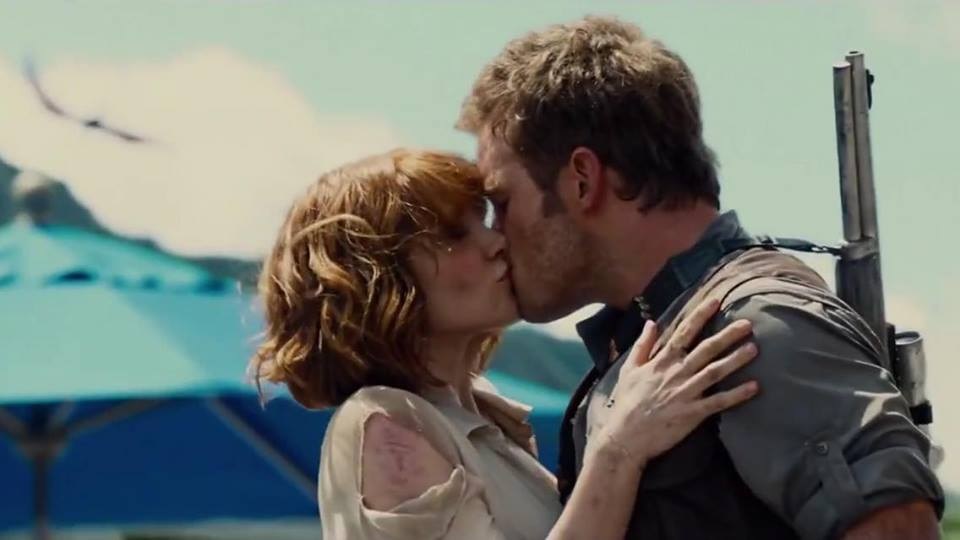 You know, in a series where there are three couples-Alan and Ellie, Ian and Sarah, and the Kirby's-I'm pretty sure this is the first ever kiss in the series. Then again, this is pretty much a fresh romance, while the others were pretty established already.
Meanwhile at control, Vic has pretty much taken control of everything and with Masarani gone, nothing's really stopping him from using Owen's Raptors to take on the Indominus. He also brings his own armed men to the island, and we get an amusing shot of one of them shooting down a Dimorphodon trying to get off the island (There's actually a background story-I believe from the website-that stated it was Hoskin's men who took care of the escaped Pteranodons at the end of "Jurassic Park III" so this is kind of fitting.
Next: Raptors (literally) unleashed!