Jon Favreau has now been handed the keys to a live-action TV show based on Star Wars. Although of course, primarily a cinematic franchise, the series is no stranger to TV, with several animated series-Droids, Ewoks, Clone Wars, Rebels, even the Lego one-that have graced sets. Although it's record with live-action is a bit more tricky….
Although to be fair there were some cool moments in those Ewok movies….there's something in particular about the Bluurg monsters that just screams "Star Wars" to me…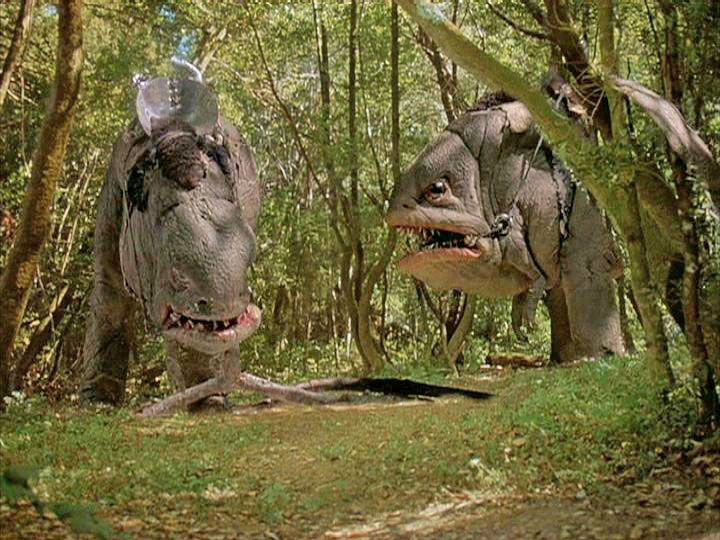 Anyway, back after "Revenge of the Sith" George Lucas was still considering working on several "Star Wars" projects outside of the films. One of them, of course, turned into the Clone wars series. Another project, a live-action TV series, was also considered, and several pitches and scripts commissioned. One of these pitches-by FX guy John Knoll- would eventually see the light of day as "Rogue One".
When George Lucas sold Star Wars to Disney, the TV series concept largely remained dormant as Disney largely focused on getting the new films out-despite a few directorial missteps in 2017 (and some criticism) Lucasfilm/Disney now seem more secure in  the future of the franchise than ever before, commissioning new movies by Rian Johnson and the Game of Thrones writers David Benioff and DB Weiss, although what exactly they will cover remains seens (and still no word on a third spin-off….)
However, last week, we learned that Jon Favreau will be developing a new live-action Star Wars TV series. Favreau's no stranger to Star Wars, having done a voice for Clone Wars villain Pre Visla…..
and also a voice for a mysterious alien in the upcoming Solo..
Of course he's also had an incredible career outside of Star Wars as well. Apart from his acting talents, he's also a director, having directed several hits such as Elf, The Jungle Book, and Chef (many of which he also had small roles in). But perhaps he's best known as the director of the first and second Iron Man films, both of which launched the "Marvel Cinematic Universe", one of the most powerful franchises in cinema today (and since 2010, also owned by Disney), and arguably a model that Disney wants to take Star Wars.
Although Favreau hasn't directed any Marvel films since Iron Man 2, and was replaced by Joss Whedon for the Avengers films, he doesn't seem to harbor any ill will, as he continued to appear as the character Happy Hogan in Iron Man 3 (Directed by Shane Black)  and most recently Spider-Man homecoming, and he's slated to appear in Avengers: Infinity War as well.
Now, onto the nitty gritty, what will Favreau's series cover? It's too early to really say at this stage, but from what I've seen, he seems to do a lot of "slice of life" projects, often with snarky, or naive characters, rather than big 'event' films. His Iron Man movies seemed to reflect this, mainly focusing on Tony Stark himself. Even as the Marvel films have gotten bigger and bigger and scope, they seem largely built on the Iron Man prototype, high adventure but with a lot of humor.
So I'm guessing that perhaps Favreau's series might focus a bit on the fringe of Star Wars, not exactly the big epic events like some epic clash between the light and the dark side but those who try to make it by in this frequently war-torn galaxy…and that's certainly a major theme of Star Wars-that even those who appear small and irrelevant can change the course of the future. After all, that's pretty much what Star Wars is all about…as stated by Leia in the Star Wars novel,
"They were in the wrong place at the wrong time. Naturally they became heroes."
(OK, the TPM cast were kind of high-class characters like a Queen, but at least Anakin and Jar-Jar kind of fit that)….
….and of course the original team did as well…
and certainly the Disney casts fit the model quite well….
It's possible the series might cover the "Dark times" era as well (Between Revenge of the Sith and A New Hope) although "Rebels" covered a portion of that. However, perhaps a series set earlier, when people are still adjusting to this new, darker galaxy, might be a good idea. Dark Horse certainly tried the concept with their "Dark Times" series.