Solo is the second Star Wars anthology (or "Story") film, following December 2016's Rogue One, and the fourth Disney Star Wars film overall. However, while R1 had a roughly smooth path to the big screen-as did Force Awakens and Last Jedi-Solo had some problems….
In the middle of production, the film's two directors-Phil Lord and Chris Miller-known for their "Cloudy with a Chance of Meatballs" "21 Jump Street" series as well as the acclaimed "Lego movie" (Which featured Star Wars characters in it making a cameo appearance) were replaced, as Disney felt that they were trying to make the film too much of a comedy.
While most of the cast-and probably a good amount of footage-was retained, director Ron Howard-whose experience spans decades-and he's a longtime Lucasfilm collaborator as well. Most famously as the director of Willow…
….but also for American Graffiti, pretty much the project that allowed Lucas to truly break into the mainstream and get backing for "Star Wars"… (a great deal of early Star Wars marketing centered around "It's from the America Graffiti guy!")
…and of course inspired Ron's later sitcom, "Happy Days"
….was brought onboard to salvage the film. The trailer is really our first major look. The film arrives in May, making it the first of the Disney films to really be released in the traditional Memorial Day weekend that the Lucas-produced entries had (Every Disney Star Wars film-despite some early targets for  memorial day for TFA and TLJ-has been released in December. Probably marketing has something to do with it-Christmas and all!)
My thoughts on some shots, in no particular order.
Chewbacca's bandolier here is a bit different, closely resembling the Wookie armor in "Revenge of the Sith". Funny thing is, Chewie's in that movie too and mainly just has his classic look.
Looks like Han's got the dark winter coat look again.
Han in some sort of landspeeder seen a few times in the trailer.
Once again bringing up "Grafitti", kind of looks similar to Harrison's character in that. Wouldn't be surprised if it was deliberate, knowing Ron. ("Grafitti" is also referenced quite a few times in the various films, most notably in "Attack of the Clones" which features some slight 1950's touches in it's Coruscant scenes).
The more pristine looking Falcon interior. Presumably, this is when Lando owned the ship.
Considering his later venture, not surprising it's super clean. (Cloud City-apart from maybe the Carbon freezing chamber-looks a lot less "used universe" than other OT locations).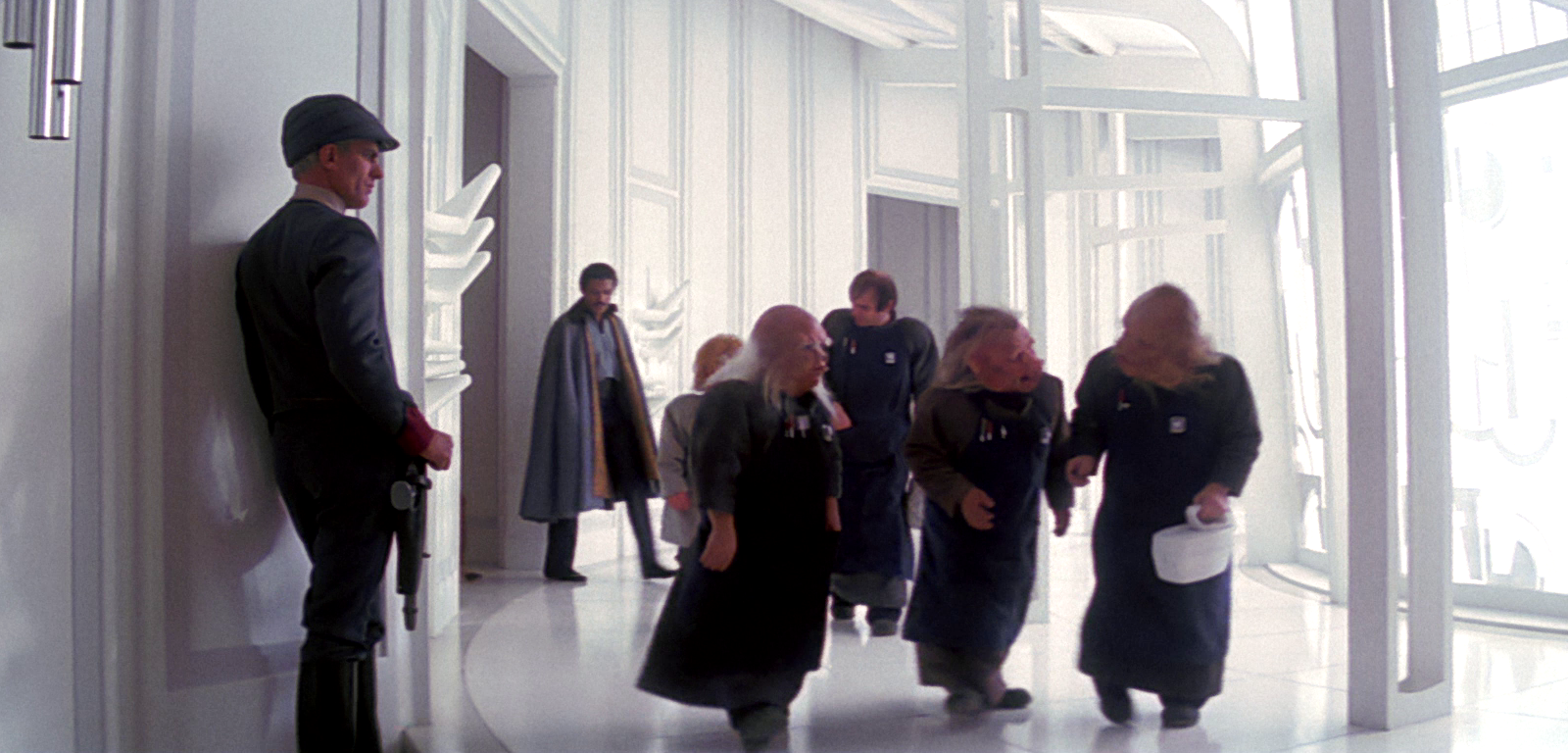 Speaking of Lando, like the old "Legends" materials, looks like Lando is teamed with a droid as his co-pilot. Possibly a female droid too (Well, although Droids don't really have gender, maybe one programmed as female), as Pheobe Waller is part of the cast and said to play a droid character (She's not the first "female" droid in the series of course, but  maybe the first one to really be a main character).
I'm pretty sure that hand gesture they're making is the same one Lando makes in ROTJ.
The look of the droid kind of looks a bit like a full body R2-unit (especially the head, but the legs and midsection also bear some resemblance.
The design also reminds me a bit of Leebo, a character who appeared in the "Shadows of the Empire" storyline, as co-pilot of Dash Rendar, who, like Han, is a "mercenary with a heart of gold" (and often criticized for being the story's Han stand-in).
Back to Lando, he's got a nice coat of his own…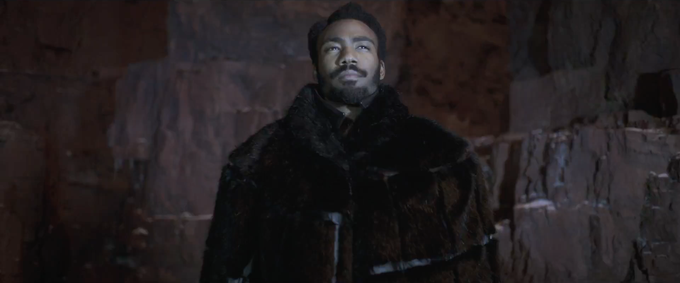 As well as what seems to be his main look, a yellow shirt.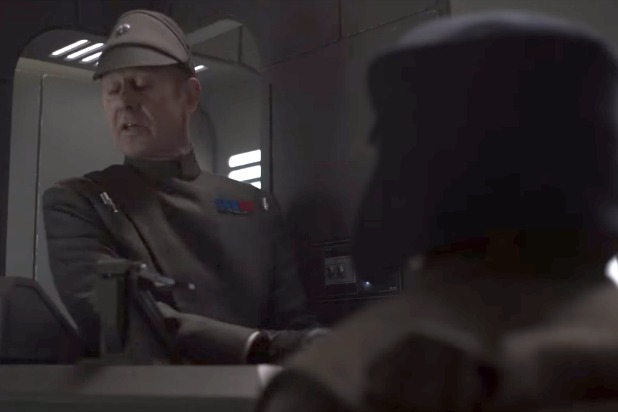 The Empire of course makes an appearance. I'm guessing this is sort of half-way between ROTS and Star Wars on the timeline scale of things. Han signing up for Imperial flight school is actually something that's been associated with the character for a very long time….it's part of some story notes Lucas wrote as guidelines for some of the comics and novels, and was elaborated on a bit in AC Crispin's Han Solo trilogy, as well as the Chewbacca miniseries.
In the Legends stuff, Han was trained by Baron Fel, a character who marries Wedge's sister, and eventually they raise a rather large family, with one of Fel's sons marrying Han's daughter (and only surviving child) Jaina. And people say the prequels make the SW universe small!
Kind of curious about this creature, that looks a bit like a mix between Maz and an orangutan. I'm guessing this could be the original look of the Falcon's gunner stations, although not quite sure on that.
…and of course, something almost every Star Wars film has…a weird bar/club.
One of the best things about the new Disney films-even if many disagree with the direction they've taken-is that they've got some really great Star Destroyer shots-Rogue One in particular of course had the interesting visual of the Destroyer over the city (Packing up what's left of the Kyber crystals) as well as an ESB like shadow reveal of the Death Star dwarfing these things….and of course Vader's arrival at Scarif.
Here we see it in some strange (atmospheric? Space?) clouds, appearing to pursue the Falcon, which of course becomes a major Imperial pasttime in ESB.
And like Disney's other films, we've got a new TIE fighter. This one appears to have an extended hull, but not quite one like the TIE bomber. Red cockpit too, which is something we normally see on the First Order TIEs.
Speaking of Imperials, looks like we're getting a new form of Stormtrooper in this film too.  Given the *ton* of Stormtrooper variants introduced in Rogue One-the most I think in a Star Wars film since "Revenge of the Sith"-
Some kind of train, I'm guessing an Imperial one. The windows in particular scream "Walker…." except this has no legs.  The cockpit area in particular seems to strongly evoke one particular Walker, the AT-M6 from Last Jedi. Maybe the train is a modified AT-M6 model? After all, the Special editions and prequels did use some CG elements from Jurassic Park to save some money on the creatures, so why not here?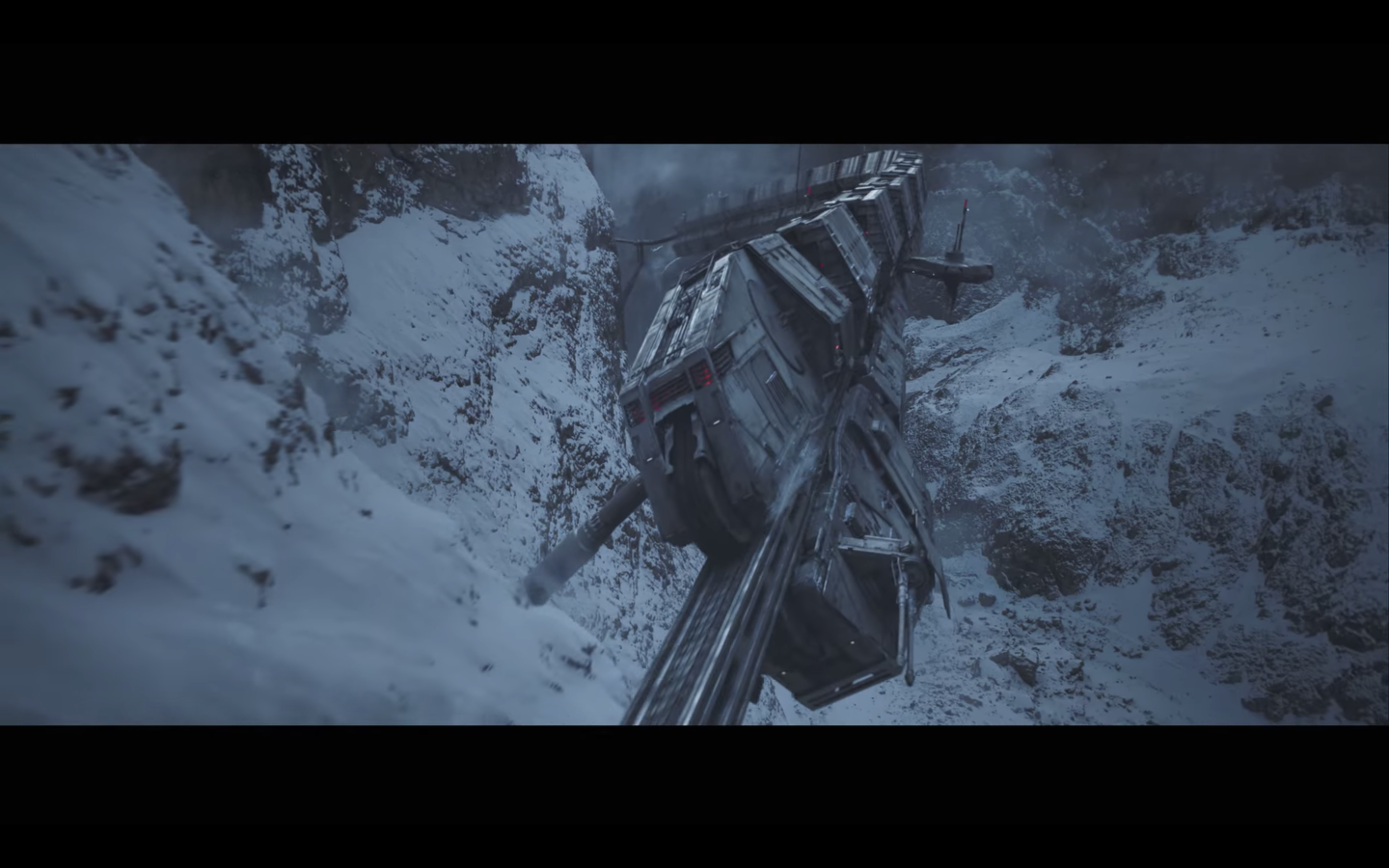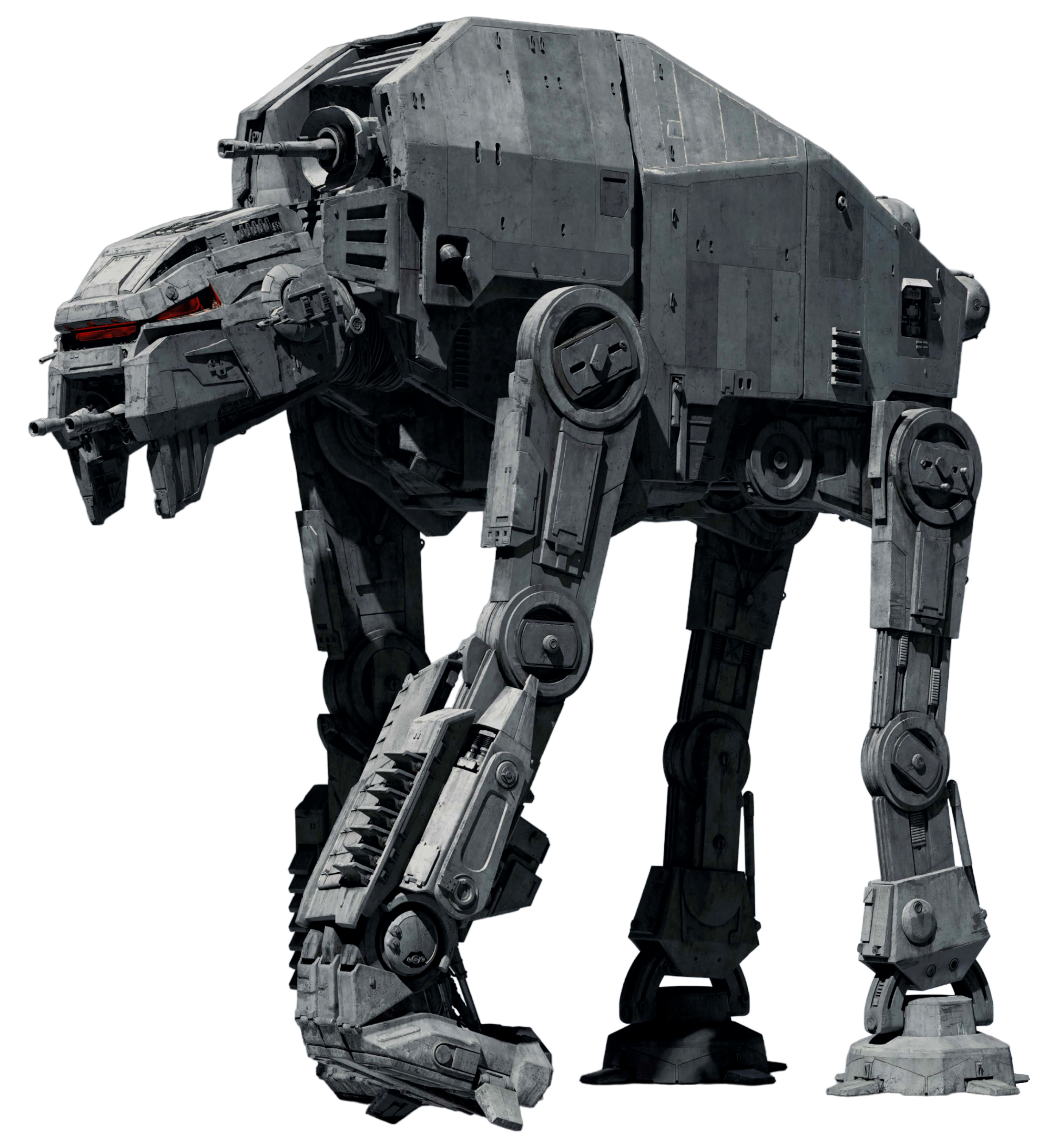 The mysterious Qi/Ra, along with Lando's droid buddy.
Judging by her outfit, I wonder if she has some relation to these weird armored guys, who wear a similar pattern and are involved in some train fight?
That combination of red, black and silver also seems slightly Phasmaesque too.
Woody Harrelson, apparently a mentor character to Han who also has to "assemble a crew", making me think this is a bit of a heist film (although one probably different in tone to "Rogue One").
Between Planet of the Apes, Venom and this, looks like Woody's doing a lot of sci-fi work lately!
Thadie Newton's character. I'm guessing she might be an Imperial mole in Han's crew. In a photo of her on set, that sure looks like it could be an Imperial symbol Ron's trying to cover there.
We also get a bit of the Falcon navigating what appears to be some giant tentacles after escaping the Imperials.  One of the most different features of the ship (apart from what looks like another alternate radar dish) is that the "Gap" between the maws seems to be filled in. Somehow I guess it eventually falls off or gets detached.
The characters reaction to these tentacles as well (with a fairly pristine Falcon cockpit). I wonder, could this possible be the Kessel run?