When it came out in 1984, Indiana Jones and the Temple of Doom was a bit divisive. A decidely different Indiana Jones movie, while it still featured the character of Indiana Jones and breathtaking actions, it took a somewhat different tone that was somewhat a bit more camp and yet much darker at the same time. It also, unusually, was a prequel, set one year before the events in Raiders. Perhaps most controversial was the added violence and gore-while "Raiders" was no slouch in the gore department-with villains skewered, shot, ran over and melted-Temple of Doom took it a step further with brutal scenes of torture and of course, the famous heart-grab.
Then of course, there's the opening:
Anything Goes!
The film opens with a Mandarin langauge singing of "Anything Goes" at a Nightclub sung by Willie Scott, whose enterance even obscrubes Indy's name for a bit, probably because the name is fairly well known and stuck in pop culture already. The song's nice of course, and sort of era-appropriate considering the film's set in the 30's. One thing I've always kind of noticed is that Willie visibly slips and frowns for a second before regaining her composure. I'm wondering, was this intentional on behalf of Spielberg-Willie is of course somewhat clumsy later on-or is it an actual blooper that made the cut?
Of course soon the action begins. Indy meets with gangster Lao Che, who Indy wants to trade some ancient Imperial ashes for a priceless diamond (The Young Indiana Jones series and a few non-movie sources apparently reveals that like the Cross of Coronado in TLC, the diamond-the Peacock's eye -is one treasure Indy's been seeking since his youth).
However, Lao would rather keep both the diamond and ashes, and despite Indy's threats to Willie, poisons the archaeologist. What soon follows is a free for all, with Indy literally skewering one of Lao Che's sons, and with a massive free-for-all with everybody scrambling around, and another presentation of "Anything Goes" starting in the middle of it for no apparent reason (Maybe they thought the chaos was part of the show?) Plus you've got Willie trying to get the diamond and Indy trying to get the poison antidote, and he's kind of just flailing about with half of his wits.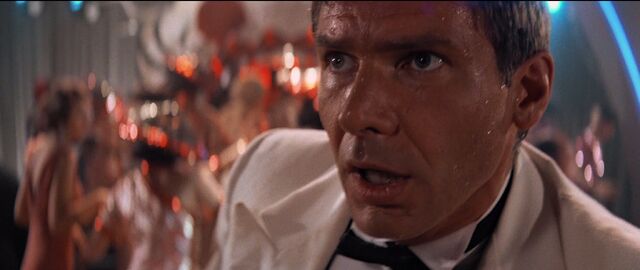 Noticing that Willie has the antidote, he quickly uses the gong as a massive shield against the machine gun fire of Lao's surviving son. Really nice sound effects work, I'm assuming by Brett Burtt.
As the scene ends with Indy crashing into Short Round's car (which of course leads to another action scene, we learn the name of the nightclub….)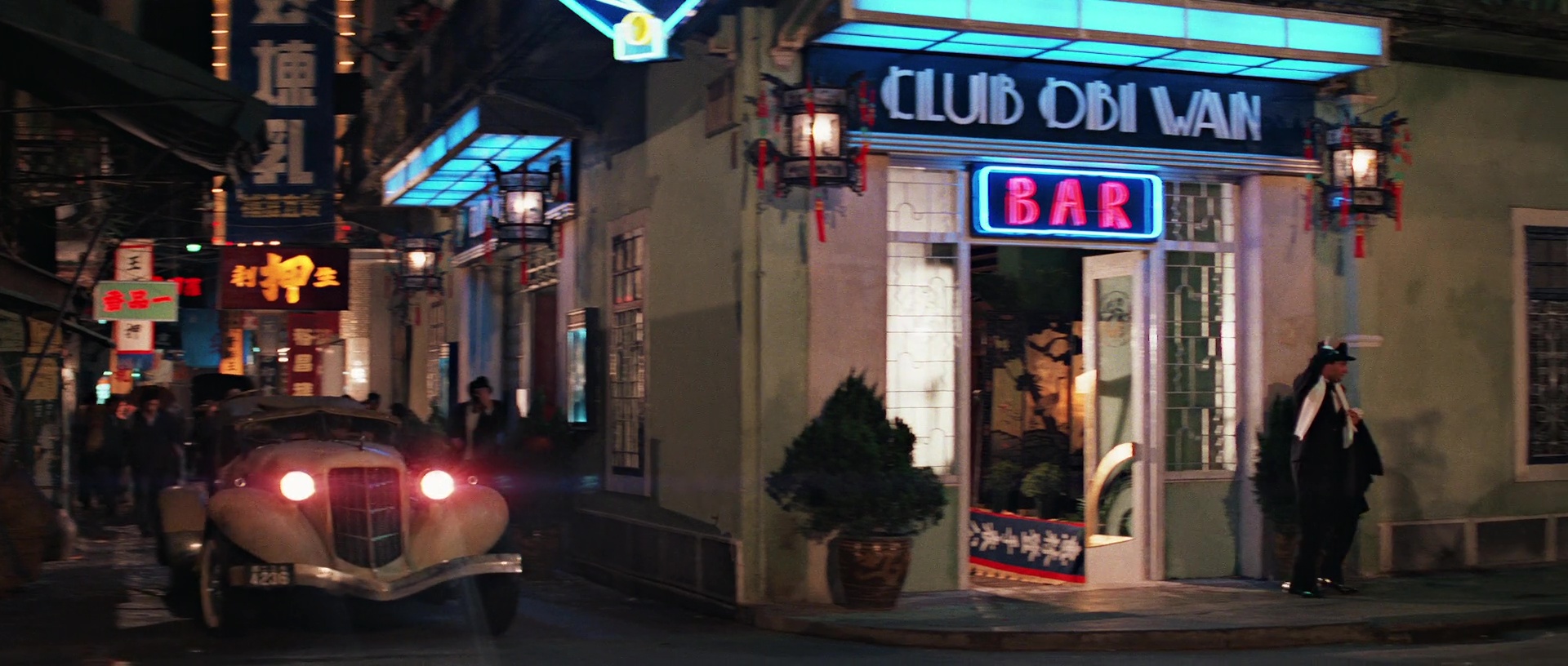 Star Wars reference!
Elephant Ride
Agreeing to take a look at Pankot Palace for the villagers-and interested in it's link to the Sankara stones, Indy agrees to help them, taking along Short Round and a reluctant Willie. Although this is a fairly short scene, I really liked the great version of Short Round's music. Depending on what you think of the character itself, the theme is one of my favorite John Williams compositions.
Fortune and Glory
A pretty cool scene, as after the ceremony concludes, Indy whips across the Temple to get the Sankara stones, with some nice choral music perfectly capturing Indy's awe.
There's also a brief funny moment as Indy notices the snake  on that statue but realises it's just a fake rather quickly (Does seem to move a bit but I think that's just part of the Temple mechanism).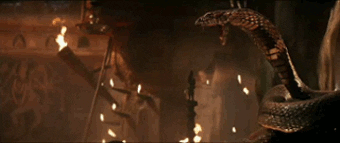 However, Indy hears screams in the next chamber over, where he discover the Thugee mine, using the children of the impoverished town from earlier as slave labor. However, as Indy hurls a rock in disgust at the chief Thugee guard, he also alarms the whole temple, resulting in the characters getting captured.
One thing about this scene, you might notice that Willie seems to escape the Thugees by running back towards the caverns. In a deleted scene, she actually makes it back to the palace, where she then tries to warn Captain Blumburtt, but is instead captured by Chatter Lal (Who she didn't know was part of the cult) and possibly the possessed Indy as well who assure Blumburtt everything's hunky-dory and Willie's just freaking out for some reason. It explains why Lal is very eager to silence her in the next scene.
"Right.All of us."
Although the mine cart chase which follows this scene is often said to be the film's signature set piece, but I've always preferred the scene before it-more action, that fantastic music, Indy's smile as he helps the kids escape by unlocking their chains, a fight with Pat Roach again (with him once again facing a grisly death) a lot of great uses of Raiders March as well (as well as the film's other motifs), plenty of whip swinging, and less slightly dodgy miniatures and blue-screen work. Plus Indy's bad ass pose here looks like it definitely inspired the teaser poster (or vice versa).
The highlight here is Indy facing the chief Thugee guard. Ford is once again fighting Pat Roach again(Roach played the mechanic in "Raiders" when Indy unsuccessfully tries to commandeer the Flying wing plane, as well as the Sherpa who doesn't like Toht's command to "shoot them both"…and is also well known as General Kael in Willow). The fight also looks somewhat more painful…not only is Indy getting hit pretty rough here-such as this shot:
But there's also the possessed Maharaja at the same time stabbing his doll at the same time. Pretty brutal. Thankfully, Short Round manages to knock him out of it and Indy gets some punches in.
"It's not the years, but the mileage" indeed…
Thankfully, Short Round manages to knock him out of it and Indy gets some punches in (with the help of a saw and two buckets), to the tune of the Raider's march almost synched to them.
Funny thing is, it actually looks like Indy tries to briefly help the guy from getting crushed-He seems to be pleading for his life, and it's possible that like the Maharaja and (briefly) Indy, he was simply under the "Black sleep of the Kali Ma".