In 2013, perhaps emboldened by the recent Disney sale of Star Wars and the promise of new films, Universal Studios began to work on briging back one of their big franchises: Jurassic Park. Although the last two films had been set on people getting stuck on the "factory floor" island Isla Sorna. However, the new film "Jurassic World" would return to the concept that started it all, and on the original island.
Despite the inciddents in the original trilogy, at some point Ingen-after the passing of John Hammond-came under the control of Masareti, who like Hammond, is well-meaning but a bit naive about things. Using what's left of the original park's Dinosaurs, he succesfully rebuilds the park (although on the other end of the island, apparentally, leaving the old Visitor's center abandoned and decaying)….and manages to run it sucessfully…for a time.
The concept of a Jurassic Park that actually was completed and functions was also the idea behind the simulation Operation Genesis, which came out in the early 00's, during the height of the Sims/tycoon genre of games.
Paying a visit over the holiday season are the the sons of the Mitchell family, who are being sent to the island with the mother's sister, Claire Dearing (Operations manager of the Park), to watch over them. Similar to the first film with Tim and Lex, this is actually in part to help them cope with their parent's divorce.
The film begins with a creature quickly hatching from an egg, alongside another egg, looking somewhat like the Raptor hatchling from the first film….but this thing isn't a Raptor….well, sort of.
We then cut to a scary-looking foot, but one that turns out to be simply that of a bird; once again selling the Dinosaur/bird connection first established in the original film.
….and then an unusual setting for a Jurassic Park film-a snowy house. It's around Christmas, and we meet the two kids of the film, Zach and Gray.  They're sort of similar to Tim and Lex thematically-their parents are getting a divorce, so they're being sent to the island over Christmas vacation, with the mom (Played by Judy Greer, who played a  divorcee in Ant-Man later that same summer) jokingly telling the kids to 'run' if something chases them. Now that's some advice that's going to come in handy…and of course they'll be in the care of her sister/their aunt, Claire, who it turns out pretty much runs the day-to-day operations of the island-also reflecting in part, Hammond's relationship with Tim and Lex in the first film.
Since this is a fully-fledged Jurassic Park, it has it's own ferry from the mainland, instead of the helicopter from the first film. Gray states that there were "eight species" when the Park first opened, which might be a slight reference to the number of different Dinosaurs seen in the original Jurassic Park film (although off by one). The film never really explains what happened to the Dinosaurs of the original park, with the exception of the Tyrannosaur who the directors and writers confirm is the same as the original, and even given a name (off-screen) "Rexy." I'm guessing these are mostly new Dinosaurs, as it's stated that they're all female, which means that Wu might've gone back to the drawing board and gotten rid of the frog DNA (or used something else) that caused the mutation. Except for Rexy, but presumabely she's the only one of her kind on the island.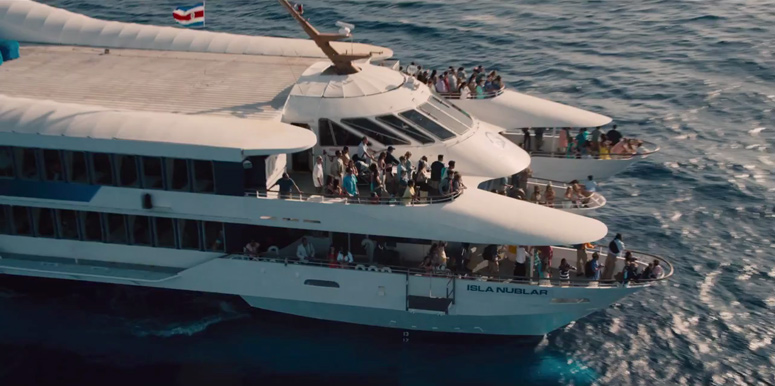 Isla Sorna is also not brought up at all, despite being the setting of the last two films (although there a few nods, here and there, to the other sequels).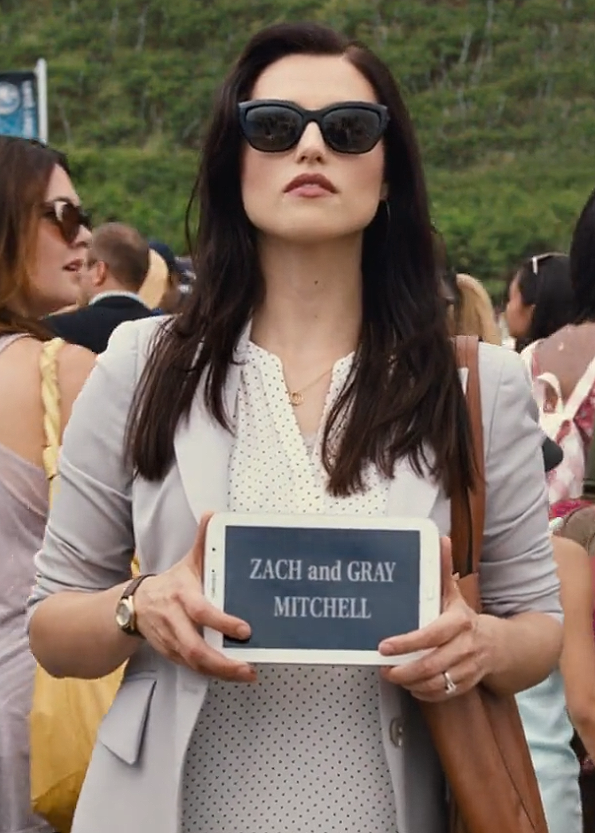 Here we also meet Zara, Aunt Claire's sort of secretary, who clearly doesn't want to deal with these kids. She's also at the core of one of the film's more controversial moments, later on.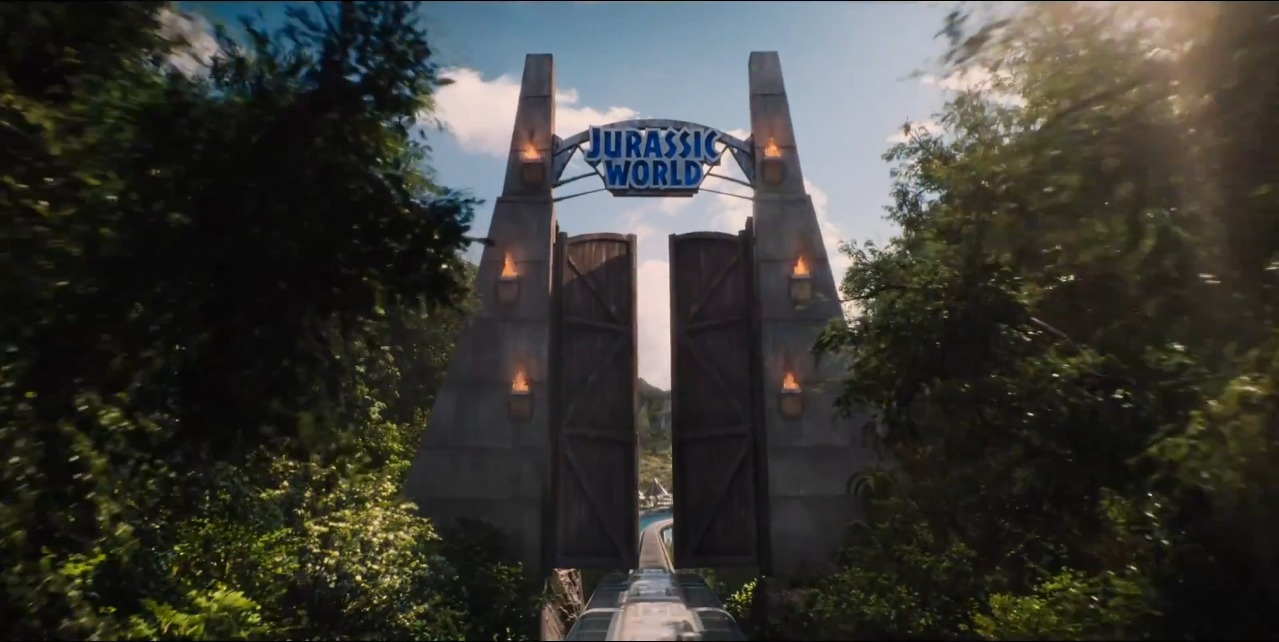 And of course we get the 'gate', supposed to be the same one, but rebuilt, relocated, and placed on a monorail track.
And we get our first real look at the Park's main center, which seems to have gotten some design tips from Disney and Universal's own parks-a bunch of fancy restaurants-including a Margaritaville!(more on that later) and booths.
Soon, we're introduced to Claire, our heroine, although she initially comes off as a bit cold and unlikable, at first. She's giving some stockholders a bit of a private tour of the Hammond creation lab, JW's genetics chamber (It's presumed that, unlike the original park, that most of the Dinos here are bred on the island-it seems like a much larger operation than JP's small hatchery anyway).
Speaking of said hatchery, we meet Jurassic World's only familiar (non-Dinosaur) face-Dr.Henry Wu.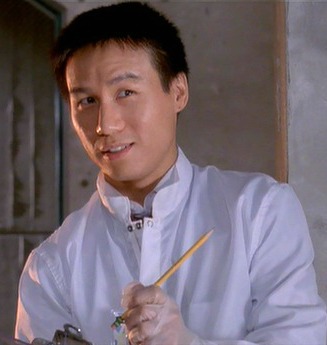 Wu of course was the chief geneticist in the original movie, who cast doubts on Ian Malcolm's reasoning about the Dinosaurs being able to breed.  Despite his being wrong-and being involved with the troubled first park-he's been re-hired, and is breeding a new 'designed' Dinosaur, Indominous Rex, since people are apparently getting bored of the same ol' Dinos (JW's apparently been open for around a decade according to some of the supplemental stuff for the movie, but I gotta echo what Owen says later on: "They're Dinosaurs. Wow enough"). Of course Wu does have his own motives for creating this 'new' Dinosaur.
Next we get the innovation center, a new Visitor's center but far more high-tech, with holographic dinosaurs and touchscreens instead of bones.  It also sees the return of Mr. DNA, the cartoon mascot from JP's short film on creating the dinosaurs (and also mascot of pretty much every tutorial in a Jurassic Park video game).
Claire visits her nephews in the center, but it's obvious she's completely out of touch.
We next meet the Park's control room, with Lowery and Vivian, who function largely as the film's comic relief (and they're certainly more likable than the original control room crew from JP, especially Nedry), while also functioning as a bit of meta-commentary on the film itself. Lowery in particular, is frustrated that the park is a bit too commercial-an accusation levied at the first film's product tie-ins, especially the cafe scene (A criticism-well, at least of that scene as there's no denying JP is a major universal cash cow-that I debunked a bit in my JP review a few months back). He's also a fan of the original park, which Claire finds in bad taste because of the deaths involved-and wears a JP T-shirt. He figures since the I. Rex is sponsored by Verizon Wireless, next thing is that they're going to let the corporations name some new Dinosaurs, like "Pepsisaurus". He also refers to the Dinos and mess on his desk (Well, that's one thing he shares with Nedry) as a 'living system to keep the system from collapsing into anarchy'-which seems like something Malcolm would say.
Which is fitting, since he's reading Malcolm's book (It's unclear whether this is the one Eric was referring too in the last film).
We also learn that despite being a tighter operation than the original (which was still being developed anyway and never opened) Jurassic World's got it's ocassional glitches. Instead of the electrical fences of the original park (as well as bits of Isla Sorna), The Dinosaurs are implanted with 'invisible fence' implants, which unfortunately get shorted out when certain Dinosaurs butt heads-literally, as we learn with the Pachycephalosaurus. (It seems that with the Raptors, Mosasaurus, Rex and I. Rex, they're not taking too many changes, and we clearly see both fences, concrete or unbreakable glass surrounding them.).
Next we see Simon Masarani, Ingen's current head, and like Hammond, doesn't really care as much about the bottom line as much as people having fun. He also comes off as slightly less naive about the dangers of a Dino park. This scene-set to pretty much the same music as the old copter scene from the original (What I like to call the Park's "Adventure" theme) also confirms that Hammond died, and apparently didn't completely go from Capitalist to Naturalist entirely as Malcolm stated in The Lost World, as he asked Masarani to pretty much rebuild his "dream". Kind of reminds me of his old qoute….
"You're right, you're absolutely right. Hiring Nedry was a mistake, that's obvious. We're over-dependent on automation, I can see that now. Now, the next time everything's correctable. Creation is an act of sheer will. Next time it'll be flawless!"
I guess he didn't take Malcolm or Ellie's advice to heart-especially this from Malcolm:
If you want to leave your name on something, fine. But stop putting it on other people's headstones.
Masarani flies over to the I.Rex's Paddock, and takes a look at the new Dinosaur. To quote JP once again…ou stare at him…and he just stares right back. (Although I'm pretty sure I.Rex here is a she).
Although he hasn't seen too much of what she can do, Masarani is somewhat alarmed by a few signs of problems with the Dinosaur-it's thermal vision, the near-loss of a worker, it's cannibalism of it's sibling, and cracked glass. Like the Raptors in the first film, this thing knocks it's locked up and it's testing for weaknesses. It wants out. Masarani figures it's time to bring in more of an expert to make sure the paddock is super safe. Enter: Owen Grady, the film's hero.