Although several motorcycles are used in the Metal Gear series, the Triumph Bonneville is perhaps the most iconic in the "Big Boss" era of the games (1963-1984). It's first seen as Eva's bike when she's heading for parts unknown, as her confession to Snake-and her revelation of the true meaning behind the bosses's mission-are revealed via voiceover.
A similar model (probably not the same one) makes an appearance in "Peace Walker" as Big Boss's ride to the Miltaries San Frontieras beach house (His HQ before it got a massive upgrade in the offshore plant "Mother Base".
Years later, after he emerged from his coma, yet another motorcycle was presented to Big Boss as he rode to parts unknown (Possibly eventually to America, to restart FOXHOUND and start putting his Outer Heaven plan into action).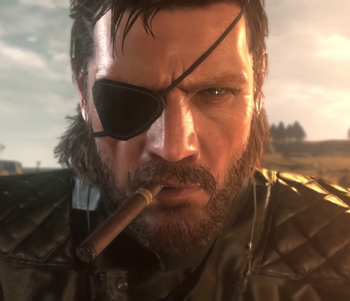 Although an image exists of Venom Snake-the "phantom" Big Boss-with the motorcycle, this image is in fact not in the game, as Venom Snake traveled by horse for most of the game, including his escape from the hospital.
Decades later, the Triumph appears again in Metal Gear Solid IV,  with Eva-now "Big Mama" once again behind the wheel, with her son Solid Snake, in an effort to escape with the body of "Big Boss" (In fact, what was left of another clone "son", Solidus). Snake provided covering fire while Eva drove, similar to the conclusion of Operation Snake Eater. (Although that motorcycle was not a Triumph, and Big Boss was in a somewhat more comfortable sidecar).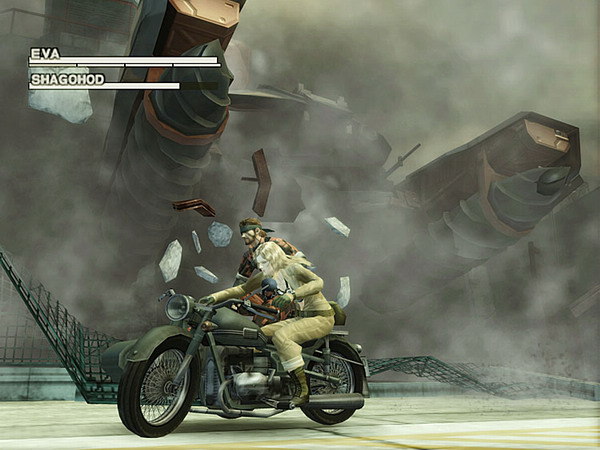 The bike ultimately crashed, much like Eva did with that other, non- Triumph Bike (She even sustained similar injuries, although it was ultimately a new strain FOXDIE that did her in).
A real-world version of The Phantom Pain variation of the bike was used by Triumph in a cross-promotion with Konami for the game, and also sold on Ebay for 10, 000.