One day he'll see through the lies he built up. Realize what kind of man he really is. What goes around comes around. You can't run from yourself forever.-Ocelot
QUILTY! ALL COUNTS!-Kaz
You knew our family's dark history, and still got involved!?
What's wrong with you!? Answer me! Why are you repeating the same mistake?-Hal "Otacon" Emmerich
Huey Emmerich was born in August 6th, 1945, the day the atomic bombs dropped on Hiroshima. His father was part of the Manhattan Project as well. Born paraplegic, he eventually worked with NASA on rockets, alongside Dr. Strangelove, who gave him the nickname "Huey" (His real name is unknown, but is possibly Henrich). In the 60s, he also became colleagues with Russian scientist Granin, who created the Metal Gear concept in the first place. Although the Metal gear was abandoned by Volgin in favor of the Shagohod tank, the papers were sent to Huey in the states.
Working again with Strangelove, he became involved in Peace Sentinel's "Peace Walker" project. In designing the prototypes for the project, he used design inspiration from both the Shagohod and Metal Gear projects, ultimately culminating in the Peace Walker itself, the first "walking tank"
However, he soon became disillusion with Hot Coldman when he learned he intended to use Peace Walker not as a deterrent, but to fire an actual nuke.
Rejecting this, he eventually joined Big Boss's MSF, giving him valuable intel on Peace Sentinel's operations and working with the R and D departments. He also began working on a project for Big Boss-the Metal Gear ZEKE, largely built from AI and weapons components from the destroyed Peace Walker prototypes-and possessing a nuke-a nuke that Huey believed would be used as a deterrent, as opposed to Peace Walker which was intended to be field-tested by Coldman.
After Strangelove was brought to Mother Base to help work on Metal Gear ZEKE-and the weapon was almost used by Paz-Huey and Strangelove started to take their relationship to another level.
But things wouldn't exactly end well. Huey-without Big Boss's or Kaz's authority-agreed to sign off on a UN inspection of Mother Base-although the Metal gear with it's nuke was hidden under the sea. Strangelove left the base during this time, as did the other civlians except for Huey.
However, the inspection was a smoke screen, and MSF was played like a damn fiddle by XOF, a rogue group split from CIPHER, with Mother Base destroyed, Big Boss and a medic falling into a coma, and the deaths of Paz, Morpho and Chico. Huey-possibly aware of this all along-was taken to XOF. Kaz-who recovered early from the destruction-sought out Huey, finally finding a lead in Afghanistan.
In the nine years at Afghanistan, he worked on Skull Face's Metal Gear Sehalanthropus, along with Strangelove, who recovered the Peace Walker AI and used it for future research. Eventually, this union produced a son: Hal. In addition to working on Sehalanthropus, he developed new mobile legs and "Walker gears" based on Metal Gear technology/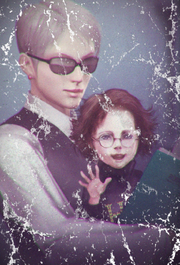 As selanthropus neared completion-although with a cockpit that could only really fit a child at this stage, Huey decided he wanted a test subject-his son-to pilot it. Strangelove, appalled by this, arranged to have Hal sent to the states where he would be safe from his father. Once Hal found out about this, he lashed out and sealed Strangelove in the AI pod tube, causing her to suffocate (The body continued to remain in the pod until recovered by Venom Snake).
About a year later, Venom Snake-believing himself to be Big Boss-awoke from his coma and tracked down Huey in Afghanistan at a soviet base. As Venom Snake escaped with Huey, he found his weapon Selanthropus being used, even though the AI interface wasn't completed and it had no pilot. It was in fact, being piloted supernaturally by Treti Rebonek, the future "Psycho mantis".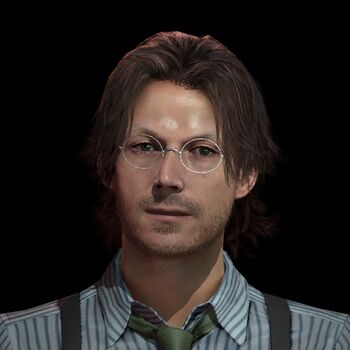 Although Snake managed to escape with Huey and the scientist was brought to Diamond Dog's mother base, he was met with distrust by several members of the staff, especially Kazuhira Miller. Nevertheless, he was admitted into R & D, and developed Diamond Dog's D-Walker and Battle gear.
He was also reguarly interrogated by Kaz, Venom Snake, and Miller, where he revealed details about XOF's other weapon-the vocal cord parasites-as well as info on Selanthropus and Cipher's Les Infant Terribles project.
When it finally became time to take on Selanthropus and Skull Face at OKB Zero, it was Huey who finally killed him after he was crushed by the (Eli-controlled) Selanthropus, and further maimed by Snake and Miller. He then gloated of his "revenge".
When the deactivated Selanthropus was taken to Mother Base, Huey was in awe of his creation-and started to put his own plans into action against Diamond Dogs. He repaired Selanthropus in secret, where it was eventually taken by Eli and his group of child soldiers. He also experimented on Code Talker's vocal cord parasites, intending to sell them to DARPA (under the control of Donald Anderson, who was putting his own plans into motion), which caused a major outbreak at mother base, forcing Venom Snake to kill several of his own men. Huey, of course, blamed their deaths on Venom Snake instead.
The most damning evidence that Huey was up to no good came from the AI pod-which contained the bones of Strangelove, as well as her last recorded moments clearly implicating Huey. Huey was put on trial, with Kaz and many of the soldiers calling for blood.
During the trial, Huey once again attempted to deflect blame onto Big Boss and his men, and not himself. Although Kaz wanted him dead, Venom Snake chose to exile him instead, in a life raft, where he continued to rail against Diamond Dogs, and had to be abandon his robotic legs. Big Boss's later Metal Gears-TX-55 and D-would be developed by a different scientist-Drago Pettrovich Madnar.
Huey later on made it to the United States, where he reunited with Hal, and eventaully married Julie Danziger, a british woman. He also raised Danziger's daughter, Emma, along with Hal. However, as Ocelot predicted, his lies-and his family being closer to Hal than to him-eventually led him to drown himself in the family.
In a bit of irony-or perhaps because of his father's history with the Metal Gear projects-his son, Hal, would develop a Metal Gear with many similar aspects to his father's prototypes. The Metal Gear REX. Like his father, he would also find himself allied with a Snake-Big Boss's clone son, Solid Snake…as well as working as a hostage under his father's ally Eli, now Liquid Snake.
Although sharing many of the same personality traits as his father, Hal turned out to be a far, far better man. But that's for another profile….