The Sneaking suit was a special outfit that was designed to somewhat mimic human anatomy, giving an extra layer of protection to it's wearer, but also be fairly lightweight at the same time.
Initially soviet technology, it was first fielded by the Boss during Operation Snake Eater, and later a black version was discovered and used by Snake-the soon to become Big Boss- during their final confrontation.

The Boss's whitish/silver outfit in particular recalls those of the Mercury astronauts-of whom she was a part of (but officially wasn't and got airbrushed out of this photo in Metal Gear continuity).
A version of this suit was also available for the female members of Diamond Dogs (except for Quiet), although with some modifications such as the footstep-dampening effects of later models.
After Big Boss's return from Operation Snake Eater, the outfit was further developed and modified for use by the FOX unit, including enhancements for close-quarters combat (CQC)
This version of the suit was given further modifications when Big Boss created MSF-adding further noise-canceling abilities and insulation for comfort for it's wearer, in many ways becoming a true "sneaking" suit.
A further modification-with a little extra padding-was given to Big Boss's "Phantom" Venom Snake, the leader of Diamond Dogs.
One was also provided for Venom Snake's dog scout/buddy/"Good boy", D-Dog.
Although Solid Snake largely went with a different sort of tactical outfit during the Outer Heaven and Zanzibar Land missions, he got a sneaking suit for the harsh, cold temperatures of Shadow Moses, similar to Venom's but with far more padding, especially on the shoulders, and a generally more streamlined design.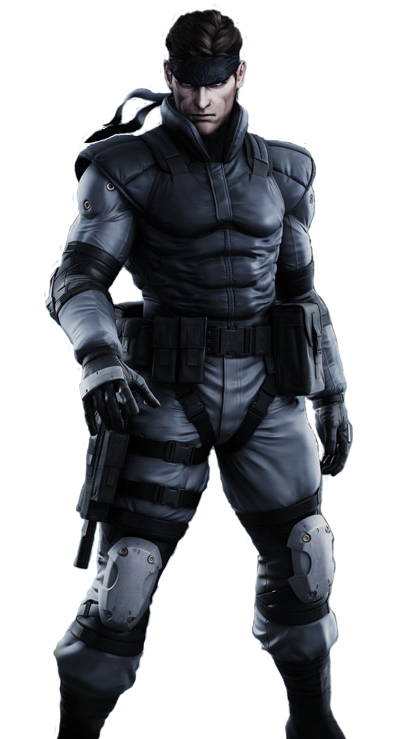 Joining Philanthropy-an Anti-Metal Gear organization after the events of Shadow Moses and dissolution of FOXHOUND, Solid Snake wore a similar outfit, but lacking the big vest, as New York Harbor wasn't quite as cold as Alaska. After donning a Navy seal outfit as "Snake Plisskin", Snake once again wore the suit when he helped Raiden in infiltrating Arsenal Gear.
Raiden likewise wore a variation called the "Skull suit" based on it's ribbed chest appearance and somewhat skullish diving helmet.  Designed with more water operations in mind (Since Big Shell was on the ocean), it functioned more like a wetsuit, allowing ease of swimming. It also functioned as a "smart suit", able to interact with the Nanomachines in Raiden's blood-able to help regulate his injuries and body temperature, and probably of course provide data and additional control to the Patriot's AI.
A few years later, during which time Solid Snake experienced rapid aging, he wore the "Octocamo" Sneaking suit, which gave him the ability to automatically adopt a chameleon-like camo with the environment-including objects such as watermelons. It also-like several of the other Sneaking suits-gave padding to his badly weakened muscles, almost functioning like a second body to his now-frail frame.
In addition to Snake, Rat Patrol also used partial sneaking suits for their upper bodies-I assume more for the insulation and strength support than the cancelling footsteps noise part.