Around 1999, Dark Horse debuted an anthology Star Wars series, which would feature multiple Star Wars stories from a variety of creators. While some were serious, others played a bit more with the continuity and visual style-including, most memorably perhaps, Peter David's "Skippy the Jedi Droid", which had "Red" (R5-D4) malfunction on purpose, as he was in fact a droid jedi who knew the importance of R2's mission. For the most part, the series was released quarterly (4 times a year), and given the usual "annual" size of 64 pages. Each issue would feature a few short stories, although they were occasionally serialized stories as well.
Or "A Death Star is Born" by Kevin Rubio …
Which-with it's send-up of the Imperial logo-seemed to predict Star Wars's eventual ownership.
Others took a more serious approach, but were still a bit 'out there'-one tale implying that Vader did, in fact, recognize C-3PO and practically gave him over to Chewbacca to fix.
Or the Vader/Darth Maul confrontation (Maul being resurrected by a group of Monks) or something like that (Vader impales his own cyborg body to kill Maul again).
One of the more inventive stories has the Millenium Falcon somehow jump from hyperspace to crash-land on  Earth after a deadly space battle, with Han dying-Chewbacca however, lives on from the point of "A Long Time Ago" to the middle of the twentieth century, creating the legends of sasquatch….one that's eventually investigated by Indiana Jones, of course Harrison Ford's other most famous role. There's a nice nod here to the old Indiana Jones "Fate of Atlantis" comic and Adventure PC game, while Indiana saying the skeleton looks familiar somehow is also a nice touch.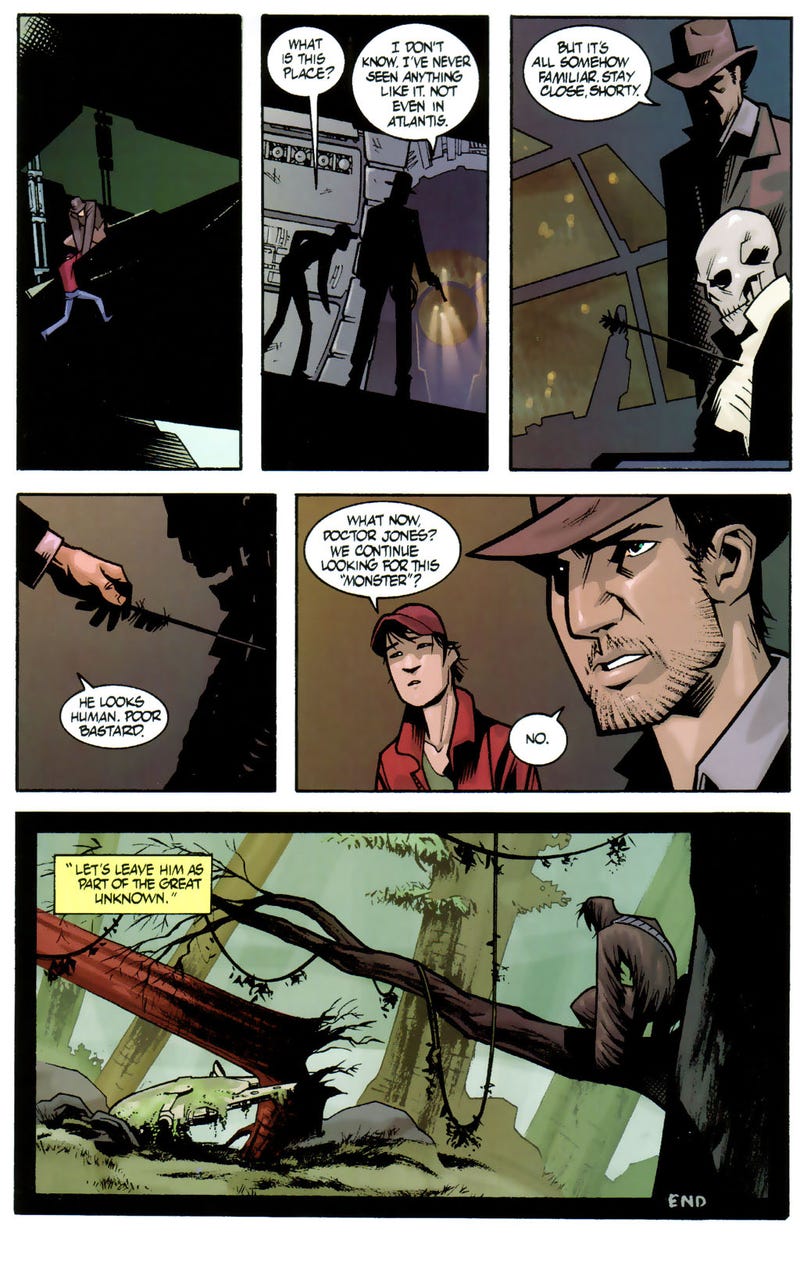 Others fit a bit more easily into continuity, with an early issue having Vader confront the "Dark Woman" a mysterious Jedi master who also appeared in various issues of the Prequel-Era Star Wars monthly (Later called "Republic")
It also didn't shy away from using popular EU characters such as Mara Jade, former Imperial agent who eventually becomes Luke's wife….
Or Kyle Katarn, mercenary turned Jedi knight featured in a series of video games, featured in a "New Jedi Order" era story.
The series wrapped up in 2005, with the serial "Nomad", a revenge tale about a mercenary who tracks down a dark jedi.