Still in the area, Bond stops by a local hotel and casino, where the woman's car is also parked. Inquiring as to the owner, he learns that she's Count Tesera De  Vicenzo. As the night closes, Bond settles down for some baccarat in a nice casino. I'm drawing another Goldeneye connection here….first a small race with a red car, now baccarat in a fancy hotel.
However, instead of the innuendo and subtle interrogation of the later game, Teresa-who wishes to be called Tracey, as "Theresa was a saint"-makes a dumb move, and what's worse, she has no money on her at all! So Bond bails her out, rescuing her for a second time, although perhaps from jail rather than drowning. During their little table chat, he flirts with her a bit, and the chemistry of Lazenby and Rigg here is very, very good.
Going to meet Tracey for a late night rendezvous, Bond instead meets Che-Che. He's one of the few fights in Bond films in which Bond later becomes buddies with his opponent (The other being Quarrel/Pussfellow and I suppose Pussy Galore.) After knocking him out-with a gate no less (With Bond quipping about him being a "Gatecrasher") Bond samples some caviar (originally intended for him and Tracey), and is able to figure out exactly what fish they came from (A Royal beluga sturgeon from the caspian sea). Maybe it's from Valentine's stock.
Bond returns to his own room, where Teresa is pointing a gun at him, but he quickly disarms her and wonders what her deal is. I kind of like how Lazenby's able to play a mix of toughness and utter confusion here at the same time. After trying to figure her out, the two just give in.
Bond awakens to find her gone, but on the way out, Cheche and a few other guys show up, and direct Bond to a car which then takes him to some facility, and we get an instrumental version Listen closely to the janitor here as they take Bond in-he's whistling "Goldfinger".
Bond's able to fight them off and enter the office-and then we get this great shot of Bond about to throw his knife-which hits the calander behind….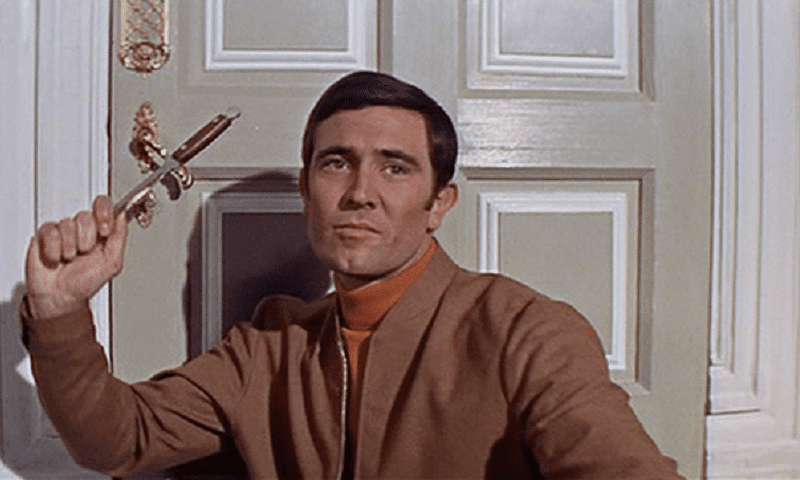 Marc-Ange Draco.  Draco fits the sort of "Kerim Bey" or "Columbo" role here, as Bond's ally who has a bit of a rap sheet, but one that works with Bond regardless. In this case, Draco is the fictional head of the (actually real life group) Unione Course, as well as his own construction company as a front.
However, his meeting with Bond is not really about that-he's actually Tracy's father…it turns out he spoiled her too much, she became rebellious and now is pretty much just depressed. The men Bond fought earlier (and probably killed at least one!) were actually just keeping an eye on her, more or less. However, he think's Bond's rescues are starting to make her feel better-and he actually wants Bond to get engaged and married to her-but Bond wants to live the bachelor lifestyle and doesn't have too much faith in his own ability to help Teresa (Maybe his failures with Fiona and Helga blew his ego a bit). However, Bond knows that Draco has connections, and might know where Blofeld is hiding….and he might consider it.
Next we get a more typical Bond scene, of sorts, as Bond stops into M's offices, with the usual Moneypenny flirting (Lois Maxwell looks a bit older here, especially next to Lazenby, who was 30 at the time. However her aging worked a bit better with Roger since they were pretty much the same age anyway). However, the meeting with M is unusual-it's not a mission briefing, but a bit of a scolding-M wants Bond off of Operation Bedlam since he can't seem to find Blofeld yet. Bond isn't too happy about this, and tells Moneypenny to tell M that he wants to quit.
Along with the opening credits and the guy whistling Goldfinger, we get another reminder to the audience of the legacy of the older films,  as Bond goes through various gadgets and mementos from the previous films, complete with their associated themes (with "Underneath the mango tree" for Dr.No and Honey's knife). Funny that the film most often associated for beginning the whole "Bond is simply a code name" thing is also the one that hits the audience on the head over and over again with the whole "This is the same guy!!!!" thing. While Bond films do of course reference the past films-most notably in the anniversary films Die Another Day and Skyfall-it's still fairly early days here, and mainly to establish Lazenby as a legit 007. Other Bond debut films wouldn't quite do this-"Live and Let Die" in many ways did it's best to distance Roger Moore from Connery (Roger, for instance, smokes cigars while Connery smokes cigarettes) as did "The Living Daylights", "Goldeneye" (Especially with Judi Dench's M) and most of all, "Casino Royale". But here it's pretty much part of the sell.
However, Bond doesn't have to quit, as Moneypenny reworks his request into simply asking for leave. Which also is sort of James Bond movie doublespeak for "You can still do your mission, but just be discreet about it."