Along with the background of villain Supreme Leader Snoke, this is probably the no.1 question on Star Wars fan's minds….who were Rey's parents?
Rey is introduced in "The Force Awakens" living alone on Jaaku, collecting junk from the long-ago battle (chronicled in many Star Wars novels and games by now) and selling it for food. She also appeared to be semi-raised by Unkar Platt, but like with Watto and Anakin there's little love lost between the two.
We know that Rey was left on Jaaku by her parents, as revealed in the force vision in Maz's castle. We don't know anything really beyond that, except that she was waiting on Jaaku for them to come back, and once she embarked on her journey, she was often adamant about going back in case they showed up. How and why are of course still unknown.
Let's look at some of the candidates.
Luke
Of course, the big one, and perhaps the most obvious. Luke of course might have had reasons for leaving her behind (although it's fairly implied by some sources that Luke's exile/Ben's fall is fairly recent, about 5 years before, and Rey is born considerably earlier).  If Luke is the father, makes you wonder who the mother is; and while Luke of course got married and had a son (and also apparently didn't age for twenty years) in the now non-canon Expanded Universe legends stuff (His Jedi order was a bit different on the attachment/marriage issue)….
…Maybe his giving away of Rey has something to do with the Jedi rules forbidden attachment? Although of course Luke's attachment to his father brought him back to the light in the end, Anakin's fear about Padme's death drove him in part to the dark side. Maybe Luke in this continuity is trying to follow the old Jedi rules? Then again, wouldn't his nephew, Ben (Who, ironically, is the name of his son in the "Legends" stuff) count?
Certainly Rey being related to Luke would explain why the Lightsaber "calls" to her, and her affinity for the force. The second trailer for "The Force Awakens" also used Luke's line from ROTJ, although edited a bit. "The force is strong in my family. My father has it. I have it. My sister has it. You have that power too". Although of course nothing was revealed in TFA regarding that (Unless you count Ben/Kylo, as he's that same bloodline as well), it still makes you think….
Plus of course Rey's also a good pilot and mechanic, which of course also apply to Anakin and Luke…. (although I wouldn't say piloting is genetic…)
But it could also apply to….
Han and Leia
I gotta admit, this one's considerably more far-fetched and unlikely. Rey's a good pilot and pretty much the new captain of the Millennium Falcon, and of course saw Han as a father figure. While many also speculated that Rey was their daughter in the initial buildup to TFA, neither Han or Leia seems to have any family connection. Also, why would they dump their daughter behind and simply raise Ben? Although the Falcon eventually ends up on Jaaku, I'm thinking there isn't any connection here either. Although being a good pilot and a Jedi are both attributes of their "Legends" daughter, Jaina Solo…..(Who almost got her own book series before the Lucasfilm sale to Disney pulled the plug).
Obi-Wan Kenobi
While this one's also far-fetched, it's gained a bit of traction, and could explain why we hear Ben's voice-in a mix of Alec Guiness("Rey!") and Ewan Mcgregor's ("There are your first steps") when her force vision ends. While Kenobi of course is shown to be a pretty straight-laced Jedi in the films, the "Clone Wars" series established that Obi-Wan had a past relationship with the queen of Mandalore, Satine (Which is said to not be an intentional Moulin Rouge reference, but it just seems like a major coincidence if it isn't)
….and nearly left the Jedi Order for her (presumably during his apprenticeship under Qui-Gon). The two were reunited during the wars, and still had some feelings for each other, although Obi-Wan of course was committed to the Jedi Order. Their story forms an interesting parallel to Anakin/Padme's. Unfortunately, Satine is later killed.
Although Satine leaves no heirs, this does show that Obi-Wan, much like his apprentice-but with less recklessness and anger-was sometimes willing to 'bend' the rules of the order just a bit….and so it's possible he might've gotten in a relationship during his exile on Tatooine-or perhaps even earlier? That could've produced a son or daughter who might also be one of Rey's parents. (He's a bit too old and dead to be Rey's direct parent, unless we're talking something like Anakin's birth). It also could explain Rey's British accent.
Palpatine
While Palpatine never is shown to have taken an Empress or any form of female relationship, several of the old "Legends" expanded universe books did imply that he did possibly have heirs. They were….a bit odd, to say the least….Triclops, Triocolous from the strange YA books, and Irek Ismaren, AKA "Lord Nyax", whose eventual form in the New Jedi Order books looks more like a video game boss than a believable Star Wars villain.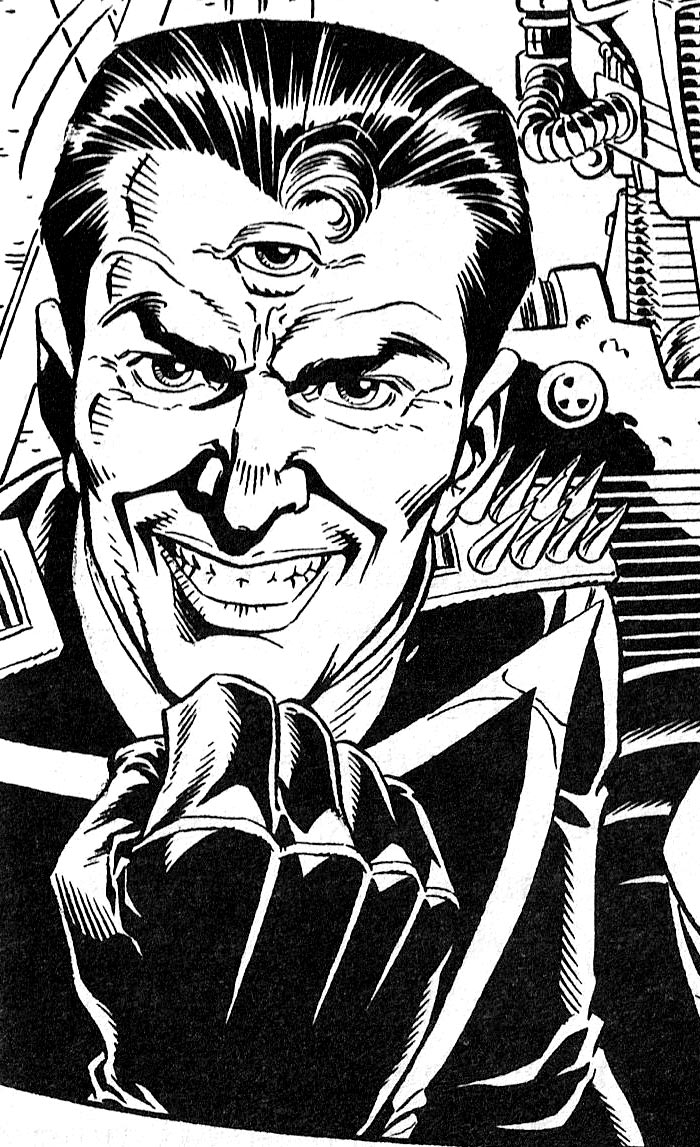 The last two ended up as pretenders to the throne, although the first one was kind of legit. Anyway, like with Kenobi, it's possible, although somewhat more unlikely, and would form an interesting link with Kylo Ren-both being the grandchildren of Sith Lords….
Snoke
Here's another theory, that Rey is possibly related to Snoke somehow. Granted, we don't know much about Snoke quite yet, although he does appear to have a larger-and more corporeal-role in The Last Jedi. Could his talk of "raw power" be him talking to Rey?
"When I found you, I saw raw, untamed power. And beyond that, something truly special."
Somehow supported by Luke later on, talking to Rey…
"I've seen this raw strength only once before. It didn't scare me then. It does now."
Of course, in both instances this could be referring to Kylo Ren….but maybe not?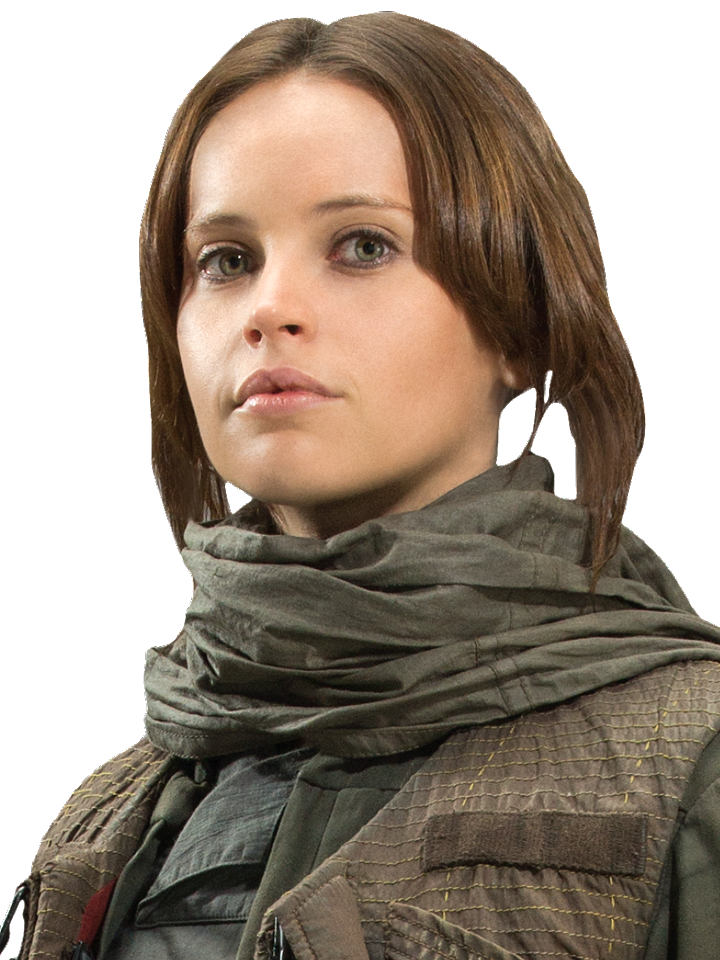 Jyn Erso
This gained a bit of traction before Rogue One came out, due in part to her similar looks and accent. Since then, not so much, for good reason .
Idien Verso and Del Meeko
This is a new one.
Spoilers for Battlefront II-these two former Imperial "Inferno Squad" special forces members who eventually defect to the rebel alliance, fall in love, and apparently get married and have a daughter, although Meeko eventually meets his end at Kylo Ren's hand. An upcoming DLC will continue her story. Some fans of course assume that the daughter might be Rey, but  I think that's a bit far fetched. Even though the "Lucasfilm story group" generally keeps the movies/comics/novels/games tightly connected these days compared to the old EU, with several characters crossing over (Admiral Rae Sloane, for instance) I seriously doubt they'd have such an important plot point be relegated to spin-off media that will probably be seen by a fraction of the viewing audience. Although there is a bit of precedent for this-Poe Dameron's parents were revealed in a Marvel Star Wars comic, Shattered Empire.
But let's face it, Poe's parentage isn't exactly a big deal, and from all accounts he was raised pretty normally by these people (and of course inherited his mother's piloting skills) as opposed to Rey and Finn. So it's not a huge plot point like Rey's parents.
Just Some ordinary people
In Marvel comics history, part of the reason that Steve Ditko left the Amazing Spider-Man is that he had a different idea for the reveal of the man behind the mask of the Green Goblin-he would just be some ordinary guy Peter Parker didn't know. Stan Lee however, decided to have him be Norman Osborn, a character introduced a few issues before, and the father of Peter's college friend, Harry Osborn.
So perhaps the 'reveal' will be something like Ditko's original plan for the character, and not some "big reveal" like Stan's plan, or of course, that other famous Star Wars revelation….
So maybe the parents aren't that important or any character we're aware of at all, maybe they couldn't care for Rey somehow, didn't care to, gave her to Platt to pay off some debt etc. or were scared of her force powers or something.
There was no father.
One of the other theories that's a bit weird is that Rey doesn't have a parent, or even that she's actually a reincarnation of Anakin, and that maybe it's the force making amends for kind of screwing up that whole thing in the first place.
While an interesting theory, it just seems a bit weird even for Star Wars, although I'm sure the film will delve into some arcane Jedi lore, if the shots in the trailer of the books in Luke's tree are any indication. But something kind of feels a bit too hokey about this one. And it would certainly make the training a bit awkward for Luke.