Otacon : Snake, wait up! You forgot these….
Snake : No thanks. I'm quitting.
Otacon : Snake?
Snake : These things will kill ya.
Otacon : Where will you go…? Our fight is finished. There's nothing left for us to do.
Snake : No. There's one thing I still have to do. I have to see this age off… See what the future brings.
Otacon : Sounds good to me. I'll go with you. S
nake : Otacon, I'm gonna be dead soon. You don't have to come.
Otacon : You said it yourself, Snake. There's nothing inside you can pass on to the next generation. No genes, no memes… You're man-made… You're a beast.
S

nake : I know… A blue rose. There won't be any happy "Beauty and the Beast" ending for me. What little time I have left will be spent living… As a beast. A shadow of the inside… Of the old age.
Otacon : Exactly. That's why you need me. As a witness.
Snake : A witness?
Otacon : Yeah. Someone on the outside to bear witness to your final days. Someone to pass on your story… Not that I'm the only witness. But I'll remember everything you were… And stick with you to the end.
Snake : Otacon….
Otacon : Besides, you wouldn't let me suffer Sunny's eggs alone, would you?
Hal "Otacon" Emmerich was born-possibly in Afghanistan-to Dr. Strangelove and Huey Emmerich in 1980, as they were working to develop the Metal Gear Sehalanthropus for XOF and the Soviets. He was named after the computer in 2001: A Space Oddyssey (In the same way, his father was named after a robot in "Silent Running".)
However, at the age of 3, Huey planned to use his son as a test subject for the robot, which made Strangelove furious. Concerned for the safety of her son, she had him shipped to America, away from his father. Huey reacted badly to this situation, locking her in the Boss AI tube and having her suffocate.
After his exile from Diamond Dogs, Huey and his son were eventually reunited, and Huey remarried a British woman, and Hal gained a new stepsister, Emma. However, Huey eventually drowned himself in the family pool, and Hal and Emma (Or "E.E" as he liked to call her) drifted from each other.
Eventually, he enrolled in MIT and Princeton, where he gained PHDs and degrees, and also did some work for the FBI. He eventually became a developer for Armstech-and chief designer for Metal Gear REX at Shadow Moses, much like his father before him. It was here he would cross paths with Solid Snake, beginning a long friendship.
The naive Hal believed Rex would only be a defense system, although it possessed a railgun capable of launching nukes. He also stated that in part, he liked designing it because it reminded him of robots in Japanese anime-Hal also adopted the nickname "Otacon" short for Otaku convention.
After the takeover of Shadow Moses Island by the rogue FOXHOUND, Hal was forced to work for them, but developed a possibly Stockholm syndrome form of affection for Sniper Wolf, and helped to feed her wolves.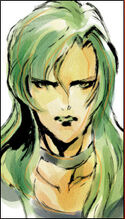 Eventually, Snake came across Otacon hiding in the lockers after one of his confrontations with Grey Fox, saying that the confrontation reminded him of…
Being told the truth about what Metal Gear really was by Snake, Hal decided to aid the soldier, after some uneasy first impressions. He took stealth camouflage and snuck around the base with it, aiding Snake by helping him escape from prison (giving him ketchup to mimic the appearance of blood) helping Snake realize that the were genome soldiers also wearing stealth camo in an elevator, and also gave Snake other forms of intel-especially on REX-and also asked Snake an important question.
Mainly addressed to his relationship with Sniper Wolf. However,  as part of his mission, Snake was forced to kill Wolf, which devastated Hal.
After Rex was deactivated by Snake, Otacon helped Snake and Meryl escape by unlocking several doors from his computer, and eventually escaped himself.
He, Snake, Natasha Rumenko and Me Ling formed the PHILANTHROPY group, oppossed to the development of Metal Gears (Since Ocelot had leaked the plans for REX to the black market, allowing for many Metal gear knock-offs). Eventually, getting a letter from his sister "E.E"-or so he though-they discovered the Army was building one-an Anti-Metal Gear Metal Gear, Ray. Although it's purpose was to destroy other Metal Gears, Otacon and Snake still felt they needed to expose it, and Snake infiltrated the tanker Discovery to photograph it and send them to Otacon's computer (which had an Otacon avatar). However, the mission was largely a trap set by Ocelot. Snake and Otacon managed to escape, and went underground.
2 years later Otacon reemerged in the Big Shell incident, where on the site of the Tanker's sinking a "cleaning facility" was built, but in fact it was cover for a new "Arsenal Gear"-a massive submarine Metal Gear. It was then taken over by Solidus Snake and his "Sons of Liberty"/Dead Cell.He discovered his stepsister, Emma, was working on the project. Snake and Otacon-working with Raiden-infiltrated the Big Shell, and he was reunited with Emma. Unfortunately, their reunion was short-lived and tragic, as Emma was stabbed by Vamp.
Upset that he lost yet another woman he cared for, Otacon nevertheless tried to pull himself together with help from Snake, and tried to evacuate the remaining hostages. And hence, some of the coolest Metal Gear moments were born.
Otacon was able to figure out that the "Colonel Campbell" ordering Raiden was in fact an AI construct, especially when he found out it was coming from within the ship and acting very strangely after Emma's virus was loaded into it Arsenal's GW AI. After Solid Snake recovered info on the Patriots, both he and Snake were perplexed that the Patriot's members were not only some of Philantropy's backers, but also all dead for nearly a century.
After Raiden rescued Sunny-Olga Krulenko's daughter Hal took her in as a stepdaughter, and noticed that Snake was aging at an increased rate. Due to being framed for the Patriots, they largely used the NOMAD plane as their lab and base of operations.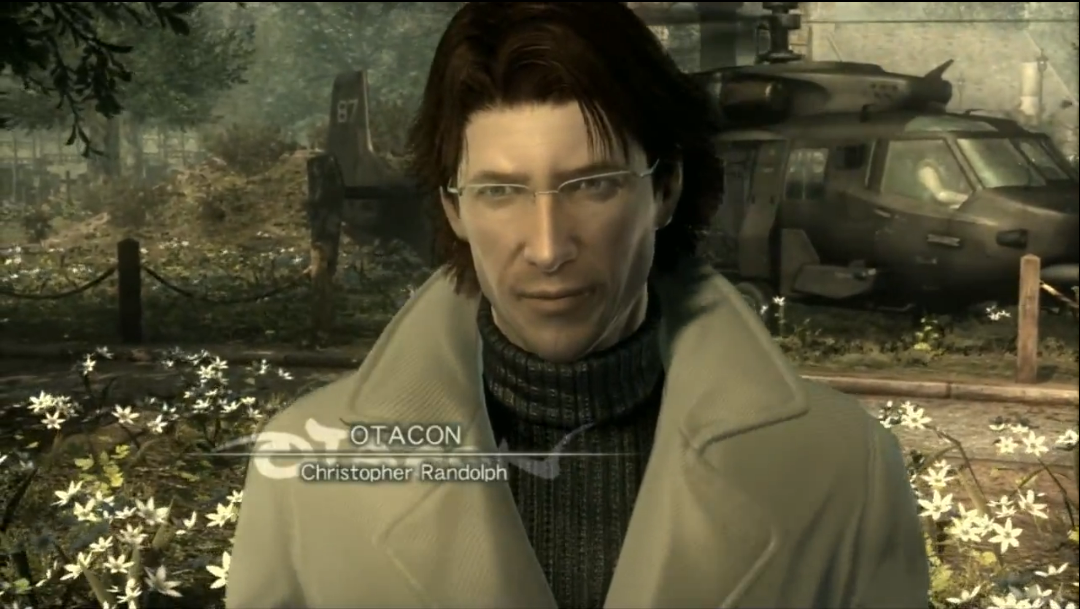 Eventually, Colonel Campbell (the real one) located Liquid Ocelot, and Snake and Otacon went after him. Although largely staying on NOMAD with Sunny, he was able to assist Snake on the field using the Metal Gear Mark II, a small, definitely non-nuclear Metal Gear with video interface and wires capable of manipulating objects and hacking computers. It also served as a useful scout.
After Snake rescued Naomi Hunter, he began a romantic relationship with her, and she served as a sort of mother figure to Sunny.  However, she seemed to rejoin Ocelot's faction later on, although this was a bit of a ruse.
Eventually, using footage captured by the Mk II (Which was then replaced with a Mark III) Otacon and Snake realized that Ocelot intended to steal Metal Gear Rex's railgun for use as a weapon against the Patriot's satellite AI JD….so Snake returned to Shadow Moses, with Raiden helping him with the Mark III, and the two recalling their past adventure together.
However, it was discovered that Ocelot had already gotten the Railgun, and what's worse, Naomi died from her cancer, which she had only been holding back using  transfusions of nanomachines. Deciding he had no tears left to shed, Otacon-despite devastated at the loss of yet another woman he cared about, managed to pull himself together again and reactivate Metal Gear REX, although without it's railgun, and had Snake unlock it's "Street fighter" mode, allowing for it to battle Ocelot's RAY.
Later, Otacon briefed everyone on Ocelot's plan as they planned to infiltrate Outer Haven, Ocelot's Arsenal gear warship, and once again assisted Snake using the Mk III. When GW was shut down, a pre-recorded message from Naomi played, explaining that, with Sunny's help, she was able to override the Patriot's AI, allowing their control to fade but not totally messing up civilization. Otacon was thankful-and yet very sad-at her sacrifice.
Otacon, along with Sunny, later attended Meryl and Johnny's wedding, although Snake couldn't since he was doing his own reunion with Big Boss. He stated that Snake "always keeps people waiting".
As Snake went on to his final months, Otacon vowed to be his 'witness' and friend until his end. He also became somewhat more confident, earning a slight reputation as a "ladies's man" although he often kept them at arm's length due to the fates of Wolf, Emma and Naomi.