Although they manage to clear Kessel, the Empire has decided to pop up and block the Maelstrom with a Star Destroyer. It's a pretty cool image that appeared in the trailers. Say what you will about Disney's handling of the franchise, but they've really managed to get some cool Star destroyer imagery in these films. The Empire's arrival is signaled by an ominous DUN, DUN DUN DUNNNN!!!! music, used in Star Wars and Rogue One at the beginning of most Death Star scenes.
And they're definitely not letting Han and co. through, as they release TIE fighters. Among these is the TIE brute, a new model of TIE fighter that doesn't particularly look as different as Rogue One's Striker and Last Jedi's silencer, seeming more like a downgraded version of the the TIE bomber from ESB and (briefly) ROTJ.
Han decides to go around the Destroyer, launching on the fabled Kessel run. Unfortunately, to me, this scene sort of plays a lot like a sort of greatest hits kind of thing for the films. First, you've got Beckett using the Falcon's manual cannons, which of course we "later" see in A new Hope, Force Awakens and Last Jedi. It even uses the same "Here they come!" music, although with a bit more drums….and the cannon is somewhat not quite a 'quad' yet, but a single and mostly useless one.
Then we get the Falcon trying to evade the TIEs in an asteroid field; naturally, of course, playing the Asteroid chase music! It's a great piece of music of course, and it's nice to hear it again in a Star Wars film (While "Here they come" shows up in ROTJ and TLJ again, ESB was the only other film to use this theme)….but still, couldn't come up with something more original?
It's here that Chewie takes his rightful place as Han's co-pilot as well, set to the triumphant Star Wars theme. We also learn that Chewie's 190 years old, which sticks with most non-film sources saying he's about 200 at the time of the OT.
Lando plugs what's left of L3 into the Falcon's computer to help them navigate, allowing for her to pretty much become the 'brains' of the Falcon, so we know who Threepio was 'talking' to in ESB.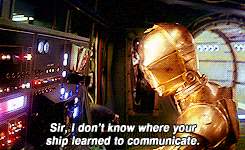 Finally, we get to the big finale-which involves a giant space monster. While monsters-including ones out in space-have been a sort of Star Wars trope for a long time, it still feels a bit 'greatest hits', especially after the last two parts of the chase.
Although "Solo" does add something new, or rather, something reworked from the novels; the Maw, a massive black hole that soon snares both the monster and the Falcon. I'm pretty sure this is the first time we see or have a black hole mentioned in a Star Wars film, although they've been around quite a bit in the EU-especially this one, the Maw. In the Jedi Academy novels (now non-canon) it's revealed that the Maw is host to an isolated Imperial weapons factory, which had a prototype version of the Death Star (something obviously completely retconned by "Rogue One" and even further back, "Revenge of the Sith") and also a super-powerful "Sun crusher" which has torpedoes that create supernovas. (One such torpedo destroys Carida in the trilogy; Carida is actually mentioned earlier in this film as one of the Imperial academies).
The Maw pretty much 'eats' the giant space monster, and almost the Falcon, but by ejecting some of it's extra weight and a little coaxium, manages to escape the Maw….in 12 parsecs. Sort of. Of course, all this wear and tear pretty much gives the exterior of the Falcon it's "classic look". Sort of.