Fatima then sends Lippe to take care of Bond. While in the original movie, Lippe was more or less the mastermind of phase one of SPECTRE's plan, Lippe here is more of a heavy, played by a guy who pretty much is skilled at this kind of thing: Pat Roach, who fought Indiana Jones three times in the Indiana Jones series (a fourth time was cut)
Here, after a fight with Connery that destroys a good chunk of the clinic, Bond finally manages to defeat Lippe with his urine sample(!) which blinds him and causes him to back into a wall of syringes, killing him. Not quite as graphic as his demises in the Indiana Jones films, but 'death by pee joke' is kind of a weird way to go out.
M of course is kind of pissed (heh) at this, (whereas Bernard Lee's M actually was kind of proud of the intelligence Bond picked up at Shrublands in the original film-
"If 007 says he saw Derval last night at Shrublands and he was dead,
that's enough for me to initiate inquiries."
Although to be fair, this is before the whole nuke-stealing plot unfolds, whereas in Thunderball, it was after.
Which of course, unfolds now, with Jack actually launching the nukes using his false eye to gain clearance, instead of them being stolen via plane like in Thunderball.
This replaces dummy warheads with real ones, and launches them, but to land safely on Largo's yacht, the Flying Saucer, the Disco Volante. We get some fairly cringey blue-screen work here as the missiles fly over beaches and countryside, sort of reminding me of some of the lesser flying effects in the Superman films. (Such as when Superman has to stop two nukes on his own).
A bit of a word on the Flying Saucer, in real life it's called the Kingdom 5KR, with a few different names.
However, shortly after this film was released, it was sold to a certain billionaire who seems to be in the news a lot lately….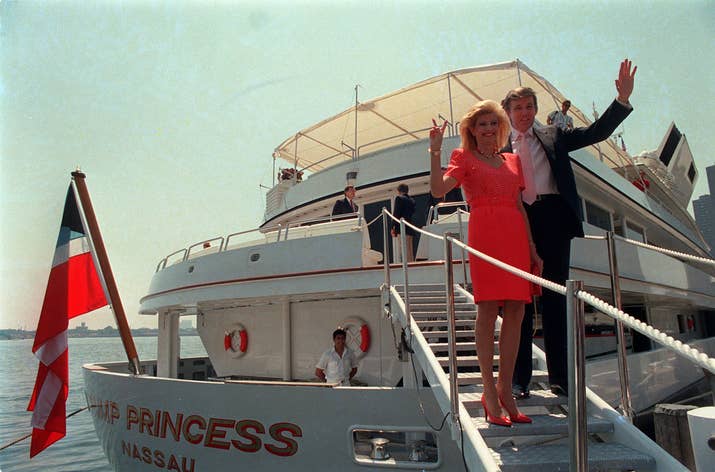 and that's all I'm going to say about that!
Anyway, in a slightly similar fashion to Fiona taking out Count Lippe in the original film, but a little more twisted, Fatima takes care of Jack by throwing a snake into his car, causing it to crash. She then recovers her poor snake before destroying the rest of Jack's car.
Blofeld then gives his ultimatum, similar to Thunderball, although this time he's got a camera inside a silver skull, instead of the usual Octopus images the organization are associated with. He demands oil money this time.
Of course alarmed at this, the secretary tells M to reactivate the 00s (I guess they were sort of 'inactive' or something? It's not really made clear, apart from Bond saying earlier that he had "little use" for the section, and that Bond for some reason was teaching?)
We get a second scene from Moneypenny, as Bond is investigating a matchbox he found on Jack's bed at Shrublands which features Largo's flag symbol. Once again, M largely ignores 007's idea about the eye and Petachi.
We then come back to the FS, where Largo is watching Jack's sister, Domino (played by future megastar Kim Basinger in an early role), do some aerobics to some very funky music. It's all so very goofy and so 80's, even Largo can't help laughing a bit at it.
He then gives her a necklace, which of course will become very important to the plot later (and sort of a critical error on Largo's part) . He also warns her, that if she ever leaves him, he'll cut her throat (he also strikes a bad note on the piano nearby when he hears it). The Thunderball Largo has nothing on this guy's level of utter creepiness, even when he was torturing her at the end of that film. For all the film's other problems, Largo is an effective villain.
Although we haven't seen M technically order him to go to the Bahamas or anything, Bond's going there anyway simply because Largo's boat is docked there, at the moment, and I guess to incorporate a little bit of the flavor of the original Thunderball, which was set almost entirely at Nassau in the second half of the film.
But before we do that, we've got the "Q scene".  Although this Q is certainly not Desmond Llewylnn's Major Boothryd, but a guy named Algeron, whose lab, attire, and attitude is certainly less refined then either of his official counterparts (Boothryd and the new Whishaw version).
This is clearly defined by his attitude to Bond, the polar opposite of the EON Q's attitude to Bond's lifestyle (and somewhat sort of defines Bond movies in general):
"Now you're on this, I hope we're going to
have some gratuitous sex and violence."
A bit of a note here, it's interesting that the gadgets in this film (apart from the motorcycle) in someway anticipate Goldeneye's. Although it's a pen weapon it fires rocket projectiles instead of functioning like a grenade like Goldeneyes (Plus it's a vastly different pen).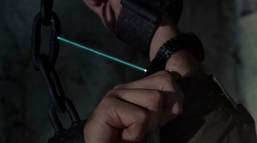 There's also a laser watch, which also of course would be used in Goldeneye .
There's even the gag of Bond mistaking something ordinary for one of Q's gadgets-in this case it's an inhaler for Q's sinuses, instead of a submarine sandwich.
Finally, we're capped off with Bond telling him he's going to the bahamas, to which Q responds "Lucky bloody you!"