In 1967, Sean Connery left the series, due to being typecast and also the strain of too much publicity and paparazzi. In an unexpected move, the producers then cast George Lazenby, an Australian model and commercial actor, in a controversial choice, which only became more controversial with rumors of trouble on the set and then Lazenby bowing out of the role as the film premiered (While the film didn't do as well as the Connery films, Lazenby still had a chance to do six more films-but declined. He wasn't fired).
OHMSS starts with an interesting gunbarrel, which, like the Dr.No Gunbarrel, pauses to briefly bring up the producers. The theme has changed a bit-it's certainly a bit less grand, and the spanish guitar is pretty much gone (although it would show up again in the next film).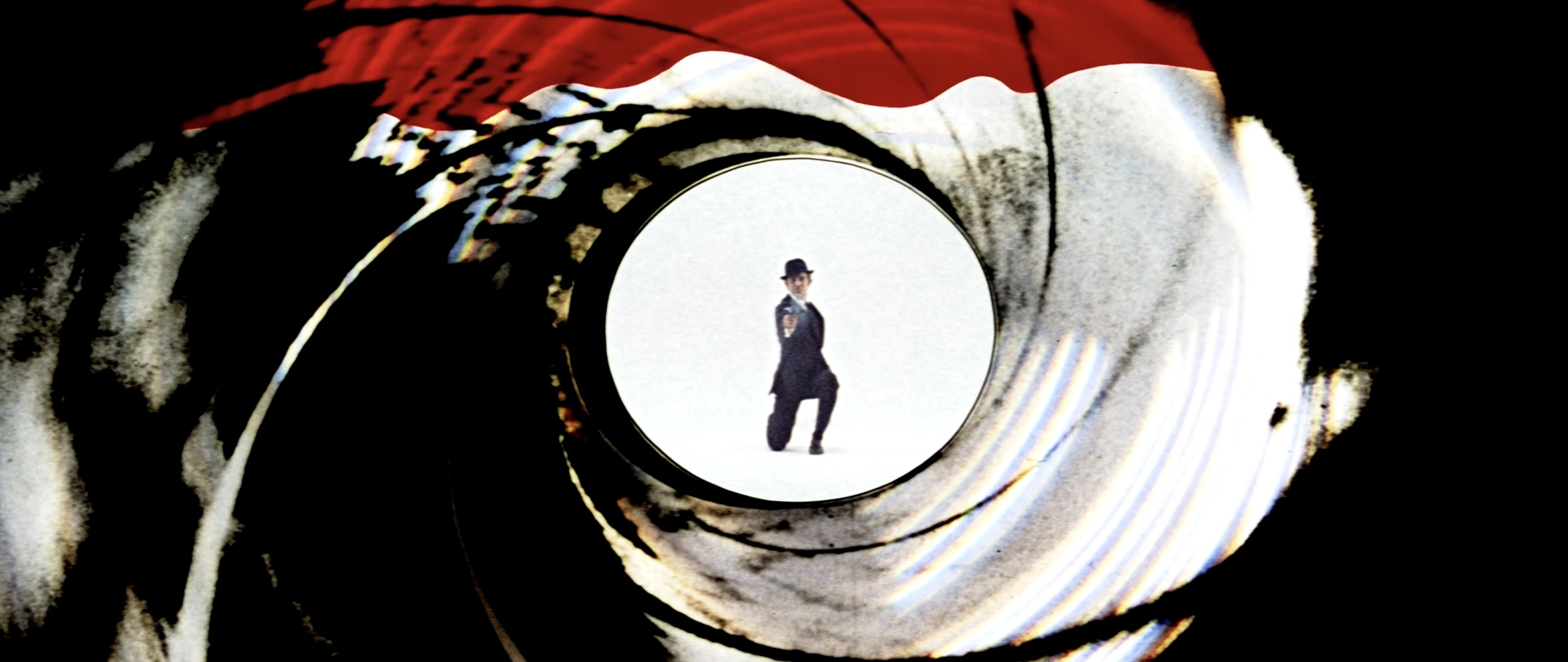 We open on Q and M, oddly enough, with Q showing off some new magnetic lint that can be used as a tracking device…. (Q by the way, doesn't do too much in this film, as it's fairly light on the gadgets) but M wishes he could put a tracker on 007, who seems to not be up to much. Turns out, since the events of You Only Live Twice, MI6 has put into effect "Operation Bedlam"-an attempt to track down and capture the SPECTRE leader before he strikes again. But the trail's gone cold.
We cut to Bond on some beachfront somewhere, driving a new Aston Martin DBS (Which bears some cosmetic resemblance to the later Valante used in The Living Daylights). He's wearing Bond's trademark hat, what appear to be sunglasses and smoking a cigar, but he's mainly obscured in semi-darkness (Dalton and Brosnan would have similar slow reveals)
A woman in a red car cuts him off. Wouldn't be the last time, as "Goldeneye" proved…(although Xenia Onatopp was far, far more nefarious than Tracy here)
Although instead of a race, she just wants to get to the ocean. Bond, intrigued, uses his scope to check her out-until he realizes's she is in fact trying to drown herself. The gallant Bond saves her, although it's a reluctant rescue for her-and Bond does his trademark name catchphrase-revealing Lazenby for the first time in full.
…and of course, this being a Bond pre-credits sequence, there's got to be action…and in this case, Bond and the woman are quickly surrounded by armed men, who seem to want to take her away. Bond quickly gets free though, and we're given a fairly chaotic fight on the beach and in the waves, a bit hampered by the dark early morning setting (You can't really make out too much going on). There's a lot of fast cuts and sped-up shots-Peter Hunt, the director, after all edited a lot of the other films and seems to have pretty much been given more free reign here, although if I'm not sure the edits are to show Lazenby's weaknesses as a fighter or what (He's certainly better than Moore at it though). This Bond seems to use a lot of judo as well.
In all the chaos, the woman slips away, using Bond's car to drive up to her own and then escape, but leaving her slippers behind. Picking them up, he remarks "This never happened to the other fellow!"
It's sort of a meta-joke about Sean Connery, although in the context of the movie, it's probably intended as a reference to Prince Charming from Cinderella (hence the slippers). Although it's certainly spawned about a gazillion "Bond is really just a code name!" theories to explain the change in actors throughout the series.
We then come to the title sequence, which is really brilliant. A martini glass also functions as a bit of an hourglass, and Bond hanging from a clock arm also deals with the concept of time. One of the themes of the movie is "We have all the time in the world"-but it's kind of clear that time may not be on Bond's side with the draining of the hourglass/martini.
The opening credits also use various stock footage from the first five films, in part perhaps to sell that this is the same Bond we've known for the past decade-there's villains, girls, actions and some other elements. Of course there's also shots of the union jack, the crown (Given the movie's title after all!), and of course the silhouetted  girls.
…..and then there's the theme, which has no lyrics and is pretty much the best non-Bond theme instrumental theme in the series. It's influence can certainly be felt in the score for the (Far inferior IMO) View To A Kill, and one of the trailers for SPECTRE likewise used a version of the tune. It was also memorably used in the 2003 teaser trailer for the Disney/Pixar film the Incredibles: