*spoilers for Uncharted 4 follow, as well as the Goonies, if you've never seen it).
The Goonies-a 1985 family film classic directed by Richard Donner ("Superman" and the "Lethal Weapon" movies) and produced by Steven Spielberg (Who doesn't need any introduction)….about a group of kids in Astoria, Washington whose houses are threatened by greedy land developers that their parents can't afford to outbid. While looking through some old pirate relics stored in the attic of the father of one of them-the main hero-Mikey-they stumble upon an old pirate treasure map, which leads them on a search to find the treasure to bail out their parents and save their homes; but which also unexpectedly puts them in the path of the Fratelli gang, a mother and son group of counterfeiting criminals whose hideout happens to be right on top of the series of caverns leading to the treasure-and if that's not enough, the whole place is littered with skeletons and booby traps.
Uncharted-the adventures of Nathan Drake (well, until recently) adventurer, pseduo-archaeologist, and pretty much a thief (although one a "heart of gold"), who-along with several allies helping him along the way-mentor Sully, love interest and eventual wife, Elena, and others; made important discoveries such as El Dorado, Shambayla and the Atlantis of the Seas…but also learned that some treasures are best left behind a the same time. As of Uncharted 4, he's settled down to a domestic life as Elena's husband, and working in a salvage business in New Orleans. However, the call of adventure comes back to him when his presumed dead older brother Sam reemerges-with the possible key to a treasure they've been searching for all their life-the lost pirate colony of Libertera, rumored to have been founded by the missing Captain Avery.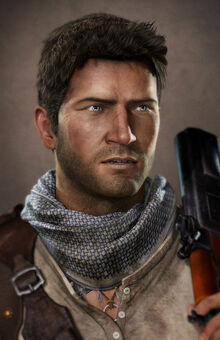 It's kind of obvious where the origin point is for both series (although "Goonies" also brings in some influence from Hardy Boys novels). This guy.
Although Uncharted, with it's death defying action, violence, incredible chases, treasures etc. certainly (Although Indy is set from the 30s-50s) owes a bit more of a similarity to Jones than Goonies does, let's not forget that Goonies and Indy come from a common origin as well-producer and co-writer on the film, Steven Spielberg.:
Getting more on track though, let's get to the heart of the matter-comparisons between the two.
Uncharted 4's story has it's genesis in flashback segments revealed throughout the game, where Nathan and his brother Sam first discover their destiny by breaking into a home which has their late mother's belongings; leading them to not only change their last names, but also on their lifelong quest to find the lost colony, a subject their mother was interested in and close to cracking. The first similarity is pretty visual off the bat-young Nathan is very similar in appearence to Mikey from the Goonies (although without the asthma problem). The denim jacket in particular is sort of a dead giveaway.
The old house in the game also bears some slight similarities to the attic museum pieces from the Goonies, which set them on their quest in the first place.
Although like Mikey and his older brother Brand, Nathan participates in the quest with his older brother Sam, there is an important difference in that while Brand initially isn't really along for the ride until sort of forced to by the Fratellis showing up (and in an attempt to impress his lady  friend Andrea "Andy"). In the main storyline, it's Nathan who is the reluctant one, as he's largely retired from the adventure life and has settled down with Elena (When he goes off on his quest, he doesn't tell Elena which leads to a brief rift between the two).
Like "Goonies", one of the keys to the treasure is a map-in Uncharted, located in the cross of St. Dimas, which leads to Scotland and later to more clues. The equivalent in Goonies is a dubloon near the treasure map, which serves as a coastline marker for the cavern's location.
Of course while the Drakes have to navigate several puzzles, fight off an army of mercenaries, and travel around the world to find their treasure, The goonies deal with relatively fewer obstacles-the Fratellis, some traps, and the piano puzzle.
It's when we get to the pirate colony itself that the similarities really go off on all cylinders. The place is a graveyard, with pretty much all the colonists dead, or worse, their corpses weaponized to set off booby traps (in a similar fashion, one of the Goonies's skeletons has become a rather grim piano that'll kill you via fall if you die "If you hit the wrong note, we'll all B flat").
But there's also this scene of a "last supper" with Avery's co-conspirators, who he all poisoned to get away with the treasure.
One eyed Willy pretty much did the same thing, although in his case, he died with it as well (presumably, one pirate managed to escape with the map and dubloon though).
Although there's a difference in location-the dead pirates are located in a lush mansion, while the Goonies's dead pirates lie aboard Willy's ship, the Inferno, located in a sealed-off cave.
But don't worry, Uncharted's got that covered as well.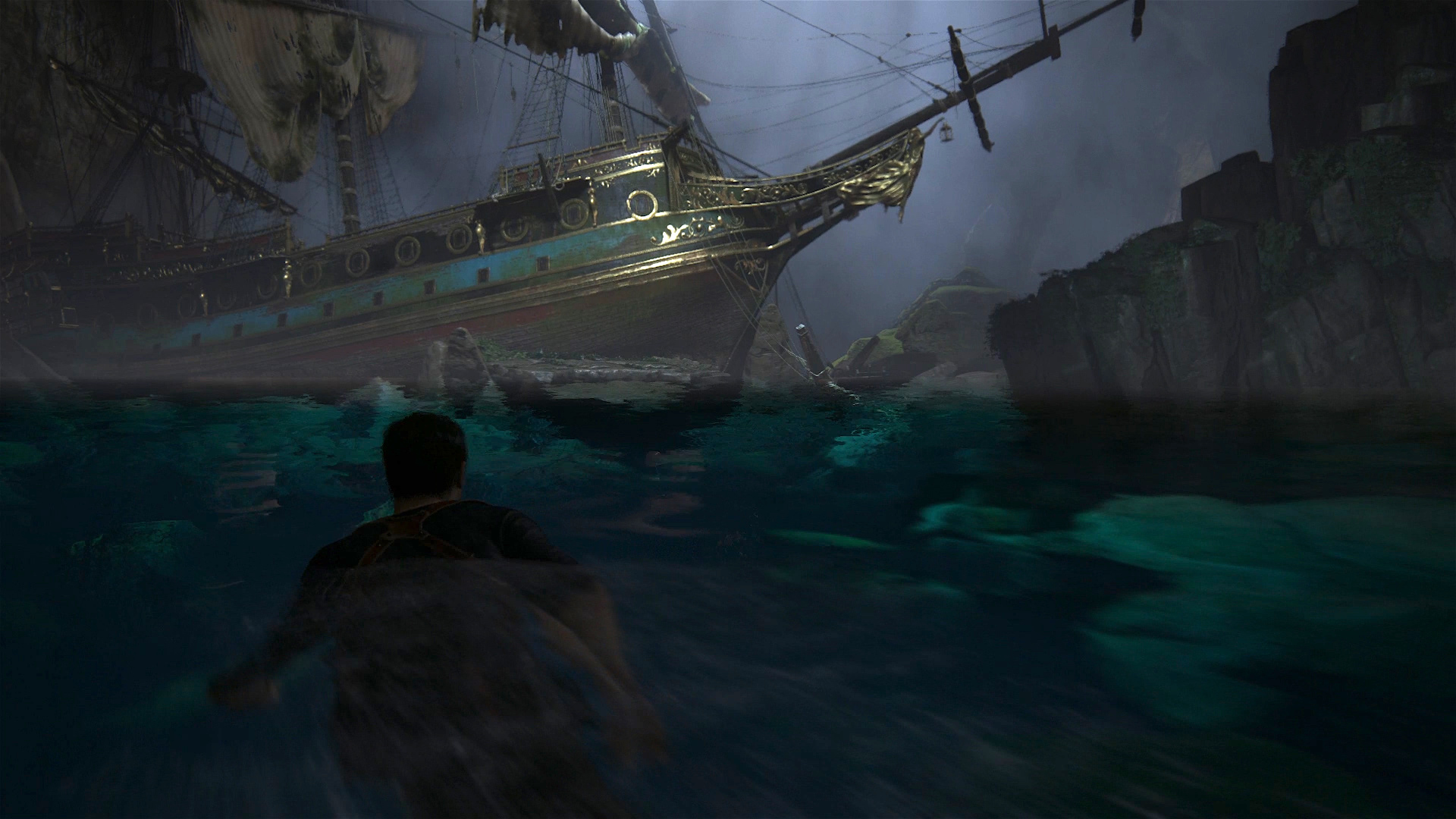 Of course this also leads to a final confrontation with the villains,  involving some salvaged pirate swords, although not really any fighting in Goonies's case.
In both cases, the characters have to give up the treasure to save their own lives. But there's just enough left to bail them out of their current situation. Elena manages to save a gold coin from the colony, which manages to help re-start her journalism career, and give Drake a legitimate treasure-hunting business (as well as begin to raise a family and get a nice beach house, possibly on the pirate colony itself!)
Likewise, the gems that Mikey managed to get in his marble bag are enough to save the Goonies's homes from the greedy developers, leading to a happy ending (even for Willy, in a sense, whose derelict inferno escapes from the cave for one last voyage).