His Compassion for you will be his undoing.-Palpatine
Remember, real heroes are never as polished as the legends that surround them.-Big Boss, Metal Gear Solid Peace Walker
In my 400th post 🙂 I'm going to look at the latest installment in the Star Wars saga, and perhaps the final one in the Skywalker side of things….well, at least the 'light side' of the Skywalkers, that is.
I'll start with Luke, and eventually do further character/plot/setting reviews in future posts.
Luke Skywalker
Luke's the big macguffin here, but he's initially portrayed as a broken man, and far less idealistic than he was in the OT. He's a bit like Yoda in ESB, somewhat reluctant and with a more mischievous sense of humor than we've seen before (although he probably picked up a bit of that from Han). Although with Yoda, he was mainly testing Luke's patience, and found him lacking, but trained him anyway with a slight push from Obi-Wan; Luke just doesn't really want to get involved anymore. Even when he does agree to train Rey-with R2-D2 showing him the old "Help me Obi-Wan Kenobi, you're my only hope" message, he only does it to show that while she has the gift and all, generally bringing back the Jedi is a bad idea, as it also allows the Dark side to gain ascendance (With the old Jedi Order being responsible, in part, for the Empire being formed, and his own failings helping give rise to the first order). Although Rey manages to rekindle at least part of his connection to the force (As he's shut himself off) and at least reconnect with the comatose Leia (Perhaps helping her to regain consciousness), in a scene somewhat reminiscent of another mid-trilogy moment, when he had his other darkest hour…..
After Rey leaves in an attempt to try to save Kylo Ren, somewhat similar to his own quest in ROTJ, Luke just wants to torch the old Jedi tree library (although it appears Rey took the books with her for some reason, as they're seen later in the Falcon close to the end of the film.) when Yoda appears as a force ghost (as predicted by Obi-Wan in ROTJ) …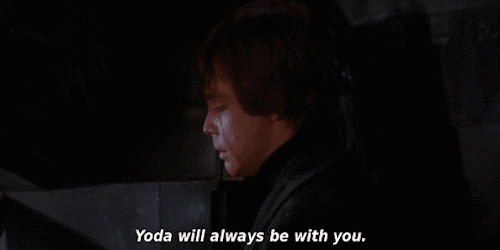 ….shows up and pretty much does the job for him, seemingly repeating another ROTJ qoute: "Already know you that which you need" but referring to Rey's abilities, as well as reminding Luke to focus on the here and now instead of worrying about the future . (I'll deal with more of Yoda's presence in this film in the future.)The film also shows Luke as even more flawed. While it's clear in the first two films he was a bit impatient and occasionally 'cocky', the film reveals that in a way, that he shares some of the blame for Ben's fall and the state of things-in part, because he had compassion….and cared for his nephew in a similar fashion to the way he cared for his father, despite the darkness in both, and couldn't do a killing a blow. But while Luke staying his hand resulted in the light awakening in his father and Vader selflessly giving his life to take the Emperor down, here it only awakened more darkness. The Force awakens, indeed.
Luke seems to accept that this time, there's no way to turn Ben back to the good side, something Rey also learns (although episode 9 will probably answer that question for good), and we see him with a look resembling his ROTJ appearance-cropped hair, black suit etc….although much older with a beard. It's a nice nod to when we last saw him. Looks like he got a quick haircut too from his time on Ach-To.
When things seem kind of really bad for the resistance, the Prodigal son (of Vader) returns, and has a nice moment with Leia, with the ROTJ brother/sister theme playing, and Luke handing her the Millenium Falcon's dice (sort of) as a bit of a reminder of their shared friend, Han. Also pretty great is Luke's wink to C-3PO, with one final "Master Luke".
Luke's last stand is pretty spectacular, with the Walkers against the setting sun. And although Luke doesn't really take down any walkers, I can't help but be a bit reminded of this scene with Luke facing a Walker in the now non-canon EU, "Dark Empire".
(Although he was certainly no slouch in ESB either, but he didn't use the force.)
Despite a massive barrage, Luke is unscathed. While we're led to believe this is mainly the force shielding him from the blast perhaps, but even more anomalies show up, as Luke has the saber-broken on-board the Supremacy-fully working.
The duel isn't really meant to be spectacular or flashy, and the blades hardly connect-indeed, Luke is pretty much dodging them altogether to keep up his illusion to allow the Resistance/New Rebellion to escape. It's perhaps the closest we've come to a mexican stand-off in a lightsaber duel in this films, which is kind of funny since the old Eastwood Westerns were certainly an influence on the original films (and the Western films-particularly the late 60's ones-borrow heavily from Asian cinema such as Kurosawa movies, another inspiration.)
Although certainly there were elements of such a stand-off in TPM's "Laser gate" sequence.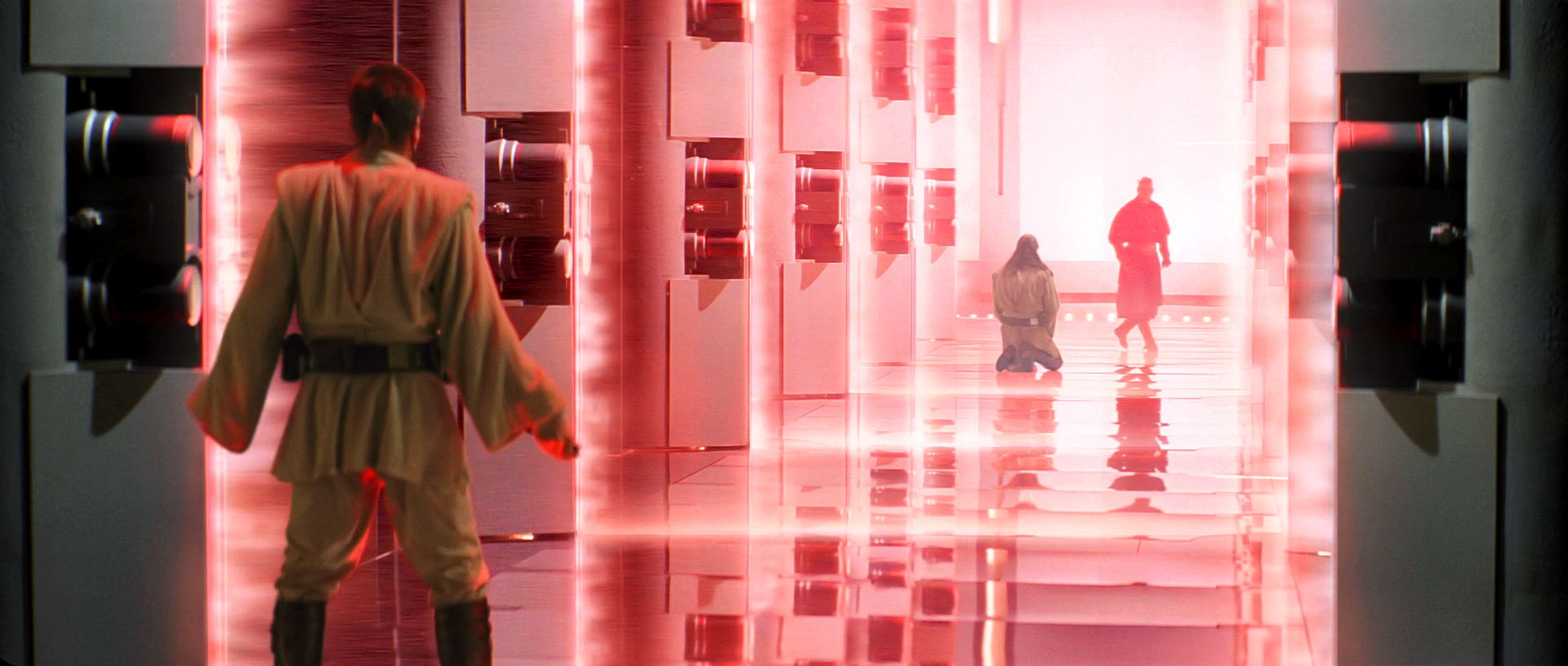 But it turns out to be a ruse, and Luke was never there, and it's Luke 'broadcasting' himself from Ach-To. It's certainly something that's been used in the Expanded Universe a lot…including the current Disney canon, where it was a Sith power…but I'll get more on that later.
Luke's last words,
"See you around, kid" seem to hint that, as he says he'll be a presence in Kylo's life going forward, although it's unclear if it'll be something that'll weigh on his consciousness like his father's death (Luke seems to indicate so when he states "If you strike me down in anger, I will always be with you. Just like your father."
Luke then looks up at Ach-to's twin suns (although this seems like a bit of a cheat-while it made sense for Tatooine to be a dried-out desert planet because of it's two suns, Ach-To is pretty much the opposite….maybe they're less powerful stars.), in an echo of course of that classic sequence…
His journey, in a way, ends where it begins, although it's possible the journey isn't over yet, and maybe he'll help the Rebellion in some fashion as a force ghost-as we saw with Yoda, it's still possible for these ghosts to imprint on the physical world in some way, at least through the force.  Although we sort of saw this in ROTJ, with Obi-Wan at least being able to sit.
And of course, in many ways having Leia still surviving sort of fits  ROTJ dialogue,
"If I don't make it back you're the only hope for the alliance."
Although due to unfortunate real-world events, this will not perhaps unfold that way. However, as we see towards the end of the film, Luke is no longer the last Jedi, Rey at least has "That what she needs" as Yoda would put it; and take the place of Luke as the Rebel's Jedi inspiration….
….and perhaps she can pass her knowledge on, as the end of the film hints that-despite their allies not responding, the legend of Luke facing down the Walkers and Kylo Ren has begun to grow among the orphans on Canto Bight, who wear the symbol of the Rebellion/resistance. So, like his father's sacrifice, Luke's sacrifice might eventually have deeper meaning, and allow for a true new beginning for the galaxy.