Centuries ago, a recon Dalek was destroyed and it's mutant parts scattered across the globe. However, it was able to eventually re-assemble itself due to an accidental discovery, and rebuild itself out of scrap and metal work after taking a human captive. However, the Doctor and her companions were able to defeat it.
However, while the mutant was destroyed and it's casing was ruined, enough of the melted casing survived. It's ambushed on route and taken away.
Later, Jack Robertson (From the Spiders story) and Leo Ragazzi show off a "defense drone" capable of crowd control with gas, sonic disrupters and other abilities to the technology secretary, Jo Patterson. It kind of looks very, very familiar. Jo wants the units mass produced immediately. Especially since she has political ambitions of her own.
Meanwhile, the Doctor is in prison after being taken into custody by the Judoon after the Cybermen/Master/Timeless Child thing, where she sort of has a daily routine. It's possible she's been there for decades, but still has her "Fam" of companions on her mind.
As for the "Fam", they're using the spare TARDIS, disguised as a house, as a sort of base to look for clues to the Doctor, although Ryan and Graham have mostly given up waiting, Yaz still has hope. They've got some news though. Video of the 'defense drone' has gone viral, and they know that Robertson + what is definitely a Dalek is bad news. (although it's never made clear why people don't remember the Daleks; although it might have something to do with the history-erasing cracks from Matt Smith's seasons which erased their "Stolen Earth" invasion, but I thought those were fixed?)They confront Robertson, but are quickly chased away by his security team.
Meanwhile, the Doctor is suddenly freed from prison by Captain Jack, who has commited his own crimes and has been waiting to get close enough to the Doctor's cell to spring her using a "breakout ball" and his vortex manipulator which he managed to smuggle in. They transport to the dormant TARDIS, which very quickly reactives and sets course for the "fam"-although ten months later (Their present time) then she intended.
After their reunion-in which the Doctor is brought up to date, things are moving ahead with the 'defense drones' but not in a way Robertson intended-Leo has cloned the remnants of the mutant too, creating a Dalek mutant. Worse, the mutant has been plugged onto the neural net of the company. Although Leo is told to destroy it by Robertson, the Cloned recon Dalek then gains control of Leo.
The Doctor and the companions confront Robertson together, where Robertson tries to assure her he's just making mass produced drones with no organic component. However, she's already detected Dalek mutant DNA in an indoor farm in Osaka, where she's sent Yaz and Jack.
However, this is a farm for Dalek mutants, which they try to destroy. Joined by the Doctor, Robertson and the others, the Dalek controlling Leo sees the group, where it's revealed he's made some modifications to the defense drones-and the mutants all teleport to the mass produced drones, which are deployed around the UK at security checkpoints and at the new prime minister-Jo Patterson's-inagural adress.
Of course, they do what Daleks do and start exterminating everyone.
The Doctor figures the only way to fight fire is with fire, so she sends a signal out to the original Daleks, who send a Death Squad (Their main difference is a 'claw' instead of a plunger arm). A brief civil war erupts in which the new Daleks are destroyed.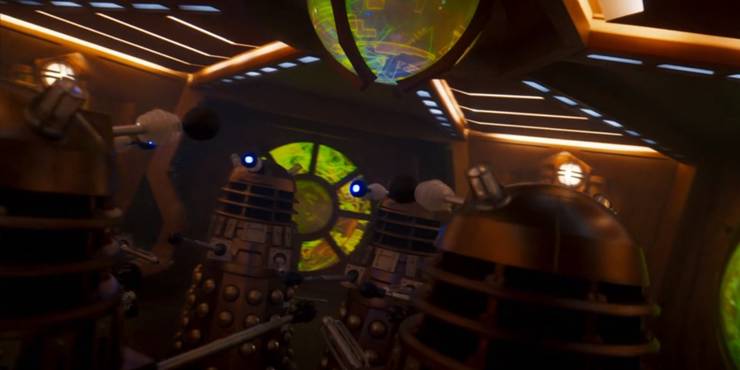 Robertson tries to barder a deal with the Daleks by letting them know the Doctor's around while Jack and the companions plant explosives to destroy the saucer. Robertson is quickly saved as well before the ship is destroyed.
The Doctor then goads the remaining Daleks to follow her into the TARDIS. However, turns out she's just a hologram, the TARDIS is the spare made to resemble her own, and she's collapsed the dimensions of the ships and sending it to the void, taking care of the Death Squad Daleks.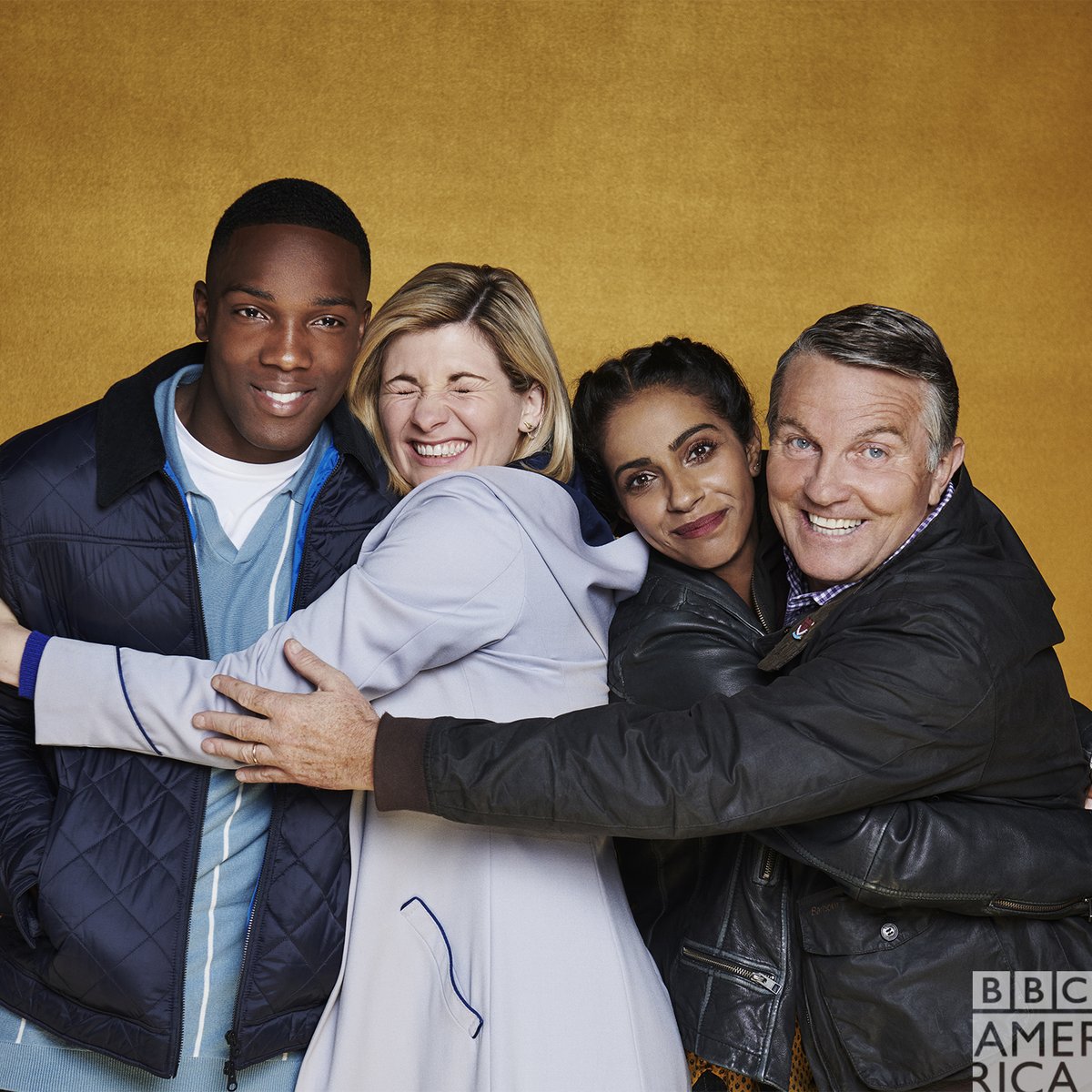 Now with earth saved once again,it's time for goodbyes. Jack pays a short visit to his friend Gwen from Torchwood (Well, off screen). But Ryan and Graham, having gotten a taste of normal again in the last few months, decide that they kind of liked things that way and decide to leave the Doctor and Yaz behind, although it's strongly hinted they'll still do some adventuring (as the Doctor loans them her psychic papers).
However, a new companion awaits….