"Fistful of Dollars" is the first in Sergio Leone's "Man with No Name" trilogy featuring Clint Eastwood. These "Spaghetti (Italian) Westerns" follow Clint's Man With No Name (Although it's a bit unclear if he's the same character or three separate characters) as he becomes involved in local disputes and often plays both sides for profit (Despite this, he has an altruistic streak for the underdog).
He's an anti-hero (Based, in part of the Japanese Yojimbo film, and the concept of a "Ronin"), and has largely inspired others, such as Marvel comic's Wolverine and Star Wars's Boba Fett. Of course probably Solid Snake and Big Boss as well…(Heck, the "Old Snake" in Metal Gear Solid 4 is practically pretty much every Eastwood starring film post-80s).
As "Red Dead" has inspiration from many Western movies, naturally these-among the most famous, even with Clint's *many* ones-have their DNA in there. But not exactly where you'd think at first.
The original Red Dead Redemption does feature Mexico as the game's middle act….and John plays both sides (Local Mexican government and a rebel faction), at least at first, until one side-the Mexican army-discovers his duplicity and traps him. This happens in Fistful as well, although not with the army but the Rojos family, who are not affiliated with any army (and in fact steal from them early in the film).  You can also get John a poncho.
However that's really as far as "Red Dead 1" goes with the similarities. Red Dead 2, on the other hand, has Fistful's concept of two warring families, although that's a tale that's fairly old, both in real life and in popular fiction (Romeo and Juliet, for example).
In the state of Leymonde (pretty much a stand-in for Louisiana) where Dutch's gang eventually set up shop, they take advantage of the bad blood between the two families for profit, much like The Man With No Name does in the film.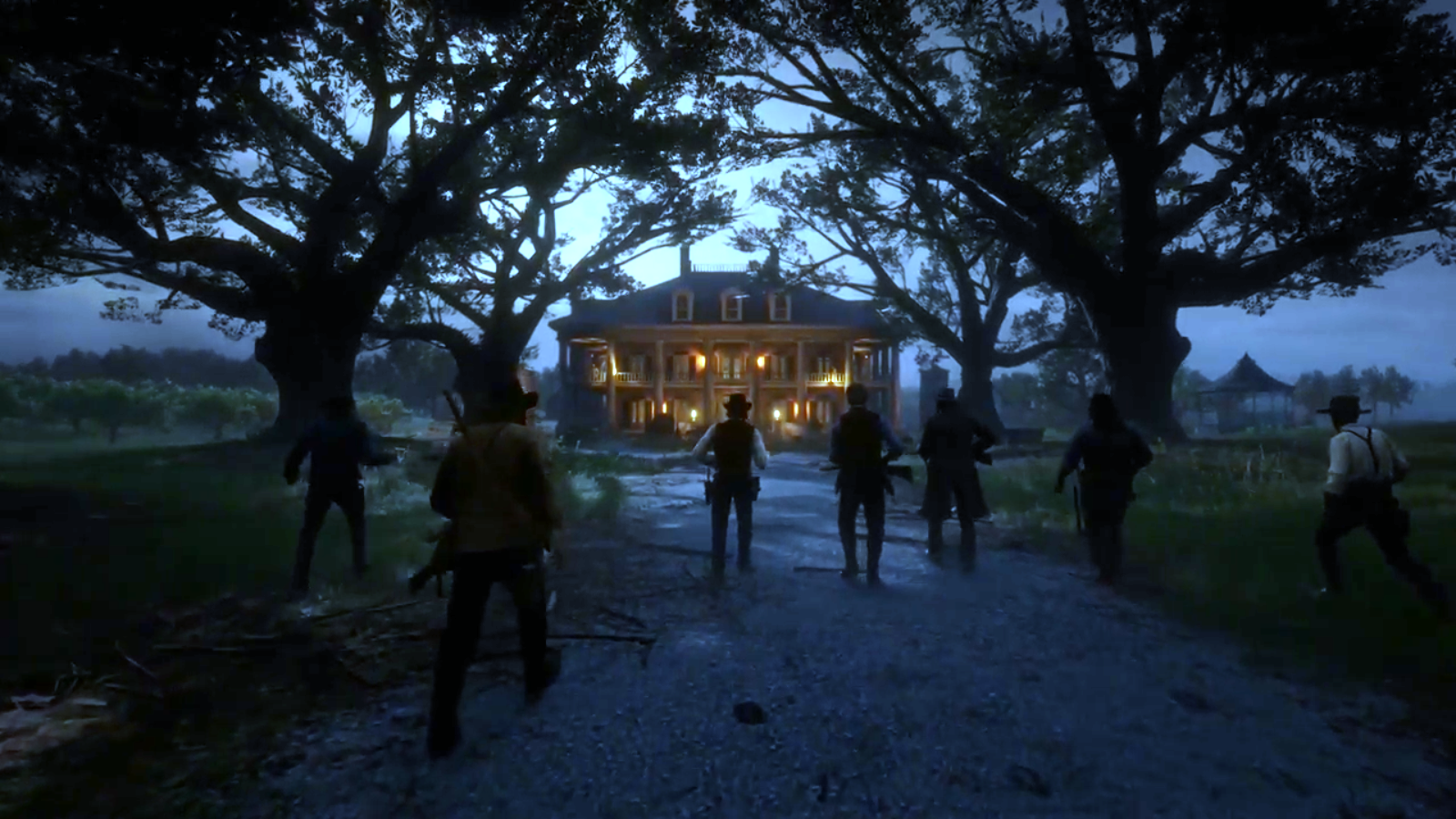 However, while the Baxters in "Fistful" seem to be the lesser of the two evils, and one feels a bit sad when they're gunned down by the Rojos (Didn't seem like they did that much bad to Clint or to the other citizens, and they weren't the ones keeping Marisol captive at first). The Braithwaites however are pretty nasty, especially when they kidnap Jack Marston and leave him with a gangster in the nearby city of San Denis. (The Gray's aren't much better). So Catherine Braitwaite is hardly Counsolo Baxter.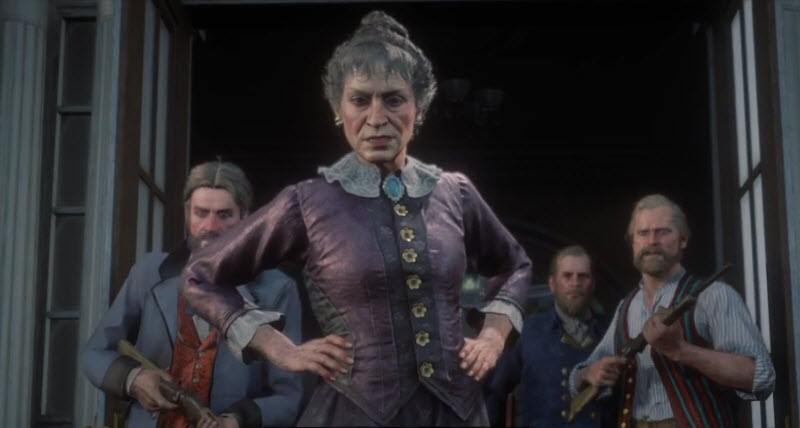 In a way Counselo Baxter is actually a bit like the Gray family, who aren't much better and run the local police department, but with the fancier mansion of the Braitwaites.
At the end the mansion burns down in flames, although while in Fistful it's the Rojo's doing the job while a wounded Man With No Name escapes in a coffin with his undertaker buddy (Who the Red Dead character Seth, a grave digger, is kind of the polar opposite of)…while in Red Dead 2 it's Dutch and co. who do the deed, in retaliation for Jack's kidnapping.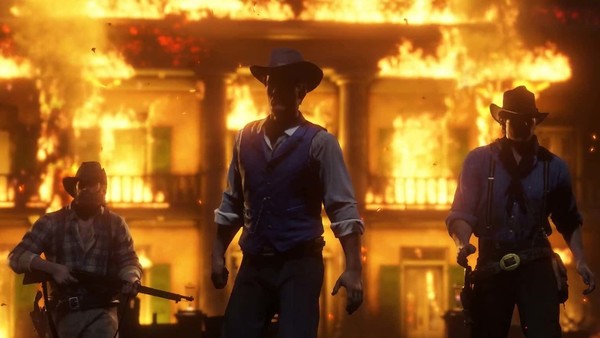 However, there's some innocents in both scenarios who just got in the way and who the characters help out.
In Fistful it's Marisol, who is seperated from her family and kept by the Rojos as a captive due to them framing her husband for cheating at gambling. The Man With No Name eventually frees her for good (although he first "rescues" her and gives her to the Baxters before he's aware of her actual situation during a trade-off) gives them money-The money he's largely earned by playing the two sides (The titular "Fistful" of course) and tells them to run.
In Red Dead the Greys and Braithwaites have a star-crossed couple, Penelope Braitwaite and Beau Gray. Arthur, fond of the pair, helps them out in the "Course of True Love" quest line, finally managing to get them away from what's left of their warring families, and on a stagecoach ride up to Boston.
Well, at least they get a happy ending out of it all, we presume.