Red Dead Redemption II is the follow-up to 2010's "Red Dead Redemption", a western game based somewhat on the "Grand theft Auto" open-world, "sandbox" game style. Like with those games, your characters are primarily criminals (although ones with at least some redeeming traits), although in "Red Dead"'s case, the games are set at the end of the Wild West era, as the westward expansion of modern civilization and Industry starts to threaten their roguish, rugged lifestyle…and forces them to make some tough decisions.
Although it's "II", the second game is a prequel to the first game, with RDR's main hero, John Marston, a member of the Dutch Van Der Linde gang. Once a group of somewhat Robin Hoodish outlaws, the gang has fallen on hard times following a botched Ferry robbery, with it's leader-Dutch-aiming to make one last big score so the gang can retire on some tropical island somewhere. However, their plans continue to go awry, not only due to a rival gang messing around and the Pinkerton detective agency constantly on their trail after a train robbery; but also due to Dutch starting to lose his grip on reality. Despite their constant movement and Dutch's promises of escape to paradise, time is running out for the gang-in more ways than one.
For the first three quarters of the game, the player assumes the role of Arthur Morgan, Dutch's right hand man. Although no angel, Arthur-along with fellow lieutenant Hosea Matthews-tries to serve as Dutch's consciousness (Like in other games, the player can choose to do good or bad things; this in turn effects their 'honor' rating and influences some of the cutscenes and ending). However, soon after realizing Dutch is becoming unstable (and also listening too much to new member, the unprincipled Micah Bell), and faced with his own mortality, Arthur tries to do what good he can and save what's left of their gang before it's too late-including John, his girlfriend Abigail, and their son Jack. After he's gone, John tries to leave his outlaw past behind, start a proper family and live an honest life as a rancher in the game's final chapters, although there's still some unfinished business. This all leads up of course to the events of the first game.
Although the main story missions are fairly linear (and don't always involve shooting-there are later missions which involve farming and building, for example), the player can do a great deal of activities in this open world, such as fishing, hunting, crafting (Which sort of feed into each other) watching shows and short movies,buying, selling, and upgrading weapons, horses, and items. There's also various gambling games-Poker, dominoes, even five finger fillet. Arthur's own appearance is heavily customizable. Like in the Witcher series, Arthur (and later John) has hair and beard growth, which can be cut or fashioned at a barber; likewise, there's also a great deal out outfits to choose from, from rugged mountain gear to "city folk" looks. Arthur's weight also can fluctuate based on what he eats (This can affect your stamina and health in game as well). Like in GTA though, there's a 'law' system in place, even if you accidentally run over somebody with a horse unintentionally, and like in GTA, it could take a while to shake off the authorities. This also leads to a bounty being posted on you, which can lead to hunters ambushing you. However, the bounty can be paid off at the post office.
Along with Arthur, Dutch, Micah and the Marstons, perhaps the most important character is Sadie Adler, who is in both parts of the game's story. She becomes a widow early in the game and is taken in by the gang, but soon develops a vengeful and violent side when it comes to getting revenge on the O' Driscolls, which she later hones into a bounty hunting career. However, she's got a soft side too, remaining loyal to Arthur and later a supportive friend of John's.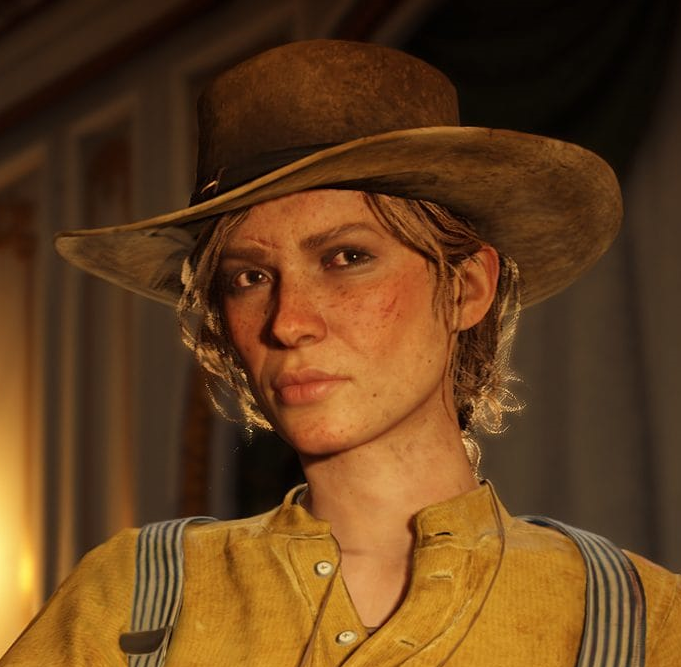 The game also has some memorable NPCS, many of whom don't even have a quest line. The most memorable perhaps is Nigel, a lost englishman who is constantly, and frantically, searching for his friend Gavin. He's already become a meme.
Like it's predecessor, GTA, and to an extent L.A Noire, there's a similar combat system, which often utilizes a wheeled menu, which admitting, can be a little annoying at times if you accidentally choose the wrong item.
There's also the "Dead Eye" system, which slows down combat, turns the screen amber, and, as it's upgraded, also points out weak points of enemies. In addition of course to guns, there's also dynamite, molotovs, knives and fists to be used, and lassos if you want to take certain characters alive.
Apart from the Pinkertons, authorities and the O Driscoll rival gang, there are other dangers to our characters-other gangs, including strange savage mountain clans, murderers, mobsters, and even a monster or two. Plus while most of the animals such as deer and rabbits might seem docile,  there's bears and gators out there too.
The game's got a nice soundtrack too, with of course your usual atmospheric music but also some nice new lyrical songs as well…and naturally, multiple saloons feature some classic piano tunes.
it's also got some of the most stunning landscapes I've seen in games as well. The character models are pretty much on par with most modern current gen games, almost as good as Uncharted 4's IMO.
The voice acting is also incredible, with some voices returning from the earlier games, but a fine performance from Roger Clark as Arthur (Who won a game award) who exudes not only toughness but compassion, frustration, and often bewilderment with the actions of some strange folk.
Overall, Red Dead Redemption II, despite some minor gameplay issues, is a fun, long and very immersive game, and one of the best games of 2018.